Contributions by Anthony C. Stafford
UPDATED Oct. 25, 6:30 pm. (More Brands and Events added.)
Cozy Weather, Crunchy Leaves, Crispy Air – Fall is Here
Summer 2022 has come and gone, hopefully leaving lasting memories and callbacks to a more "normal" time in our lives. It won't be long before the Summer-esque heat waves take a break and, with that break, we all begin to seek the utmost comfort and activities to get us into the seasonal mood.
Whether you're making sure you're all set for the cooler weather, or you're beginning to knock out your holiday shopping early, below you'll find a variety of innovative, useful, chic, fun, and noteworthy favorites, brands, products, and activities & events to secure this Fall & Winter season.
Blue Kazoo
Just picture it: you and your family sitting by the fireplace this holiday season, sipping eggnog, nibbling gingerbread people, and putting together a beautiful puzzles that doubles as a work of art for your home. It can't get any better than that right?
No matter the occasion, Blue Kazoo is a premium jigsaw puzzle company that creates artfully designed and consciously crafted puzzles for everyone to enjoy! Blue Kazoo creates artfully imagined jigsaw puzzles and focuses on a few 1,000-piece puzzles at a time to ensure they are beautifully and conscientiously crafted.
Whether you're looking for a very difficult puzzle for a challenge, or a puzzle that can double as a work of art for your home once you've completed it, Blue Kazoo has something for everyone.
Chamberlain Coffee
A coffee fix never waits — even in Fall and Winter! For a brief period of time (Oct. 28 – 30), Emma Chamberlain's coffee brand, Chamberlain Coffee, is taking over Los Angeles hotspot Carrera Cafe, where attendees will be in for a truly spooky treat.
Throughout the spooky Halloween weekend, Carrera Cafe will serve a variety of Chamberlain Coffee's delicious blends, such as their Social Dog Blend and Sneaky Bat Pumpkin Spice blends, along with Carrera Cafe's delicious signature Matcha. They will also be selling some of Chamberlain's Tote Bags, Double Walled Mugs, Mason Jars and Transparent Tumblers on-site for customers to purchase.
Carrera Cafe is located at: 8251 Melrose Ave. Los Angeles, CA 90046
Cha Cha Matcha
Sometimes, you just need that special drink to match the season and complete you. If PSLs (pumpkin spice lattes) aren't your thing, how about matcha!?
Back in August, cult-loved matcha cafe, Cha Cha Matcha, officially opened the doors to their third Los Angeles location at Westfield Century City to fulfill all the growing matcha cravings! Located on the center's first floor between Scotch & Soda and Kiehl's, the gorgeously green storefront is as delicious to drink as it is to look at.
Featuring the brand's quintessential pink and green color scheme matching the beverages it serves, the store is the perfect mix of style and substance for Angelenos and tourists alike to get their caffeine fix. Even better, their menu items include toasts, sandwiches, their delicious soft serve, and of course, their famous matcha drinks.
Big Little Bar
What do you call a little bar with big nutrition? Big Little Bar!
Big Little Bar is a new revolutionary daily wellness bar that works for your body from the inside out. Until now, the only way for women to get all the essential nutrients they needed was to either eat a meticulously crafted and large nutrient-dense diet, or take supplements that don't absorb as well as nutrients through food. Big Little Bar tackled this challenge head-on through its unique approach to combining essential nutrients and clean ingredients in an easy-to-eat, easy-to-love bar.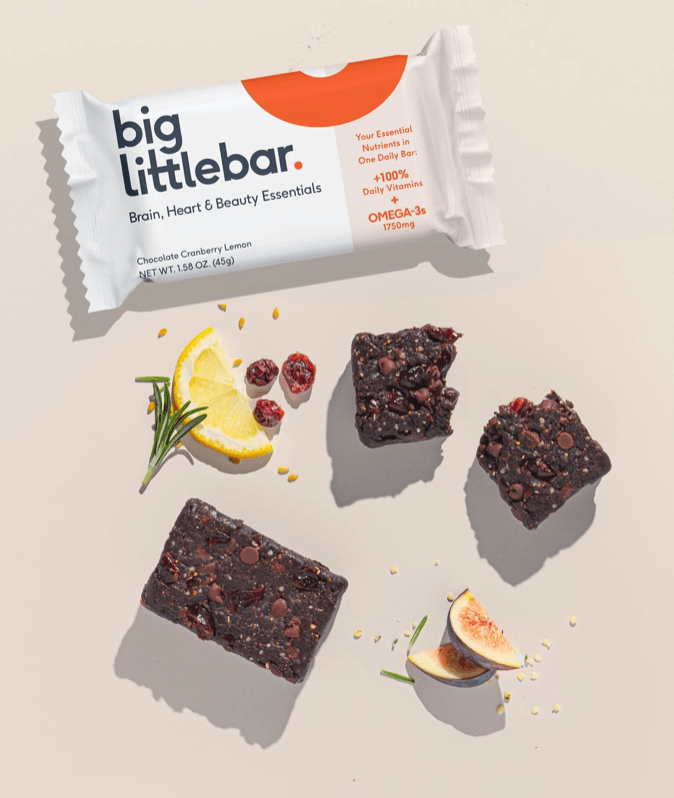 The delicious, and benefit-focused, bars have 100% of your daily essential vitamins and Omega-3s and pack a burst of flavors including chocolate, cranberry and lemon.  Whether you're rushing out the door for a meeting, or dropping the kids at soccer practice, Big Little Bar makes it easy to give your body the nutrients it needs while on the go. Big Little Bar is available here.
NEW: Phyll
With the start of cold and flu season — including the rise in COVID infections — it's best to make sure our bodies our suited up for a fight. And with holidays on the horizon when we'll be in close contact with others, it only makes sense to take the best care of ourselves with something that isn't just healthy, but also tasty! The simple convenience of Phyll is here to help us do just that!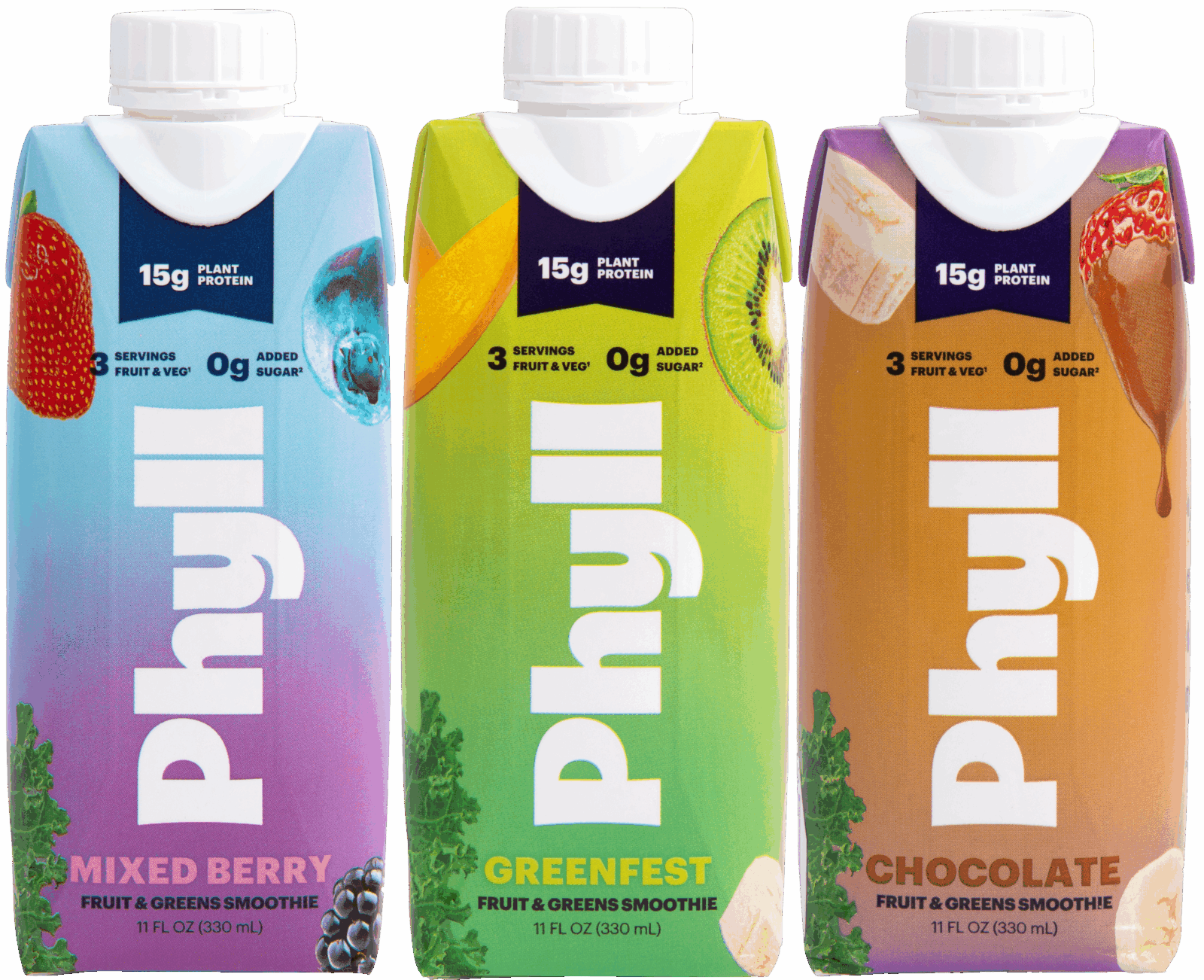 Complete with 15 grams of plant-based protein, 3 grams of dietary fiber and 0 grams of added sugar, Phyll is packed with everything you'll need to maintain your health, energy and your relentless drive throughout the day. The clean-pressed smoothie, which is available in Greenfest, Mixed Berry and Chocolate, does not need to be refrigerated, so you don't have to worry about jeopardizing the taste if you have it in your bag for a few hours while out and about. 
NEW: ONRU
If health and wellness is on your list of priorities this Fall and Winter, ONRU is perfect for cold weather and flu season! LA based wellness brand, ONRŪ formulates supplements to ensure nutritional efficacy in one single dose, to boost all aspects of the immune system for real life moments — including travel, low-quality sleep, stress, vitamin deficiency, diet, and the environment.
Their Travel Bundle ($120) is great for total support, keeping you safe and worry-free with Travel Immunity, which provides potent anti-viral properties, stress relieving adaptogens, digestive enzymes to mitigate digestive issues and immunity support. Fight jetlag, insomnia, or uncomfortable hotel beds with Sleep + Immunity to ensure a quality night's sleep wherever you are.
Day & Night Bundle ($120) is designed to provide 24-hour support. The Day & Night bundle includes Essential Immunity which provides daily immune support and essential vitamins for wellbeing, and Sleep + Immunity which helps provide a quality night's sleep, while also containing immune boosting ingredients. Stay supported and feel your best, day & night.
The
NEW: Hammitt Presents Hammittland
Consider this your invitation to an iconic event! If you're looking to start holiday shopping for yourself or friends and family, join Hammitt as they present a selection of specially priced Retiring Styles – in a whimsically imagined Hammittland. Watch as Manhattan Village's outdoor plaza transforms into a sweet shopping and entertainment destination that's fit for handbag lovers and eager gift givers alike. In addition to the unbeatable offers, Hammittland will have special complimentary offerings and activities available for the general public, plus activities.
Whether you pick up a one-of-a-kind sample for 40% off or sip on an icy fresh frosé, there's a bit of festive fun for the whole crew. Be sure to bring a friend, as this is set to be a record-breaking party.
Location: Hammitt LA is located at 3200 North Sepulveda Boulevard Manhattan Beach, CA 90266
About Hammitt
Hammitt LA is a US-based luxury handbag company known for their unique riveted accents. You can see Hammitt handbags and accessories in-person at their South Coast Plaza and Manhattan Beach Locations. Hammitt handbags are also sold in many retailers across the US, including Von Maur. Plus, they partnered with Purse Strings for an exclusive location in Indianapolis, as well as a store in La Jolla, coming soon! Hammitt designs to surprise and delight with every innovation, staying one step ahead of their customers' wildest wishlists.
Whether it's an accessible cell phone pocket, laptop sleeve, six-way reversibility or straps that adjust for every height, there are nuggets of functionality in every Hammitt silhouette. Plus, every zipper and piece of hardware is covered with a lifetime promise, so the Hammitt woman can plan to pass her favorite styles down for generations to come. Hammitt bags are also available at hammitt.com.
American Cancer Society Annual Walk
On Saturday (10/15), American Cancer Society is holding its annual Making Strides Against Breast Cancer walk at Grand Park in Los Angeles to celebrate the survivors and thrivers in support of Breast Cancer Awareness month. The 5k walk will begin at promptly 9am with registration starting at 8:30am and will feature a DJ and special programming. Making Strides Against Breast Cancer is a movement to support the funding of breakthrough research, provide 24/7 support for breast cancer patients, and access to lifesaving screenings. For individuals unable to attend the celebration, they can still donate at cancer.org.
This year, American Cancer Society estimates that 31,720 California women will be diagnosed with breast cancer, and 4,690 will die from the disease. Not to mention, racial disparities and access to cancer care can severely impact a patient's survivor rate. Black women face a higher death rate compared to white woman, even though Black women have lower breast cancer incidence rates according to a new report from ACS.
The death rate from breast cancer dropped by 42% from 1989 to 2019 as a result of earlier detection through increased awareness and mammography screening, as well as advances in treatments. Yet, about 43,250 women will die from the disease in 2022. ACS estimates that 31,720 California women will be diagnosed with breast cancer this year, and 4,690 will die from the disease. A recent ACS study showed in 2020, during the first year of the COVID pandemic, there was a six percent drop in the number of women who reported having breast cancer screening within the past year compared to 2018. This amounts to more than two million fewer women screened across the U.S. in 2020.
Date & Time: Saturday, October 15, 2022 | 8:30 AM Registration | 9:00 AM Walk Start
Address: Grand Park, 200 N. Grand Ave. Los Angeles, CA
Wear: A sea of pink envelopes the neighborhood as teams of walkers come together to celebrate survivorship and honor loved ones lost to the disease. Many teams attend dressed in costume and themes.
UCLA Mattel Children's Hospital's Party on the Pier
The events continue, with UCLA Mattel Children's Hospital's annual Party on the Pier back in-person for the first time since the pandemic. They'll be returning to Pacific Park on the Santa Monica Pier on November 6th from 10AM to 2PM with a variety of fun experiences for all guests to enjoy, including:
Carnival games with Mattel toys as prizes
Celebrity appearances and photo booths
Meal vouchers and carnival treats
Creative crafts and activities in the Power of Play Kids Activity Tent
VIP tent access for sponsors with lunch by Wolfgang Puck Catering
UCLA Health People-Animal Connection therapy dogs
Proceeds from the event provide unrestricted funding to launch high-priority programs that benefit children being treated at UCLA Mattel Children's Hospital and around the world. For tickets and sponsorship opportunities, please visit partonthepier.ucla.edu.
LOCATION: Pacific Park on Santa Monica Pier
WHEN: Sunday, November 6 from 10AM to 2PM
WEBSITE: https://partyonthepier.ucla.edu/ 
*Tickets for carnival games and experiences sold separately. Credit card payment only – no cash accepted.*
About UCLA Mattel Children's Hospital:
As a vital part of UCLA Health, UCLA Mattel Children's Hospital has the unique ability to care for children of all ages, from newborns to young adults. The state-of-the-art facility is designed to serve the most critically ill with sophisticated, compassionate pediatric care in an environment that is both welcoming and healing to children and their families. General pediatricians work alongside leading specialists and subspecialists, and our physician-scientists discover new treatments and innovations that transform pediatric health care. The vision of this extraordinary team and the generosity of our dedicated philanthropic partners help ensure a brighter tomorrow for all children.
SHAQTOBERFEST
It's spooky season! Through Halloween, the first SHAQTOBERFEST  is taking place in LA, and it's already become a hit! The interactive experience is the ultimate Halloween destination for family-friendly trick-or-treating, ghoulish games, delicious treats, specialty libations, frightfully fun nighttime haunted trails and exciting live entertainment that encapsulates O'Neal's playful personality.
15-time All-Star and basketball Hall of Famer Shaquille O'Neal and ABG Entertainment began the partnership with Thirteenth Floor Entertainment Group, the producers of world-class live events and location-based entertainment experiences including LA's own Haunted Hayride.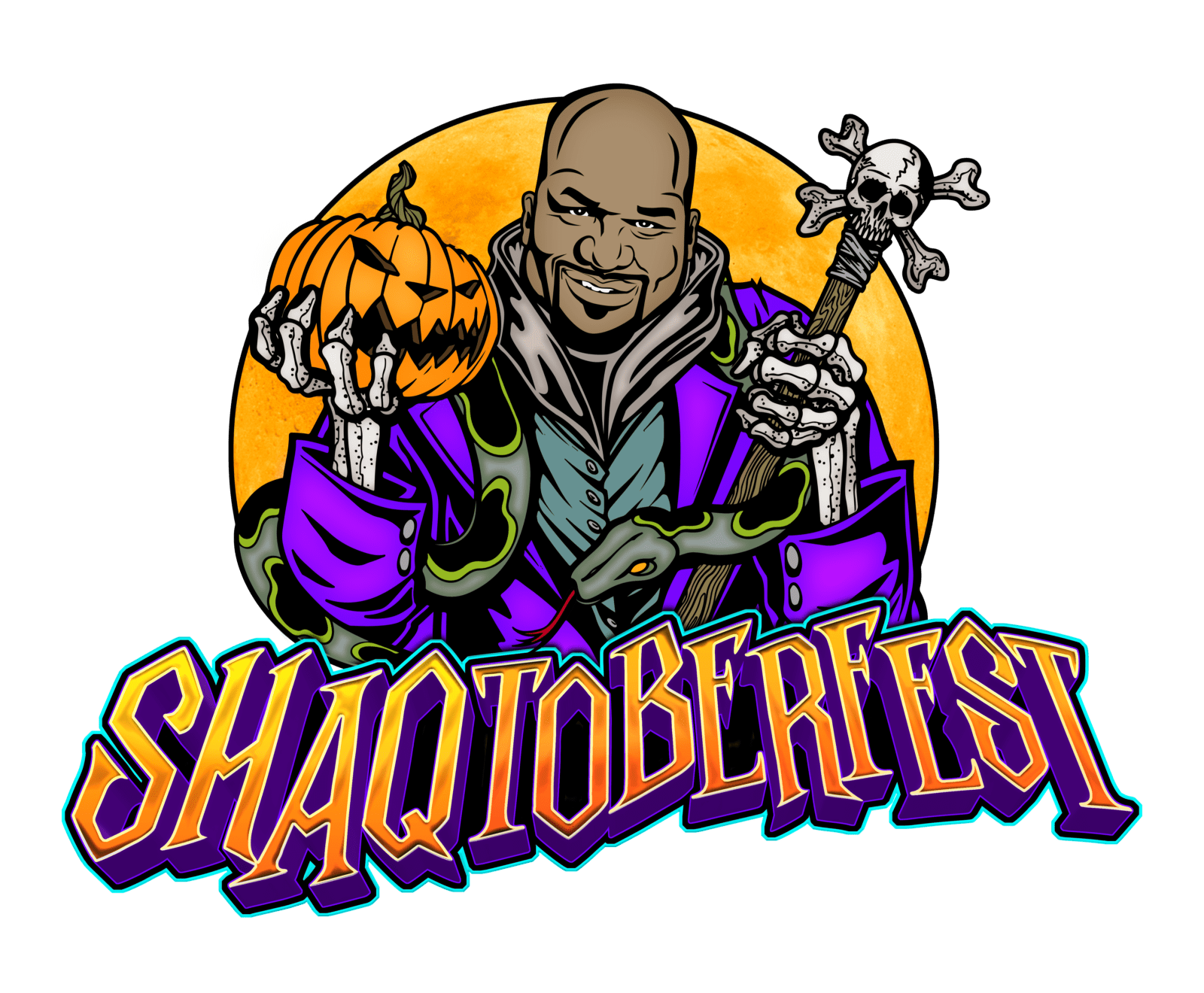 Each afternoon will provide family fun trick-or-treat offerings and entertainment for children of all ages who are encouraged to dress in their favorite Halloween costumes. Come nighttime, the energetic lights and music turn on as the witching hour begins, unleashing O'Neal's ghoulish minions into the haunted trails and midways as the spirits of SHAQTOBERFEST are brought to life. "We are incredibly excited to launch the first-ever Shaqtoberfest," said Matt Goldstein, SVP, Entertainment and Special Projects at ABG Entertainment. "Fans of all ages are going to have the time of their lives celebrating Halloween with Shaq."
For more information and to stay up to date on ticket information, activations and location announcements visit Shaqtoberfest.com and follow on Instagram at @Shaqtoberfest.
NEW: Trick or Treating @ Westfield Century City + Topanga
Looking for alternatives to traditional neighborhood trick-or-treating in LA this Halloween? Enter Westfield Century City and Westfield Topanga! Whether your neighborhood isn't trick-or-treat friendly or you don't feel like going door-to-door, participating retailers at both centers will be handing out candy to shoppers – costumes encouraged!
Regardless of if you're in the Valley or in the city, Westfield has an evening of spooky, family-friendly fun awaiting:
Westfield Topanga
Trick-Or-Treating at The Village | October 31 | 5-7 PM – In addition to "window to window" trick or treating, the center will also be offering arts, crafts, games, music, face painting, and more!
 Westfield Century City 
Trick-or-Treating at Century City | October 31 | 5-7 PM – Families are invited to celebrate Halloween at LA's chicest mall where little ones can enjoy a safe, fun, and festive trick-or-treating experience.
With locations in both LA and the Valley, Westfield Century City and Westfield Topanga are premier destinations for shopping, entertainment, dining, and now spooky szn festivities! This Halloween, make sure to stop by either location and participate in everyone's favorite Halloween tradition – trick-or-treating.
Haunted Hayride x Hulu
There's a lot of scary fun to go around this year, and even Hulu is throwing their hat into the mix in collaboration with an old LA Classic: Haunted Hayride! On Wednesday, October 26th from 8-9 pm, Hulu will be hosting an exclusive drag show at Haunted Hayride, featuring some of the world's most iconic drag queens, including Jackie Beat, Monét X Change, Lady Bunny, and Manilla Luzon.
In addition, the show will take place between Monte Revolta's sets for a musical and surely comical, frightening time!
Bowlero
Holiday parties are on the horizon, and if you hate them there's an even better reason to throw your own group party this Fall and Winter! Bowlero Corp., the world's leader in bowling entertainment, is making it easy (and fun) to gather up a group of your favorite people and celebrate with over 300 locations across the nation.
This end-of-year and holiday season, Bowlero is offering a variety of promotions that take into account the things everyone loves: drinks, desserts, and gifts! The holiday party promotions and information about planning your next party at Bowlero can be found at https://www.bowlero.com/holiday.
In addition, Bowlero offers speciality packages and the ability to customize any event with one-on-one personal planners to assist. Sounds like a strike! Holiday Parties must be held between 11/28/22-1/15/23 to receive the offers above.
Bev
Bev, the cult favorite canned wine changing drinking culture for good, has officially launched their new Tasting Room in the heart of Venice, CA! Located across the street from Winston House and next door to the cult favorite Belles Beach House, this is an immersive destination serving as a discovery hub for female founded brands, local new music acts, and of course – a place to sip on the brand's cult favorite, 0 sugar a canned wine.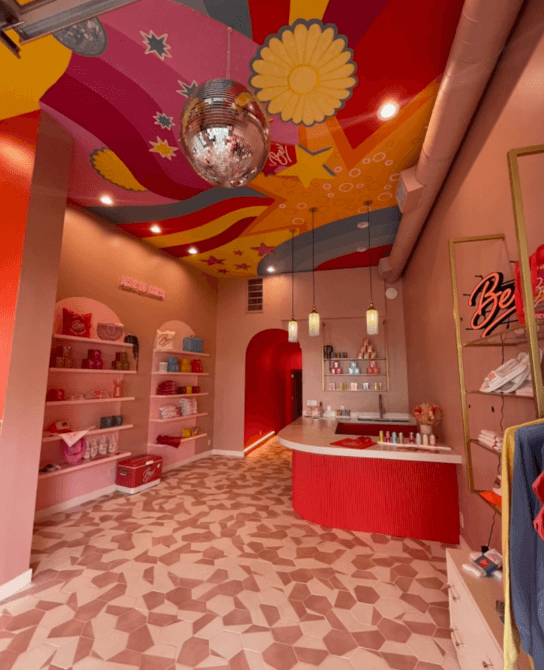 Designed as an extension of their headquarters, the experiential destination is intended to highlight up and coming female businesses and creators. The tasting room has opened after the success of their Rosè Garden, which served as an outdoor destination for consumers during COVID.
When you need a little sippy pick-me-up, Bev's the guilt-free go-to — now with an in-person experience!
Lo-Fi Aperitifs
If you're looking to hold on to Summer just bit longer, or even if you're only hoping to spritz up the Fall and Winter seasons a bit, Lo-Fi Aperitifs wants you to feel reassured that they've got you covered — recipes included!
From impressing friends and family, to just indulging for ourselves, there's a Spritz for everyone, starting with the Amaro, or a Napa Negroni —  with both tapping into the Sweet Vermouth and Gentian Amaro. Lo-Fi has recipes covered for all types of drink preferences. Lo-Fi Aperitifs is made up of a team of spirits experts who have worked at iconic establishments, such as New York's award-winning Italian café Dante and San Francisco's beloved 15 Romolo.
CAMP @ Westfield Century City
CAMP, the immersive experience designed to help you and your family create playful and meaningful memories together!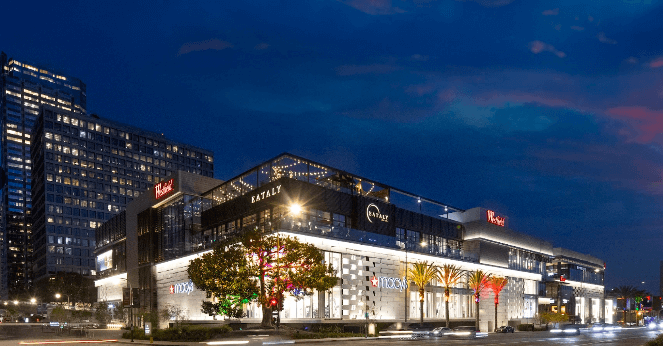 CAMP's Magic Door is your family's personal gateway to fun, creativity, and adventure! Known for its unique shop/play hybrid experience, CAMP offers rotating themed experiences all year long, ensuring that there is something new and different each time you visit. Each 45-minute immersive experience is family-friendly, however, CAMP also offers experiences tailored to specific age groups including kids ages 3 and up to tweens. There is something for everyone to enjoy at CAMP, so come zoom down the slides, explore cool toys and ways to play, dance in a disco cabin, or make some crafts!
NEW:
If you're looking to feast on something new at the hot spot, there's a notable newcomer present!
Ardi's Organics, the fast food restaurant that prioritizes organic ingredients, is now open at Westfield Century City to curb all your fast food cravings. With no GMO's hormones, soy, fillers or artificial ingredients, everything on the menu at Ardi's will leave you feeling replenished, nourished and satisfied.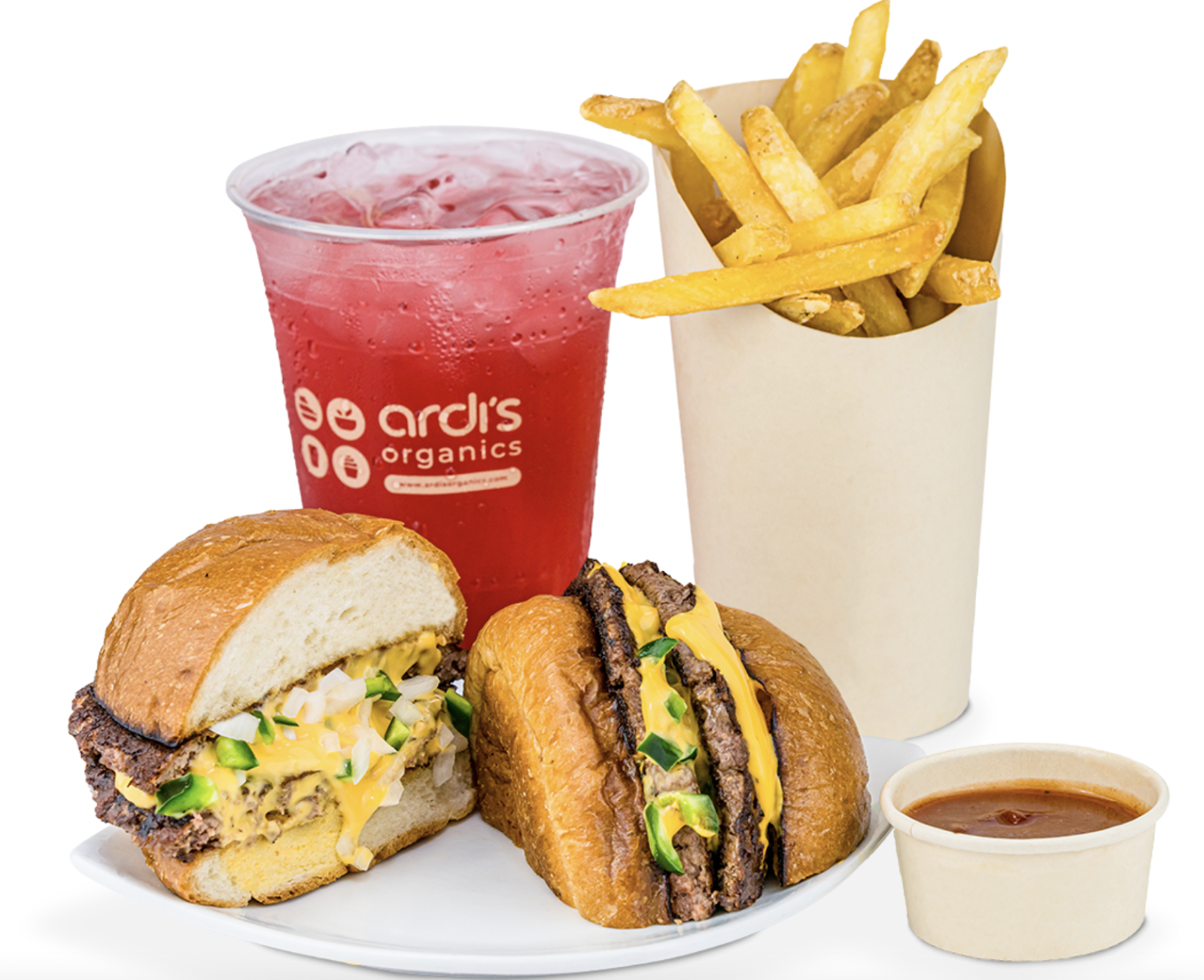 Founded by Ardi Entezam, a previous fine dining restaurateur, Ardi's Organics was born out of his passion for food and desire to provide healthy fast food as a yummy alternative to local Angelenos. All burgers are made with organic grass fed beef, and gluten-free, vegan and vegetarian options are all available. A few of Ardi's best sellers include the Nacho Cheese Burger, Turkey Club Salad, Fresh Cut Fry's, and Turkey Nuggets! Of course, no meal is complete without dessert, and Ardi's has delicious guilt-free desserts including chocolate chip cookies made with avocado oil, dark chocolate sun butter cups, and charcoal blast Ardi-o's (Ardi's take on the Oreo).
Restaurants @ Westfield Topanga & The Village
There's a reason why Katsu-ya's 25 restaurants are sold out pretty much every night. Known for their one-of-a-kind rolls, exquisite cocktails, and spectacular sushi, Katsu-ya is a dream destination for your next splurge-worthy date night! Sushi lovers, trust me, you will not be disappointed! 
Date night doesn't have to mean fancy outfits and a prestigious restaurant, sometimes a casual outfit with delicious food can do the trick! If this sounds up your alley, be sure to check out Westfield Topanga's Fresh Italian Kitchen. With everything from Ceasar salad to chicken Parmesan, Fresh Italian Kitchen's simple, delicious meals are sure to leave you and your partner walking out happy.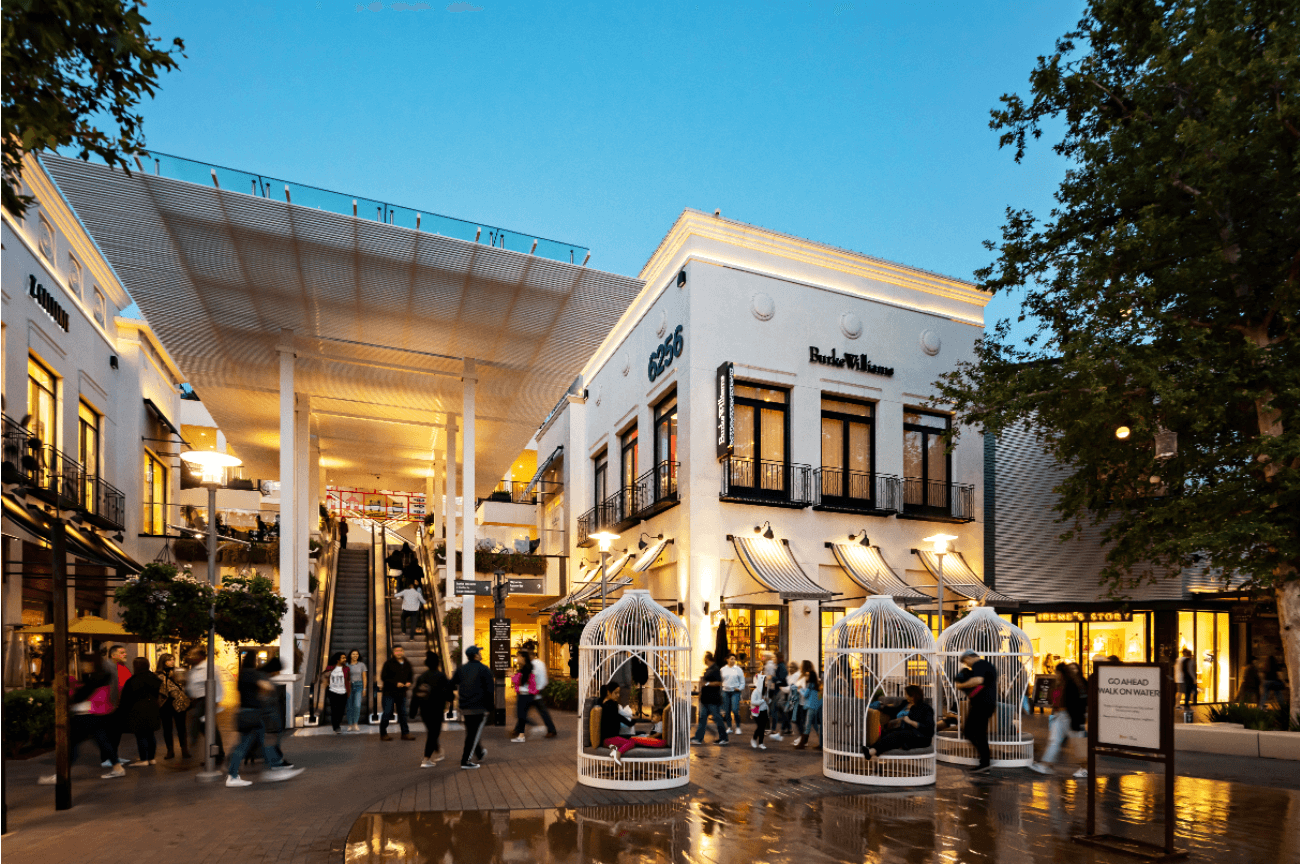 If you're looking for a spot to celebrate life's special moments, Larsen's Steakhouse is the place for you. Specializing in highly marbled, prime grade meat, and a unique, diligent method of preparation, Larsen's makes sure guests are treated to the best steak they've ever eaten! This, combined with their charming, romantic atmosphere, makes this spot the perfect place for you and your partner to celebrate a romantic night out.
NEW:
Popular East Coast bakery Modern Bread & Bagel, has just opened its first West Coast location at Westfield Topanga & The Village! Modern Bread & Bagel is home of the famous hand rolled, kettle boiled, freshly baked gluten-free bread. From donuts and cupcakes to sandwiches and salads, Modern Bread & Bagel prides itself on being 100% kosher and gluten-free so that everyone can enjoy their favorite foods… without a stomach ache.

Head baker, Orly, developed Modern Bread & Bagel while she was catering to her husband's celiac disease with a goal to recreate his favorite foods without compromising taste. After dedicating herself to years of school and research, Orly perfected her specialty gluten-free flour blend and mastered the craft of delicious GF baked goods, breads, and pastries. Shortly after, the first Modern Bread & Bagel opened in New York and was a huge hit among all foodies, even those who weren't gluten-free!
With more than 50 restaurants to choose from, Westfield Topanga & The Village is the place to be for your next date night. And if coffee and snacks are more your thing, see their extensive list of available options here:
Genghis Cohen
Happy hour anyone? The nearly 40-year-old, New York-style Chinese restaurant Genghis Cohen from Marc Rose and Med Abrous of Call Mom is launching an incredible happy hour beginning Tuesday, October 18th. Guests can enjoy $8 cocktails and more at this iconic Fairfax District institution.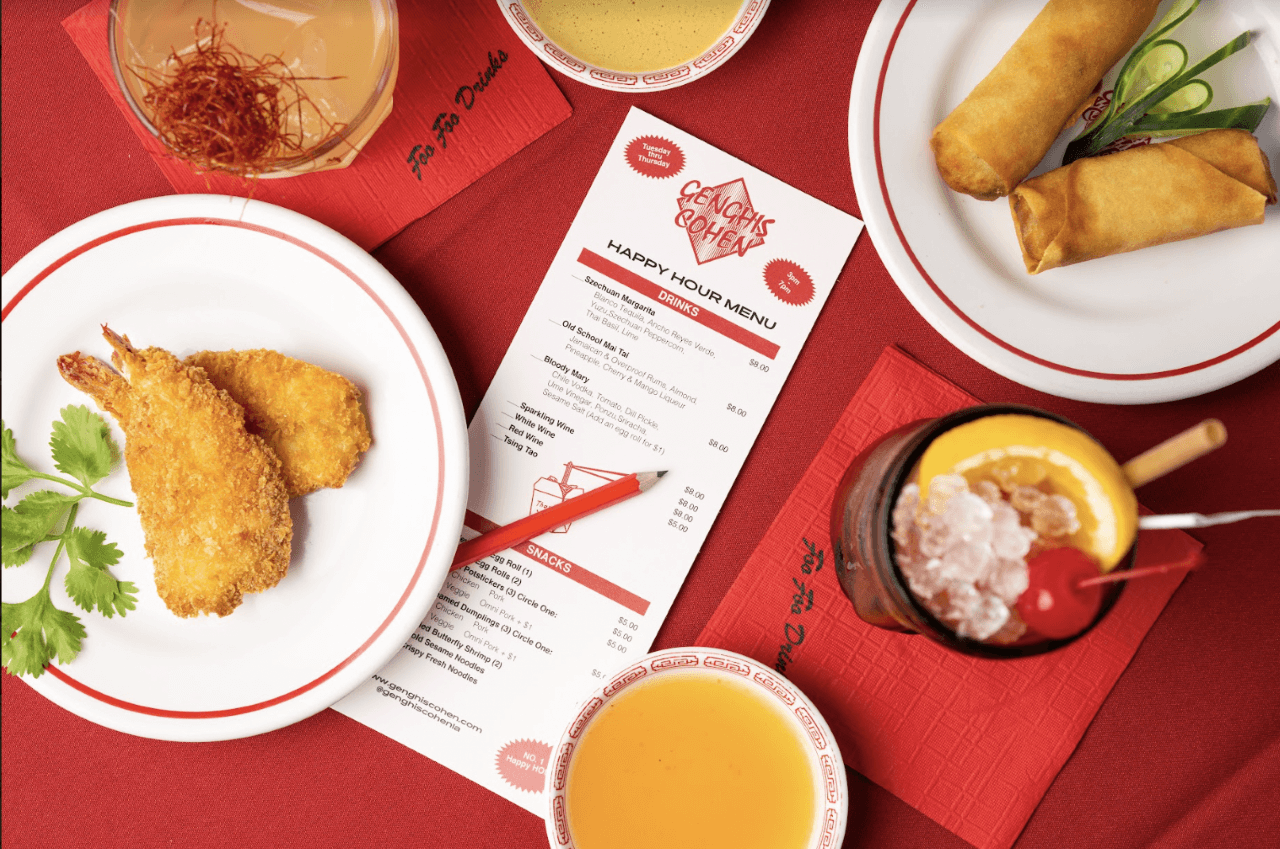 Every Tuesday through Thursday from 3pm-7pm, guests can enjoy $8 Szechuan Margaritas, Old School Mai Tais, Bloody Marys (add an egg roll garnish for $1) alongside $8 glasses of sparkling, white and red wine and $5 Tsing Tao beer. Additionally, the team has created a special menu of happy hour snacks like egg rolls, fried & steam dumplings, fried butterfly shrimp and cold sesame noodles (all $5).
It's the perfect spot to wait out rush hour for a drink and a bite at their newly-opened patio or to meet up with friends before catching a comedy show or musical act at Genghis Cohen's adjoined venue.
Happening @ Beauty & Essex
Whether it's a date night or catching up with friends and family, Beauty & Essex is great for all occasions! The month of October brings some delicious menu options to the restaurant, as Dine LA begins, and as they do their part for Breast Cancer Awareness Month. Check out the details below:
Dine LA: 
From October 14th- 27th, Beauty & Essex will be offering their $65 (per person) prix-fixe menu for Dine LA. Guests can expect fan-favorites from Chef Chris Santos like the grilled cheese and tomato soup dumplings, half roasted chicken with a charred green onion chimichurri, and a boozy milkshake shot for dessert.
Breast Cancer Awareness Month: 
For the month of October, Beauty & Essex LA will have a Pink Wonder Wheel dessert special and will be donating $1 per select desserts and $100 per select beverage packages throughout the month of October to the American Cancer Society.
NEW: Kite Beauty
Holiday season for many means travel season, and at this time of year, convenience wins. Kite Beauty gets that and has come up with the perfect solution with a new TSA-friendly, go anywhere glow-up travel essential: On the Glow Concealer!
Kite Beauty is here with the perfect stocking stuffer to make sure you and your loved ones look their best and travel lighter this holiday season! AAPI female founded by Nina Liu, Kite's goal is to become the ultimate convenience beauty company by taking the stress and hassle out of beauty for those with busy lifestyles and tiny purses.
Kite is dedicated to making the lives easier of busy people everywhere – to the tired moms, stressed students, weekend warriors, boss ladies, and everyone in between. The super cute, business card-sized box with 6 pods of formula is specifically designed for optimized portability and formulated to build and blend seamlessly into bare skin or existing makeup. Smooth the appearance of worry lines, dark circles, and surprise pimples that arise throughout the travel day with the versatile product that can also be used as contour or highlighter in a pinch!
Whether a pre-holiday purchase, or a gift for yourself and those you know, Kite Beauty has you covered – literally!
Seratopical Revolution
Created by a female development team with all ages and skin types in mind, Seratopical Revolution's skincare products were created to produce results without the need for surgery or botox. Seratopical Revolution's serums & topicals will keep your skin illuminating all year long, making them the perfect gift for the women in your life.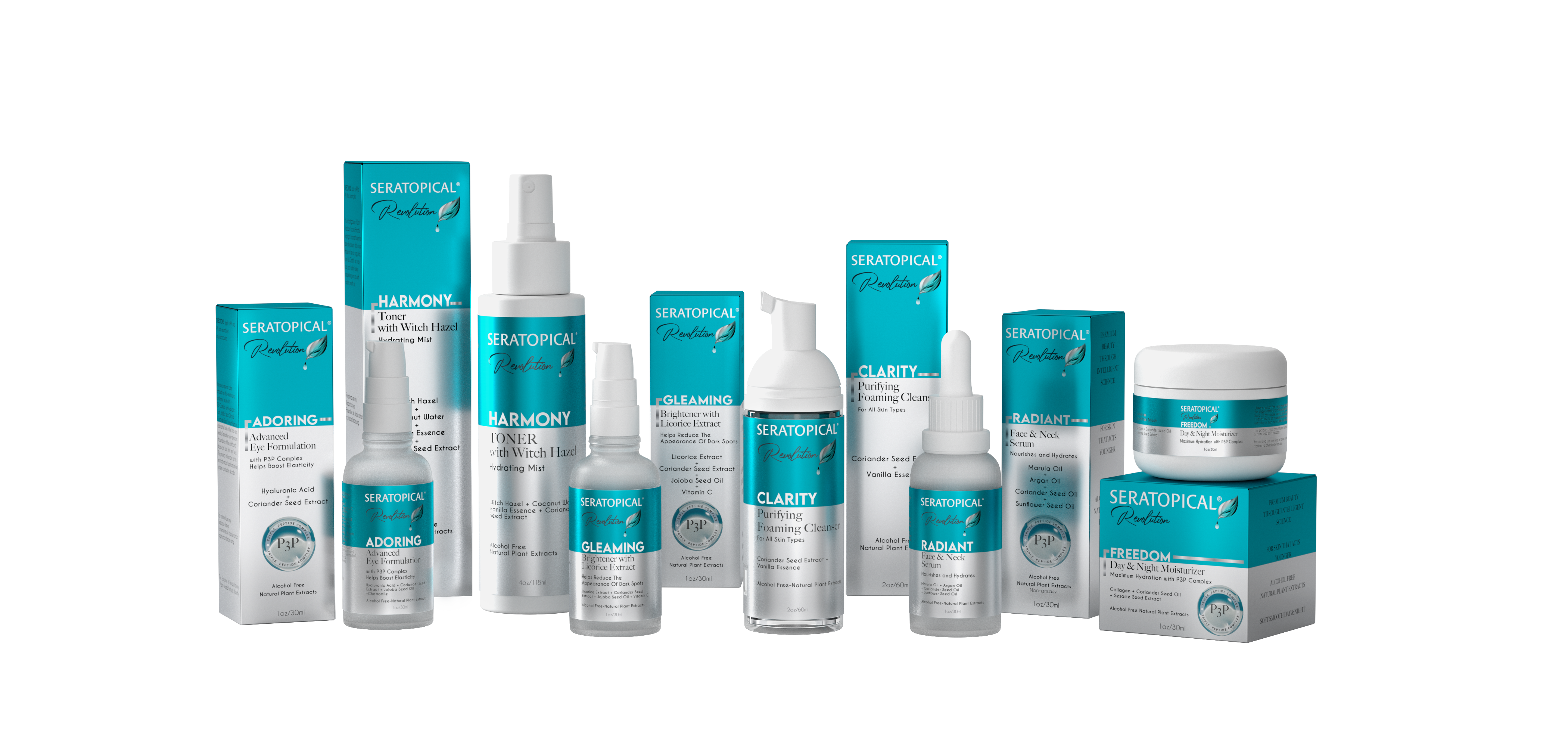 Below are some of the best beauty favorites:
Emberela AURA Light Therapy Mask
Our skin can be fickle, and with the changing seasons and weather, it helps to have a little something around to help keep you in order. Meet Emberela AURA Light Therapy Mask — a mask that addresses different skin types and issues.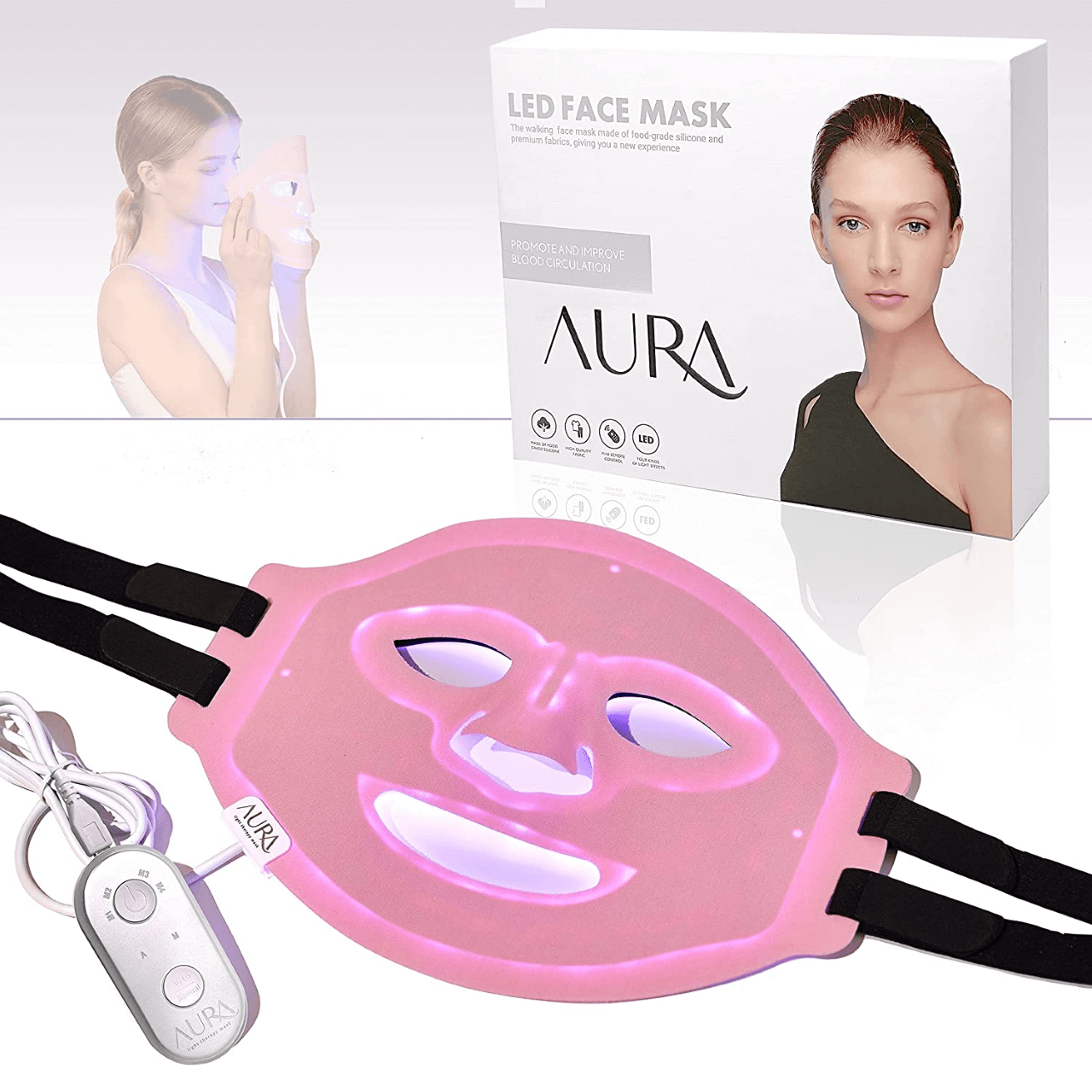 With five combinations of lights ( Red, Blue, Yellow and Multi-color), it's a must-have mask for anyone that is trying to improve their skin tone, texture, acne issues, wrinkles, pigmentation and much more.
The Red Light has – 620nm
The Blue Light has – 460nm
The Yellow Light has – 590nm
The Multi-Color light has – 425nm
Lightweight, soft and flexible — unlike many hard, heavy, and stiff competitors — the Emberela AURA Light Therapy Mask is changing the skincare and beauty space by including built-in eye protection, and is made of food grade silicone which makes it easy to clean. This makes it easy to multitask, doing things like reading, watching tv, or cooking while enjoying your at-home therapy session. Another benefit the mask includes is it's the only one that comes with a customized stand for applying the mask to your hands — which is one of the first places that aging shows. The AURA mask is available here for
 $119
OH.SO
Sweaty season doesn't end with Summer for everyone! OH.SO is a small California-created self-care essentials brand that harnesses the awesome power of colloidal silver. The brand uses only the highest-quality, Mother Nature-inspired ingredients and contain no chemicals, cruelty, gluten, or GMOs. PITS & PARTS enables you to refresh your sweaty zones throughout the day without chemicals and with colloidal silver. Cedarwood + Vetiver has a unisex scent that works for everyone, and other options include Grapefruit + Orange, Coconut + Mint, Geranium + Lavender, and more. Certified USDA organic for your health. Break a sweat with confidence!
Kindly
Kindly is on a mission to make the world a kinder place by designing products that are kind to your body, kind to your wallet, and kind to the planet. Incredibly convenient, Kindly has partnered with Walmart to bring you the first-ever plant-based bra cup made from sugarcane, and a collection of intimates sourced from recycled materials. The brand can be found exclusively on Walmart.com, in over 3,000 Walmart locations nationwide and through Walmart's affiliate program. With prices ranging from $10 – $20, you will never have to choose between function, planet, or price – and that's a pretty kind thing to do!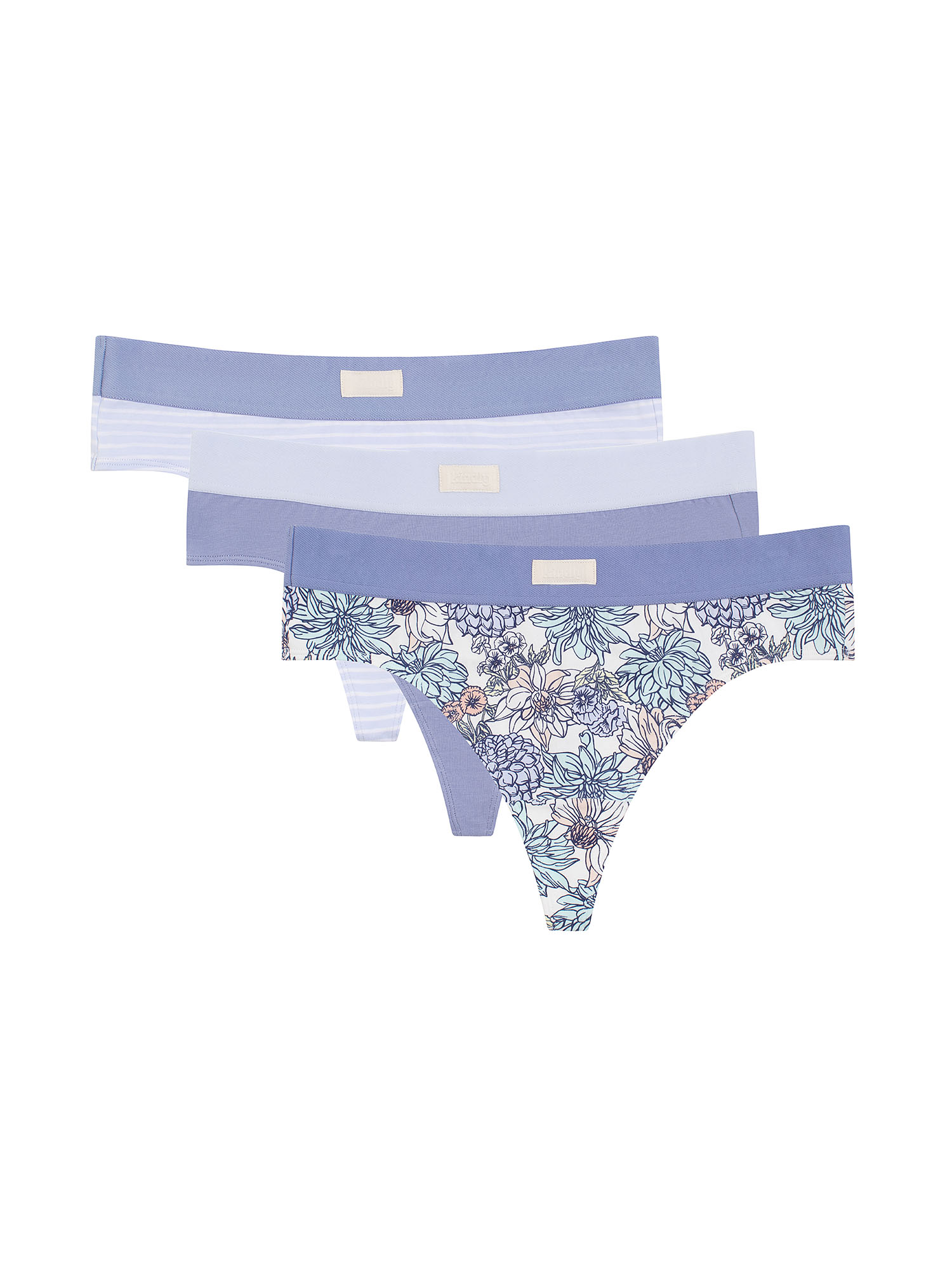 Idyl
Idyl's lab-grown diamonds include a modular design, meaning just one diamond stud (from $275) can be inserted into a variety of Idyl's earrings and necklaces. Worn by Mila Kunis, Jessica Alba, Nina Agdal, Jamie Chung, Vanessa Hudgens, and more, they've become a celeb-loved classic. Diamonds and sustainability can exist together.
Eriness
Erin Sachse and her eponymous brand launched  in 2015, after spending years hand making jewelry pieces. Erin would take old camera parts and weave/twist them into chic jewelry, and when she was young, would sell them outside of her dorm room. Her handmade items were so exquisite, that major stores started to buy them off of her body including Fred Segal and Anthropologie at the age of 18!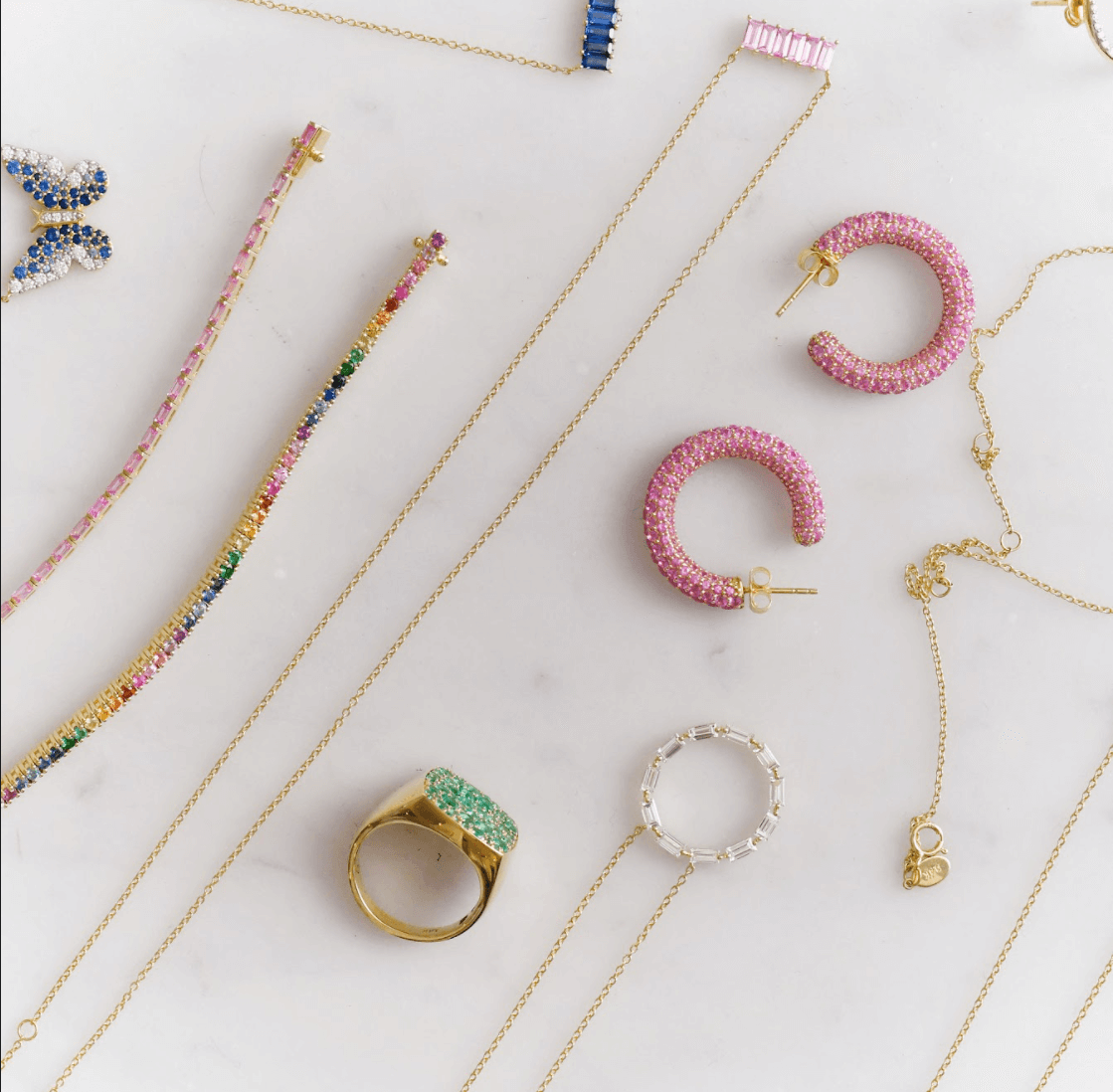 Now, years later,
Eriness
is carried by luxury retailers around the world including Goop and London Jewelers and adorned by a loyal clientele including Michelle Obama, Taylor Swift, Lupita Nyong'o and Miley Cyrus. Eriness is recognized in the industry for their cheerful mix of diamonds and gemstones, and stands out in the fine jewelry space due to how colorful yet luxurious the pieces are.
Zany&Shy
Zany&Shy's mission is to empower women to step into their femininity and desire to do good in the world without sacrificing luxury. With 18k solid gold, hand-made offerings include bespoke yet dainty rings, necklaces, and bracelets such as their
Arielle
Necklace
($1,348),
Belle Hoops
($4,121),
Emily Hoops
($2,662),
Giselle Bracelet
($2,233), and much more.
SET Active
Honing in on the "Anywhere" element of the brand philosophy (intended to keep you SET for anything, anytime, anywhere), SET Active has introduced limited edition drops throughout 2022 inspired by a different location, allowing shoppers to experience these uniquely special places through the SET lens, no matter where they are in the world.
In August, The Miami Collection delivered the ultimate taste of The 305 with 6 brand new color ways, including Flamingo, Little Havana, Basel, Sunshine, Vice and Heat — plus a limited edition style, The Sporty Skirt: Just-mini-enough to take you from workout to night out.
Their most recent drop, The New York City Collection only continues the trend of turning up the heat and looks! Known for drops that sell out within hours, this capsule will be no exception. SET Active Collections can be purchased at SetActive.co 
dryrobe
No matter the season, it's nice to get out to the beach, lake, river, or whatever body of water you enjoy. But once you've finished splashing around for a bit, you're bound to need three things: warmth, dryness, and a change of clothes. dryrobe's got you covered — literally!
dryrobe created the first weather-proof, versatile changing robe to make changing outside warm and easy. And even when you're not changing, it makes for the perfect toasty overcoat in between your bouts in the water. If you're feeling more daring and bold, be like Rita Ora and make a fashion statement, because there is no wrong way or time to stay warm! dryrobe helps to maintain your core temperature, and also wicks water away from your skin in order to dry you quicker after any water activity. It's the ultimate all-season, multi-functioning coverall!
And that's not all! dryrobe's additional benefits include:
Waterproof and windproof outer shell fabric made from 100% recycled nylon
Super-warm synthetic lambswool lining made from 100% recycled polyester
Tailored, fitted sleeves with hook and loop fasteners at the wrist
Treated with eco-friendly BIONIC-FINISH® ECO water-repellent technology
Full length 2-way reversible YKK® zip
Minimal sealed seam construction
Deep, fleece-lined external zip pockets
Huge 'A4' size internal, soft-lined 'poacher' pocket
Internal waterproof zip entry pocket – ideal for phone/wallet
Super light construction – approx 1.3kg (dependant on size)
Rebecca Crews
With the holiday season slowly approaching us, it's always important to show your loved ones how much they mean to you! If you're stumped over what to give the women in your life that likes the finer things, look no further than to Rebecca Crews!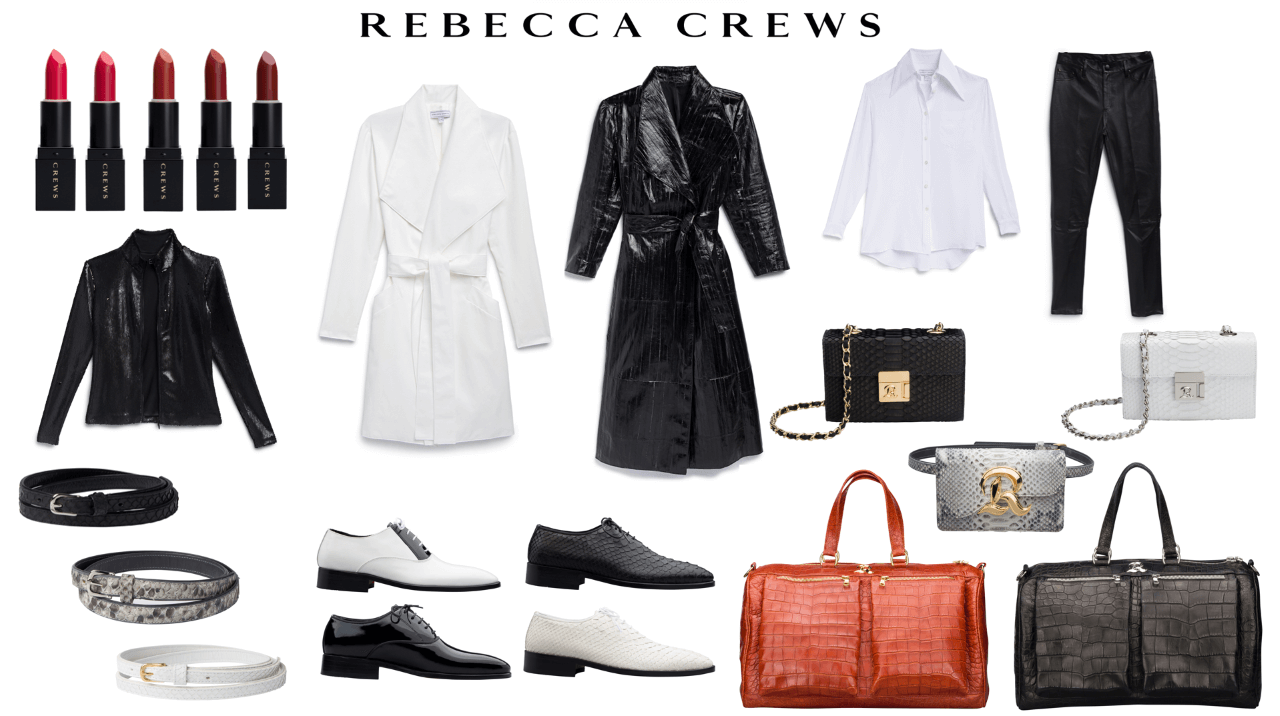 With prices starting as low as $40 for lipsticks and up to $22k for a crocodile duffle bag, you can find one-of-a-kind pieces for those with luxe, exquisite taste. From a wide range of bold colored lipsticks to exotic snakeskin accessories, leather pants and trench coats, Rebecca Crews has extraordinary gifts for the woman worth the splurge!
DRIVEWAY PARADISE
DRIVEWAY PARADISE is the sports-meets-streetwear lifestyle brand redefining "athleisure" through environmentally conscious, performance technology and a nostalgic aesthetic.
Officially launched on Friday, September 30th, DRIVEWAY PARADISE's first Fall 2022 Capsule Collection features two new product categories that fuse the brand's latest plant-based fabric innovations with an irreverently cool, retro-athletic vibe. Made from a proprietary blend of cotton, Isatis Root, and spandex, this collection will include a vintage-inspired, hybrid sports polo-meets-soccer kit and a turbo-juiced pair of athletic shorts designed to be worn in, worn out, and worn everywhere.
Istasis Root – traditionally used for its anti-inflammatory properties in Eastern medicine – contains the naturally antimicrobial extract of radix isatidis, which allows the fabric to maintain an always fresh look and feel – no matter how often you get your sweat on. During the plant-based fabric creation process, the use of a special technology distributes the extract of radix isatidis evenly to fibers promoting durability and product lifespan.
Istasis root also contains various amino acids and protein-polysaccharide, delivering a breathable, nourishing effect on the skin.
Built with speed, performance and comfort in mind, DRIVEWAY PARADISE promises to deliver the ultimate semi-performance essentials perfect for lounging, hitting the back nine, sneaking in a quick tennis match, and beyond.
The DRIVEWAY PARADISE Fall 2022 Capsule is available for purchase on DrivewayParadise.com.
Seraphine
Whether you want to give a gift for an expecting mom to practice some TLC like loungewear, a skin-to-skin top for a new parent to hold their new baby,  a mommy & me matching outfit, or an adjustable Sleepsuit, look no further than to Kate-Middleton approved maternity label Seraphine. Seraphine offers clothing & accessories for new & expecting parents across categories ranging from intimates to outerwear to baby-wearing clothing. You can learn more about Seraphine and see more of their offerings at their website.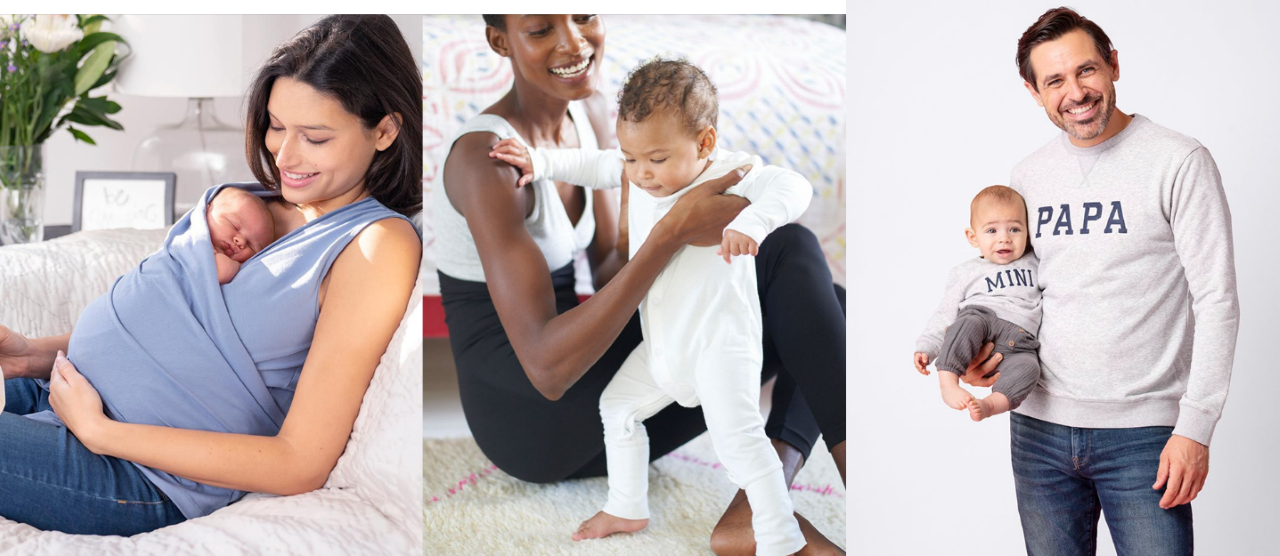 Lisa Todd
October is Breast Cancer Awareness Month, and there is no shortage of initiatives benefitting the cause. Throughout the entire month of October, Lisa Todd will donate 25% of net proceeds to The Pink Agenda from their top 3 Iconic heart sweaters of the season (Love Lines, Ice Breaker and Love is Back).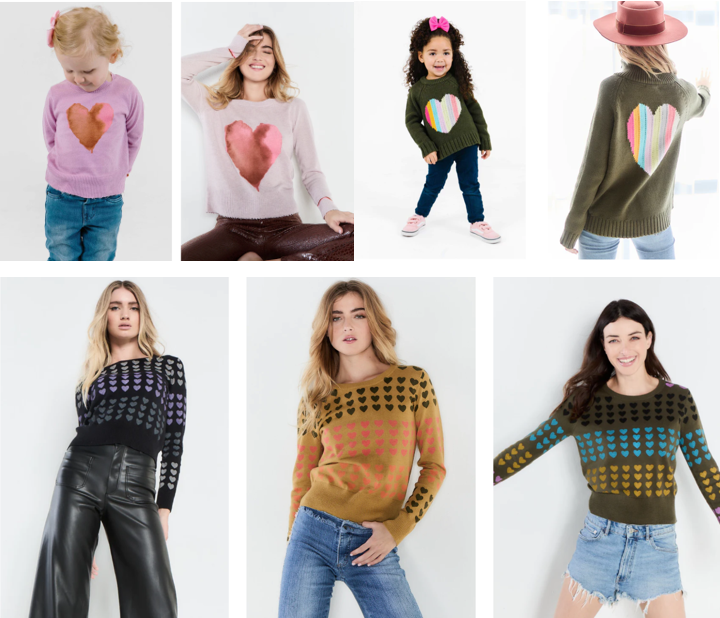 The brand, known for their mission to "create a line of decidedly 'anti-basic' basics," brings together a seamless beauty throughout their pieces, complete with coziness, timelessness, and a confidence-boosting affect.
Forme
If you've got golf on the books this season, then how about minding your posture? Forme technology is embedded into each of their posture correcting wearables, whether it's the athletic Ace Tee, the extra cushioned Arch Booster Socks, the eco-friendly Core Tee, or the Ace Polo.
Pro golfers and caddies alike love Forme's wearable tech that improves their performance on and off the course, from active time to downtime.
The science lies in Forme's ability to engage muscle memory, improving posture and reducing related musculoskeletal pain for better performance and faster recovery. Their performance wearables are perfect for daily wear, training, competition, travel, sleep, and general back care, and are the perfect device to stay injury free for more play and better play. All of Forme's products are FDA registered and made in the USA.
Find more benefits for golfers below:
Correct alignment, naturally and sustainably

Increase rotation and mobility

Open up chest and hips

Decrease neck, shoulder, and back pain
Stratosphere 41
For some people, health and fitness never stop — even when it gets a little chilly out. Luckily, there is always a way to make things better, and with Stratosphere 41 Yoga Towels, they've done just that. Strosphere41 yoga towels launched earlier this year by Lauran Grant with the goal of enticing yogi's to roll out their mats and get sweating! The mats feature incredible perks that you can't find just anywhere, and are perfect for individuals that love fitness, yoga or pilates. Stratosphere 41's Yoga Towels are available for $38.
What makes these towels so hot:
SUPER absorbent for your Hot Yoga or Pilates Sessions
Made out of microfiber – they dry in half the time of a cotton towel
Bright, stylish pattern to match your outfit! (no more boring, neutral yoga towels!)
Bring them to every workout!
Measurements: 24″ x 72″
SHALAJ
SHALAJ recently gathered numerous people who adore street culture and dressed in SHALAJ's MOMENTS and DECEPTION collections to takeover Times Square. They created a unique experience presented to those passing by on the busy New York streets viewing SHALAJ's collections with their bare eyes. A powerful scene was was on display, showing the core of the street culture using SHALAJ's garments harmoniously with the powerful identity that the city of New York brings out.
Aligning with the value that the brand withholds from using the human figure as blank canvas, to perform their fine art on top of the canvas of New York City, SHALAJ created their own gallery in the middle of Time Square. You can shop their latest collection here.
SHALAJ is creating their paths rather than following the footsteps of others by persevering their very own attitude and creating moments to grab the eyes of people who have a love of street culture and art.
Pinsy
Women's shapewear is one of the biggest trending markets these last couple of years, and this train won't be stopping anytime soon! Pinsy's mission is to create Shapewear that can be worn as outerwear, allowing women to "have it all: Style, Comfort, Support and Function." With the goal of empowering women to love their bodies and ditch the idea that shapewear has to be hidden and embarrassing, Pinsy is innovative and size-inclusive, making them a great fit for holiday gifts or seasonal transition pieces.
Daniel Patrick
Australian-founded luxury streetwear brand, Daniel Patrick is here to make a statement!
Founder, Daniel Patrick moved to the US in 2011 and launched his first line with his wife Jenny in 2012. At a young age, Daniel was fascinated by clothes as early as the age of four and he only became more intrigued by age. From following his father's footsteps and playing rugby he eventually made the switch to pursue fashion. Daniel pulls inspiration from his favorite cities, LA and NY, his love of hip hop music, while also combining his athletic background with a minimal and militant appeal, each collection unfolds. His pieces are now loved by NBA players and continues to expand. From RTW, to shoes and accessories – Daniel is taking luxury streetstyle to the next level.
All pieces are unisex and available on DanielPatrick.us starting at $45.
The Sunday Collective
The Sunday Collective is a NYC-based label that offers sustainably made clothing for ages 3-12. Their gender-neutral designs are made for growing children and incorporate adjustable straps, cuffed sleeves, and flexible waistbands for their perfect fit. Everything is made with the highest quality materials to ensure durability and can be passed down between children or amongst friends. The brand uses ethical production practices that utilize organic and post-consumer recycled materials and 100% recyclable tape, tissue paper, and packaging for all their items.
Their FW22 Collection is a must-have and the collection ranges in price $22-$180 and is available on their website
Robert Barakett
Robert Barakett just launched their Fall '22 collection, which is now available on their site. With the SoCal weather finally cooling down, it's about time  to make the seasonal wardrobe transition. The newest pieces from Robert Barakett are not only sleek and elegant, but they will give your wardrobe versatility. From sophisticated designs to the subtlety of the refined fabrics, the brand's garments always combine beautiful form with comfort.
The Robert Barakett team takes pride in their factories' superior workmanship and attention to excellence from design to finish.
Franco Sarto: FLEXA Collection
Franco Sarto, a brand born of Italian shoemakers and rooted in artistry and craft, is raising the bar on footwear innovation with the FLEXA Collection: boots with contour, form, and flexibility like never before.
Inspired by historic shoemaking techniques originating from Bologna, the Franco Sarto design team takes flex technology to new levels with an ultra-light, ultra-flexible shankless shoe construction with 7mm of luxurious handstitched foam for cloud-like cushioning and a contoured, glove-like fit unlike any other. The result: sleek, high-heeled styles with a destructed feel and tangibly increased comfort and flexibility like never before.
"Our vision for FLEXA was to craft the most comfortable boots we've ever made, looking to the heritage of Italian craftsmanship for inspiration," says Creative Director Gionata Pagni. "With FLEXA, women can feel both beautiful and free to move in their own artful, inspiring ways."
Comprised of three essential fall styles, the FLEXA collection features a tall boot (FLEXA Tall), mid-calf bootie (FLEXA Bootie), and square-toe slide (FLEXA Slide), crafted in stunning flexible leather with rich, fall-inspired hues. FLEXA styles are now available starting at $160.00 on FrancoSarto.com and select retail partners.
To embody the flexibility and contour of the FLEXA collection, we commissioned world-renowned Physical Poetry artist Erika Lemay in a gravity-defying performance, combining aerial artistry and awe- inspiring movement to put our FLEXA boots to the true test.
"Ultimately, details don't lie. I thought performing in high-heeled boots would be challenging. When I tried on the FLEXA boots and started moving, they felt like a second skin. They are so flexible and allow for full ankle movement. My foot felt supported even when suspended by one foot," shared Lemay.
Amani Saab
This season, some unexpected material trends have been seen on runways and walking SoHo's streets. From sheer maxis to feather-overload and elevated sportswear, the trend is the reinvigoration of sequin-mania. Adding a light-catching sparkle to dress up any casual daytime fit has been an unexpected styling trick walking the streets of Fashion Week.
"With mindful design at the core of the brand's values, Amani Saab releases exclusive capsule collections on a made-to-order basis to avoid over production. A refined selection of materials are carefully sourced, ranging from new, eco-friendly and surplus designer fabrics to create responsible, unique pieces."
Trina Turk
Sequins, metallics, feathers, and fringes are just a few highlights from Trina Turk's Fall '22 collection. On the cutting edge of the next big fashion trends, Trina Turk encompasses all things luxury and fashion.
The brand is, "inspired by the multicultural mix, creativity, craftsmanship, architecture, and landscape of California – a synergy that permeates the contemporary, colorful aesthetic of her women's clothing line. Bold signature prints and dynamic hues add playful character to dresses, tops, bottoms, suiting, sets, and swimwear. Trina Turk style incorporates beautiful fabrications and impeccable quality for effortless élan and carefree glamour, ready for your next vacation, weekend brunch, or any event on your calendar."
NEW:
Trina Turk has partnered with BedHead PJs to launch her first-ever sleepwear collection! The capsule is a combination of Trina Turk's iconic prints and BedHead PJs bestselling fabrics and silhouettes.  This chic collection features beautiful styles for women, men, and even your pup! Ideal for gifting your loved ones, your furry friends – and of course, yourself!
This new sleepwear collection features over a dozen key pieces, including sleepwear sets, caftans, chemises – and matching prints for your furry friends – in BedHead PJs luxe jersey and poplin fabrications, made with organically grown cotton and 100% silk charmeuse. Women's sleepwear styles areavailable in sizes XS-XL, ranging from $98 – $248; men's styles in sizes XS-XXL, ranging from $98 – $120; and we can't forget nightwear for the pups – available in sizes XS-XL, at $30.
Elizée
Elizée delivers exquisitely designed heels, featuring buttery soft Italian leathers and a unique insole engineered to provide an ultra-wearable luxury experience. The brand's signature Plush Contour insole, developed in collaboration with podiatrists, combines layers of memory foam and responsive gel cushioning to reduce pressure in the forefoot, absorb impact, and provide maximum cushion and stability.
Capturing the attention of celebrities, stylists and editors with its unparalleled beauty and comfort, Elizée was founded by its CEO and Creative Director, Erika Carrero who has a desire to reshape luxury footwear. Erika transitioned from the tech startup boardroom to the world of luxury fashion with a collection of exquisitely designed Italian high heels, engineered to empower the modern woman's versatile lifestyle by delivering styles that are both gorgeous and comfortable. From heels to booties, each style is handcrafted in a family-run artisan factory outside of Milan, using breathable Italian leathers sourced from certified sustainable tanneries. All styles are available on their website, here.
Kaiyo
Kaiyo, the leading full-service marketplace for secondhand furniture, recently announced its West Coast expansion giving second-hand furniture lovers the option to now shop and sell pre-loved furniture. Kaiyo offers an incredible selection of furniture from top brands like Restoration Hardware, Design Within Reach, West Elm, and many more at up to 90% off retail for every home decor style and location. Whether you're looking for a beach aesthetic or a more chic look, Kaiyo has your go to pieces no matter your California residence.
HUF x Lost Farm by Kiva Confections
What do you get when two iconic California brands collaborate? An impeccable result! Legendary skate brand, HUF, and edibles trailblazer, Lost Farm by Kiva Confections, teamed up for HUF's first ever cannabis collaboration. Launched October 7th, the capsule collection includes a merch collection, alongside a limited edition Chew and Gummy that uniquely blends skate & streetwear roots with the strains and cities near and dear to both brand's hearts — SF & LA. The collection aims to further highlight the synergies between cannabis, streetwear, and skate culture.
In addition to Gummies and Chews, customers will be able to get their hands on limited edition merch including graphic tees, socks, clocks, and more. Lost Farm x HUF will be available in dispensaries across California, with merch available for purchase at HUF locations, select skate shops and Zumiez for a limited time.
Cann
With the holidays quickly approaching, beat your hangover and the post-holiday party regrets with a Cann Cranberry Sage! With a delicious mix of tart and earthy notes, this limited edition flavor will give you the uplifting buzz we all need this season without any of the alcohol induced side effects. With all-natural ingredients, a fast onset, only 35 calories per can, and the promise of no hangover, it's perfectly crafted to be your go-to treat all winter long and the perfect beverage for your Thanksgiving spread!
Cann also recently just swept the Clio Cannabis Awards, taking home a total of 15 awards, including Brand of The Year. Since launching in 2019, the celebrity backed company has grown massively and surpassed over 10 million units in sales with support from fans and celebrity investors alike. Are you ready to ditch the eggnog and party like a true Hollywood celeb this holiday season?
Time Machine
Time Machine, the smalls brand quickly becoming known for its whopping 28-pack jar of pre-rolls, has officially introduced vaporizers into its product family. Even better, they've got something for everyone! With an assortment at their disposal, it's like Halloween for adults.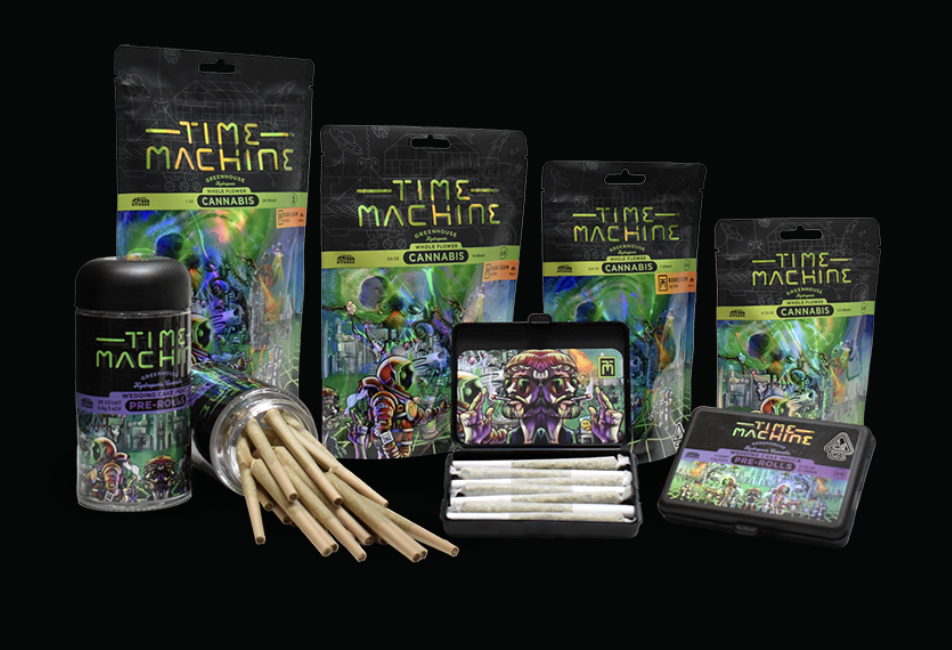 Time Machine 510 vapes are currently available in 6 strains at over 400 retailers across California:
Mango Sunrise (Sativa): Calming & Uplifting with notes of mango, citrus, and candy

Banana Laffy (Sativa): Calming & Uplifting with notes of fruit and banana

Apple-a-Day (Hybrid): Energetic with apple, tart, and fruity notes

Kantaloupe Cush (Hybrid): Calming with fresh, sweet, and melon notes

PB&J (Indica): Peaceful & Relaxed with peanut, strawberry, and raspberry notes

Blueberry Puffin' (Indica): Focused & Peaceful with blueberry, bread, and sugar notes
From the Pacific Stone family of farms, Time Machine first launched in April with a line of flower and pre-rolls. Each Time Machine product contains a QR code that directs customers to engaging graphic novel content meant to be enjoyed while smoking.
Wyld
Looking for a Wyld time? This might be the one for you!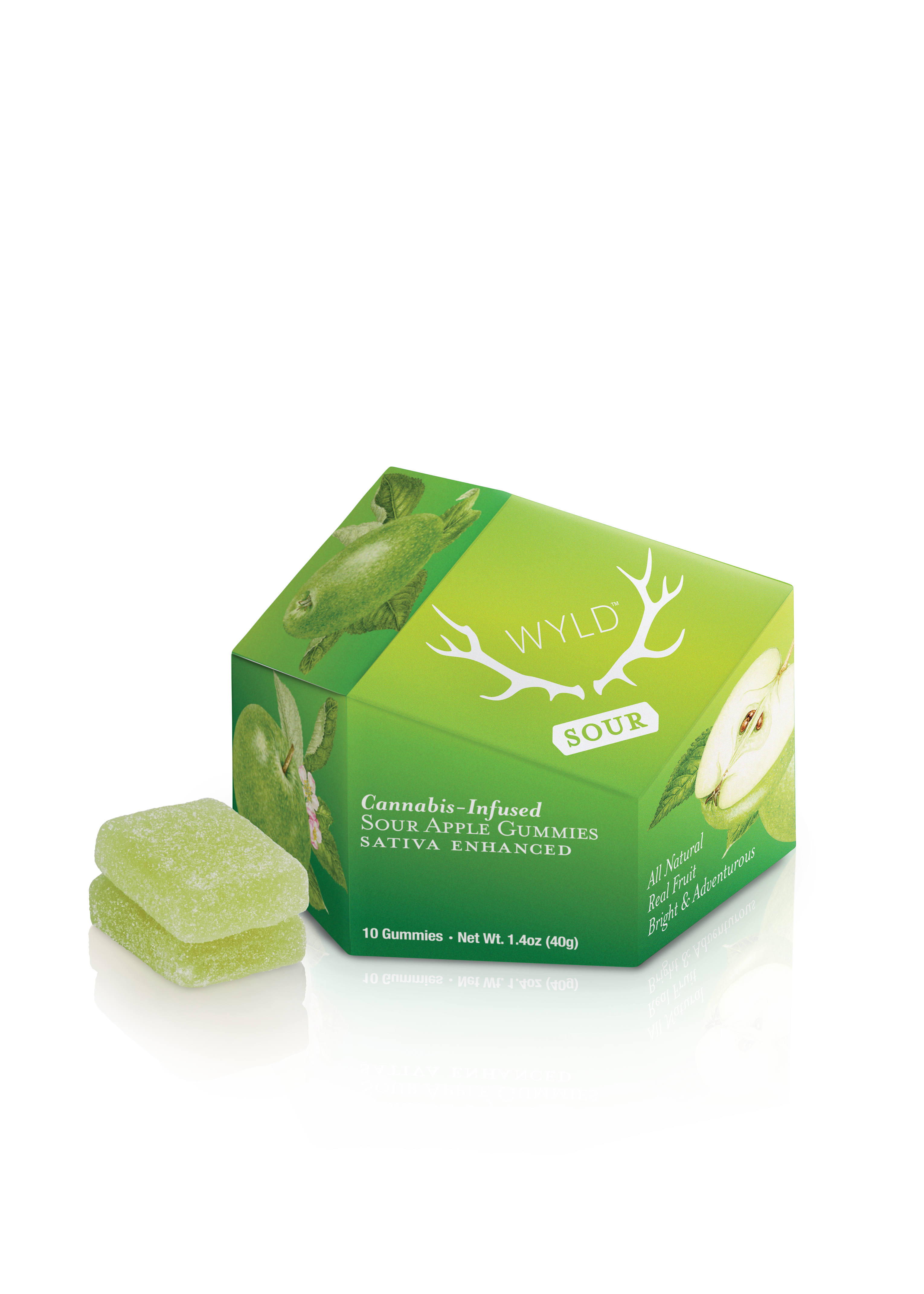 The cannabis scene continues to expand at rapid pace with new innovations, profiles, and flavors. That's no different for this brand, whose delicious product is formulated with the same real fruit ingredients and natural flavors as the rest of their existing product portfolio. Wyld has introduced a new Sour Apple flavored gummy that is sativa-enhanced, and also includes a proprietary blend of food-grade botanical terpenes to maximize the effects of each product's cannabinoid profile.
Don't pass up the sweet treats this holiday! Wyld is available in OR, CA, CO, NV, AZ, MI, and WA for an MSRP of $20.
Pacific Stone
Pacific Stone released six new strains, toward the end of Summer, and they're only got more on the way. The drop included Gelato 41, Sherbert, Sherblato, Mango Kush, Grape Pie and The MAC.
In addition Pacific Stone has been working closely with Dear Cannabis to donate over $1M in retail value to medical patients, and will be continuing its partnership for the foreseeable future.
Here are the highlights from their hybrid strains and indica strains:
(H) Gelato 41 is a hybrid strain that is high in THC and offers a heavy, relaxing body high without clouding the mind. This strain has buds that grow in an array of colors, from light green to purple, with trichomes that put out a sweet and pine aroma alongside hints of lavender. Gelato 41 is potent and the high is best reserved for those looking for a new heavy-hitter.

(H) Sherbert is an indica-dominant hybrid that exhibits powerful, full-body effects that are elevated by a jolt of cerebral energy and carefree state of mind. Sherbert boasts a THC level that may be overwhelming to novice cannabis consumers. The high potency of Sherbert makes it an ideal choice for those seeking relief from symptoms associated with stress, tension, and mood disorders. This strain features a sweet, dessert-like flavor profile with notes of skunky citrus, sweet berry, and candy. Sherbert flowers into oblong fluffy nugs with rich trichome coverage and dark amber hairs throughout light and dark green foliage.

(H) Sherblato is a THC powerhouse with heavy physical effects. Expect buds to be dark green in color with heavy trichome production. Flavors are freshly crushed earth and spicy, bringing about euphorically sedative effects. Lovers of couchlock strains or anyone seeking relief from anxiety should give this strain a try.
Pacific Stone New Indica Strains
(I) Mango Kush tastes similar to the actual mango fruit, with a distinct kush flavor and hints of pine on the exhale. Its frosty heavily dense buds are covered with thick shiny trichomes and bright orange pistils. This indica strain will leave you happy and giggly with a relaxing body high.

(I) Grape Pie looks just like a classic old school indica purp strain with terpy trichomes that offer delicious sour and sugary grape aromas. This strain gives off a high that may initially bring you up with euphoria before landing you down on the couch for munchies and the television.

(I) The MAC (aka Mac1) will give you an uplifting, euphoric head high that you can enjoy at any time of day accompanied by its upbeat effects. It grows into fluffy buds with milky trichomes and aromas described as buttery, and citrusy!