Nothing says summer in LA quite like brunch, drinks, and hanging with the LGBTQIA+ community. Actress Halle Berry has teamed up with TikTok Stars The Old Gays (7.4M followers and recently highlighted in the New York Times) and cult favorite canned wine brand Bev for the ultimate Pride Campaign: Serving Pride.
Highlighting the brand's limited edition Pride Spritz, in which 10% of all sales are being donated to wayOUT, this digital, and OOH wildposting campaign – produced entirely in house at Bev – embraces and highlights the iconic celebration of self love — and spreading it to others to SERVE PRIDE. Utilizing a diverse group of individuals both in front of the camera and behind, Bev seeks to encourage consumers to live their best life, amplify their voices, and be unapologetically YOU. The Pride Spritz is a Sauv Blanc, offering aromatics of crisp green apple, white nectarine and a light, fresh, citrus finish, combined with a playfully uplifting bubbly experience.
Bev is notable for their selection of 100-calorie canned wine spritzers with 0g of sugar and only 3g of carbs, making them one of the most diet and health-conscious brands on the market. What's more, Bev delivers directly to your doorstep, nationwide, via FREE two day shipping! And If you're shopping in store, you can pick up a pack at your local Target, Bevmo, Total Wine, AVP, and more. Check out https://drinkbev.com/pages/store-locator to find a store nearby for when you're en route to the pool party, and are in need of a good Bev!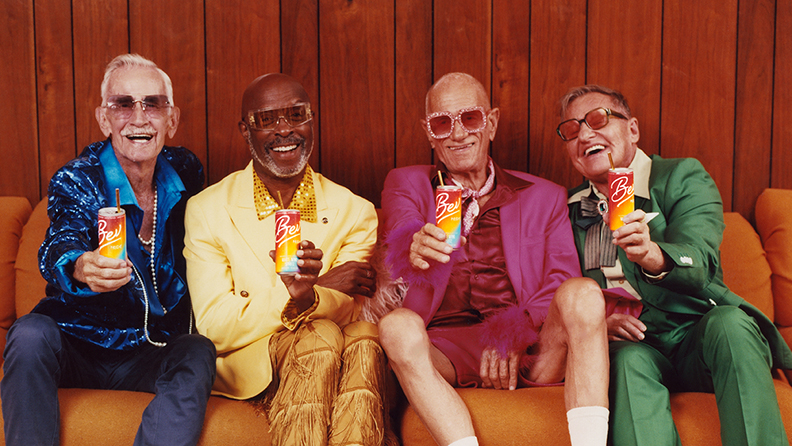 Even with a week left in June, many are still continuing the celebration of Pride, and will continue to do so after June has passed – especially as we continue to see heightened targeted legislation and attacks on the LGBTQIA+ community. Allies continue to step forward to lend their love and support, and it's likely we will see many more needed initiatives like this one throughout the year.
About Bev
Bev is a female-forward beverage brand that was founded to change not only the way a product is consumed but the way an industry and culture have operated for generations. In an industry that is almost exclusively masculine, Bev is breaking norms and creating something from the female perspective that is approachable, fun, and consumer-centric. Unlike other canned wines, which tend to use bottom-of-the-barrel grapes, added sugars, and artificial flavors to taste, Bev is a canned wine made from high-quality, central CA grapes.