Las Vegas has long been an easy, quick playground destination for Angelenos and Southern Californians alike. We love their nightlife, endless attractions, cuisine, and glamour, but mostly how the city constantly works hard at keeping things modern and ahead of the curve in offerings of entertainment. Palms Casino Resort has just about completed a $485 million revitalization plan of its property to include the new Apex Social Club and Camden Cocktail Lounge due to open in mid May 2018. These new concepts were created by Clique Hospitality's Andy Masi, and nightlife partners Ryan Labbe and Jason "JRoc" Craig
"As we redevelop Palms from top to bottom including our most iconic spaces, it only makes sense to partner with nightlife leaders Clique Hospitality to help bring this vision to life," said Jon Gray, General Manager of Palms Casino Resort.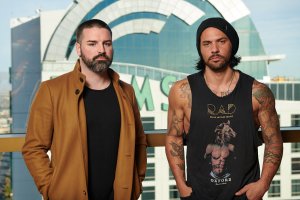 APEX Social Club, located in the space formerly known as Ghostbar, has long held the unofficial title as the best view in Las Vegas. APEX Social Club will capitalize on the unrivaled 180-degree view while reinterpreting the space and turning the 8,000-square-foot space into an open-air boutique nightclub.
Trendy, warm finishes accompanied by sounds from local and national DJ's will greet guests upon arrival to the 55th floor venue. Guests will also be surrounded by a number of one-of-a-kind art pieces, which will serve as a focal point to the room, creating a sophisticated, upscale vibe. To complement the stunning view and venue, guests will be able to experience specialty-crafted cocktails, age-old favorites or indulge in tableside bottle service, all while capturing peering down on the city below. You know what they say; a good view never goes out of style.
Camden Cocktail Lounge, located adjacent to the main entrance, is another reimagined venue. A dynamic cocktail lounge at its core, Camden Cocktail Lounge will focus on mind-blowing cocktails, all presented in a distinctive over-the-top manner and with flair unlike anything seen before. Bartenders, all of them masters of mixology in their own right, will put their own whimsical spin on beloved classics or create new favorites for guest's right before their very eyes.
Guests will be able to imbibe in an environment that successfully toes the line of classic and modern decor. The attention to detail inside Camden Cocktail Lounge will be second-to-none. Programming will change daily with a mixture of live music and DJ-driven sounds.
"These are legendary venues, and if the walls could talk, you would hear some amazing stories," Craig said. "We're going to add a few chapters to those stories."
"A lot of people miss the heyday of Vegas when it was about the room and the energy and not just the talent," Labbe said. "We're bringing those days back."
Also added to the group is Eric Hobbie, the mixologist stirring up the new signature cocktails for soon to open APEX Social Club and Camden Cocktail Lounge.  He's been tapped as the brand's Corporate Intoxicologist where he engaged to create unique, signature cocktails that represent Clique and their respected cocktail programs across venues from Vegas to San Diego, by highlighting creativity through mixology. He is a Certified Beer Server, Certified Sommelier, CRT Tequila Specialist, Graduate of the Academy of Spirits, and is Bar smart certified, insuring Clique guests receive nothing but the best. Hobbie is thrilled to be part of the team and looks forward to making his imprint on the high-end brand.