What's filling, high in calories, carb-heavy, and lacking vegan, gluten-free, and protein-rich options? Pasta! At least that was the case. Welcome Impasta, who recently opened their Beverly Hills location, offering everything there is to love about pasta, pizza, and salad, and rethinking it in a health-centric way. Southern California, while rich in numerous alternative food choices, does not have many Italian cuisine choices that take into account the different popular diets of today. In fact, this is one of the few cuisines with very little alt-option coverage in general.
There's an Impasta Among Us
Entrepreneur Harrison Litvack is thrilled to announce the launch of his new restaurant
Impasta®
at 459 North Roxbury Drive in Beverly Hills, CA, offering 100% gluten and grain free alternatives of your favorite pasta and pizza dishes with the calories of a salad. Filling the void of delicious dishes that can accommodate most specialty and restricted diets, Impasta® allows you to spoil yourself without compromising your lifestyle. From the house-made cauliflower pizza and gnocchi (try with pesto, fresh ricotta cheese and toasted pine nuts) to 7 varieties of plant-based noodles, Impasta provides a nourishing menu that fulfills your hunger and leaves you satisfied. For more education about Impasta's wholesome choices and nutritional information,
click here.
Sounds too good to be true? Try Impasta's No Regretti Spaghetti™ for yourself. Whether dining in or ordering food to-go, the healthy and tasty restaurant has something to accommodate every whim.  For guests avoiding nuts, eggs, dairy and gluten, they can customize their meals with ease.  Many guests with Celiac Disease feel safe enjoying this new pasta again.
"At Impasta®, we believe that diners should not
sacrifice
their favorite pasta, pizza and salads that they love because of the carbs and gluten that they don't. Eliminating your favorite meals for a healthier diet and lifestyle are not mutually exclusive," says Litvack.
Litvack holds himself and Impasta® to the highest possible standards and is proud of the low carb/gluten free sourced ingredients that he uses in his kitchen.
Customer favorites include: Spaghetti Squash pasta with pink sauce featuring vodka reduction and cream or the Impossible™ Bolognese with Zoodles, Impossible meat, and a red wine reduction.  The Truffle Mushroom is on point with Squash Tagliatelle drizzled with white wine and a mouth-watering truffle mushroom sauce, and the Barbeque Chicken Pizza with chicken, red onion and parsley.  Impasta also offers a variety of fresh salads and bowls like the Brussel Sprout Salad with red onion, walnuts, dried cranberries and goat cheese.
As if that's not already enough, diners also have the option to customize their own meal with a wide variety of options for your choice of base, sauce, and toppings. By giving you the option of dairy or vegan cheese and proteins including chicken, shrimp and Impossible™ sausage, Impasta® offers an inclusive menu where you don't need to feel limited. Whether you are vegan, vegetarian, gluten-free, Keto or Whole30, Impasta's menu accommodates for a wide variety of choices.
·  Base options include: Spaghetti Squash, Zoodles, Shirataki Noodles, Cauliflower Gnocchi, Squash Tagliatelle, Hearts of Palm, and Kelp noodles.
·  Sauces: Cherry Tomatoes & Burrata, Pink Sauce, Impossible™ Bolognese, Pomodoro, Puttanesca, Four Cheese, Pesto with Ricotta, Truffle Mushroom, Brown Butter Sage, Red Pesto, and Romesco.
·  Salad / Pizza / Pasta Toppings include: Proteins: Chicken, Shrimp, Salmon Fillet, Tofu, Impossible™ Sausage, Grilled Veggies, Cheese: Burrata, Ricotta, Cashew Burrata, and Cashew Ricotta, Truffle: Fresh Black Truffle and White Truffle Oil
Our Time at Impasta
The team at Impasta invited us to come in and try a couple of dishes, and we were blown away by the experience! We ordered their Barbecue Chicken Pizza and Four Cheese Gnocchi. Made with cauliflower crust, juicy chicken, red onion, parsley, and a slathering of barbecue sauce, Impasta's pizza was enough for two to share comfortably. Gluten-free and filling, the barbecue pizza was almost exactly like eating a regular pizza with a thin-style crust, sweet, smoky sauce, and gooey melty mozzarella that satisfied our savory hearts.
On the other hand, Impasta's Four Cheese Gnocchi was topped with Impossible Sausage, and we don't have enough good things to say about the full flavor, and deceptively filling dish. Served in a small bowl, it might seem to be on the small side, but Impasta's gnocchi is quickly filling, and when paired with Impossible Sausage, a flavorful match made in heaven. Its sausage slices providing a kick, and smothered in their cheesy house-made sauce, this gnocchi met the texture and consistency of the traditional noodles, leaving us questioning if cauliflower was actually the base of their creation (and yes, it is).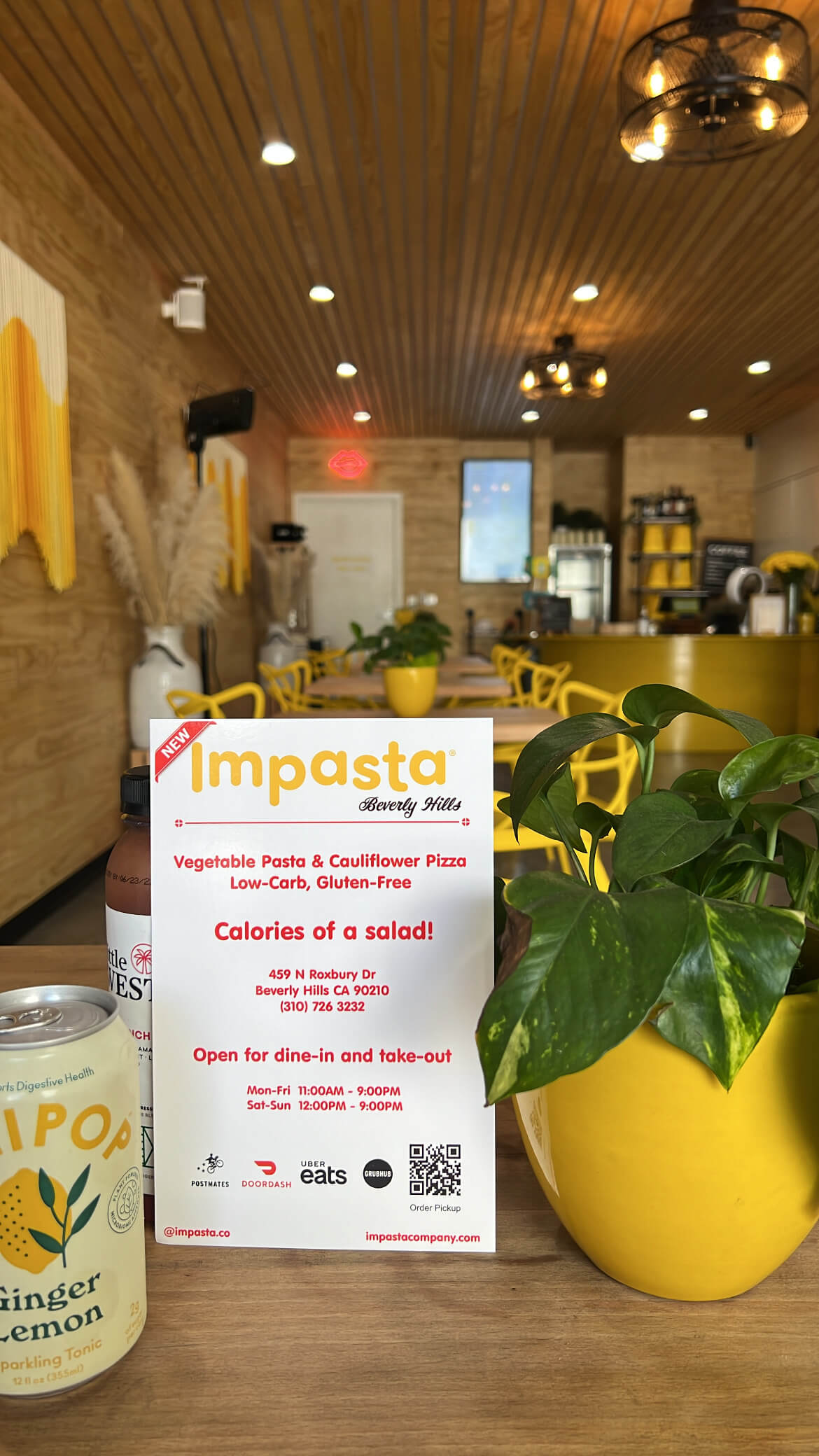 Impasta is set in not just a quiet area, but also compliments the location with their clean and bright colors. Cozy and nestled in the middle of Roxbury Drive, Impasta is a welcome restaurant where anyone looking for clean eating alternatives of traditionally carb-heavy favorites will find joy. We can't recommend it enough, and the next time we're in the area, we'll be stopping by to try another delicious mix of gluten-free options.
About Impasta
With great pasta comes great responsibility.
Committed
t
o making our world a healthier and better place, all of the packaging at Impasta is made from natural or recyclable materials. The
CO2 neutral packaging supports the offset of greenhouse gas emissions and aids in the preservation of our precious planet.
Monday – Friday: 11:00 am – 9:00 am
Saturday: 12:00 pm – 9:00 pm
Sunday: 4:00 pm – 9:00 pm