Do you know what's better than a Christmas present? An early Christmas present! Culinary madman Michael Cirino from A Razor/A Shiny Knife (behind uber creative food & drink experiences like Lunch on the L Train and Cocktails with Drones) is bringing his next big idea — the 100 Course Meal — to life for the first time ever in LA this December! Tickets just went on sale, and guests can expect to be in for quite an unbelievable treat this holiday.
Cirino has lined up some of LA's top culinary talents to take part, including favorites like Bub & Grandma's Bread, Coolhaus, Homestate, Konbi, Jewel, Ms. Chi, SLAB, and The h.wood group. In addition, 100 Course Meal is an expansive, seemingly never-ending table of highly choreographed delivery of 100 artfully presented dishes throughout the course of the event. Each of the 100 guests per dinner (or lunch!) will be able to sit and enjoy ten dishes at the table in rapid succession. As if that weren't enough, exploring the space via ultra-experiential elements like drone bartenders, laser-printed food, chef demos, beverages galore and more alongside 100 dish presentations like 100 pieces of sushi, tacos, sandwiches and donuts – all for guests to photograph and consume. Imagine an over-the-top 100 person dinner party.
The inaugural 100 Course Meal, an interactive culinary journey to set sail with exclusive cruise partner Virgin Voyages that will be held at Downtown LA's Hudson Loft on December 6-8. The 100 Course Meal is an elaborate gastronomic adventure that artfully merges theatrics, technique and flavor. Attendees will be immersed in a high-impact, multisensory experience curated by the city's top culinary and beverage talent, including Bub & Grandma's Bread, Coolhaus, Dune, Future Gin, Homestate, Jewel LA, Konbi, LAMILL Coffee, Ms. Chi, Phorage, Tackle Box, SLAB, and The h.wood Group and set within a breathtaking space that offers sweeping views of the city.
100 Course Meal is the brainchild of Michael Cirino who's been bringing his highly sought-after A Razor/A Shiny Knife dining experiences to sold-out crowds around the world from New York City to Panama for more than 15 years. In collaboration with Thrillist, Cirino is excited to bring his latest concept to Los Angeles, a city with a diverse, rich food history and insatiable zest for culinary innovation.
"At Thrillist we are always trying to push the limits of traditional dining to create one of a kind food experiences that elevate the senses," said Ocean MacAdams, President of Thrillist. "Michael has a history of creating these innovative culinary moments that surprise and delight and we are confident that this event will create an atmosphere, unlike anything our audience has had before."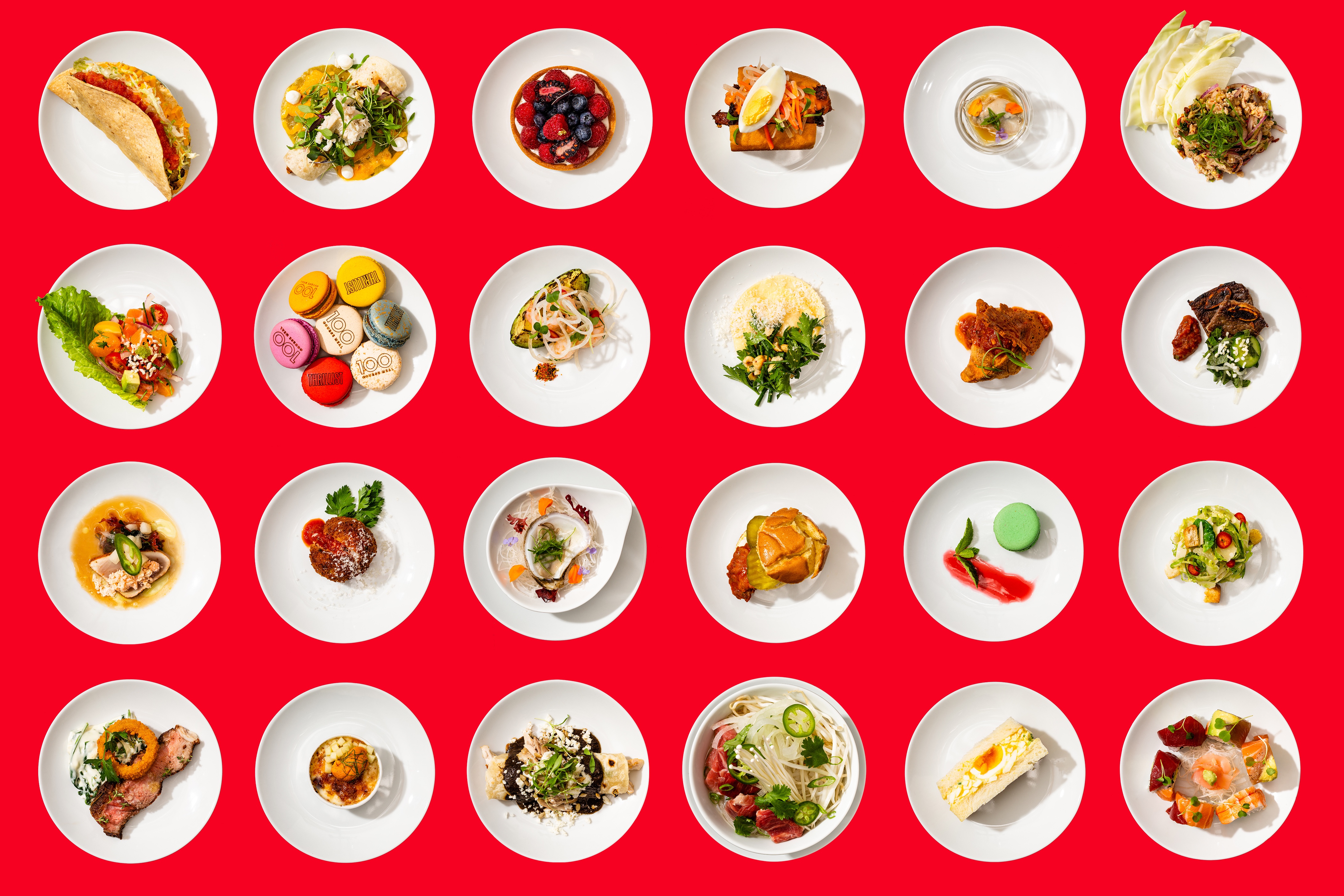 The trademarks of the 100 Course Meal will be an expansive, seemingly unending table and the highly choreographed delivery of 100 artfully presented dishes. Each of the 100 guests per session will be able to enjoy ten dishes at the table in rapid succession along with tableside preparations ranging from Lawry's spinning Caesar salad to traditional dim sum. Bringing together notable LA farmers, chefs, bartenders and coffee roasters the event aims to foster a sense of community and collaboration and serve as a reflection of the city through an examination of its food culture.
In addition to the seated experience, guests will be given the opportunity to further interact within the 7,000-square-foot space via multiple activations including the culinary lab, showcasing the future of food and beverage. The lab will be complete with cutting-edge demos highlighting everything from a drone bartender stirring cocktails to a food laser and popcorn ice cream made with liquid nitrogen. Additional components include multiple demos led by the event's culinary contributors including tortilla making and knife skills.
For more information on the 100 Course Meal and forthcoming ticket sales, please visit this link. Tickets are priced at $100 and include ten seated courses and access to unlimited beer, wine, and cocktails and all the food and fun happening inside the venue.
About Thrillist
Thrillist means fun; we are the essential resource for how to spend your time and money. We're eaters, drinkers, travelers, and doers. We serve the curious and believe that new experiences are what drive the richest lives. We bring our passion, expertise, and taste to bear on the things that are truly worth your time and money. Life's for living, and that's why we're here. Today will be great. In December 2016, Thrillist joined forces with NowThis, The Dodo and Seeker to form Group Nine Media – a global top 10 publisher.
About 100 Course Meal
100 Course Meal is a multi-sensory celebration portraying diverse cities through a unique lens that exposes their culinary identity through the framework of their storied history and current innovations. Characterized by its interactive format, the event allows guests to taste, experience and explore. 100 Course Meal is presented by Michael Cirino of A Razor/A Shiny Knife whose creative studio and hospitality group focuses on creating larger than life immersive experiences that are brought to life through trans-media storytelling. Over the last 15 years, Cirino's seminal experiences have included a multi-course, haute-cuisine lunch served on the NYC subway, a birthday party for the 125th anniversary of pizza with a pizza delivered from every pizzeria in New York City and a life-sized Monopoly game gala dinner for the Panamanian elite Calicanto Foundation.  Cirino and his team have also collaborated with Fortune 500 brands including Chanel, Google, Sothebys and Pepsi. With work in nearly every major city in the US and extensive international locations including Panama City and Milan, Cirino and his team bring their brand of experience to a global population.