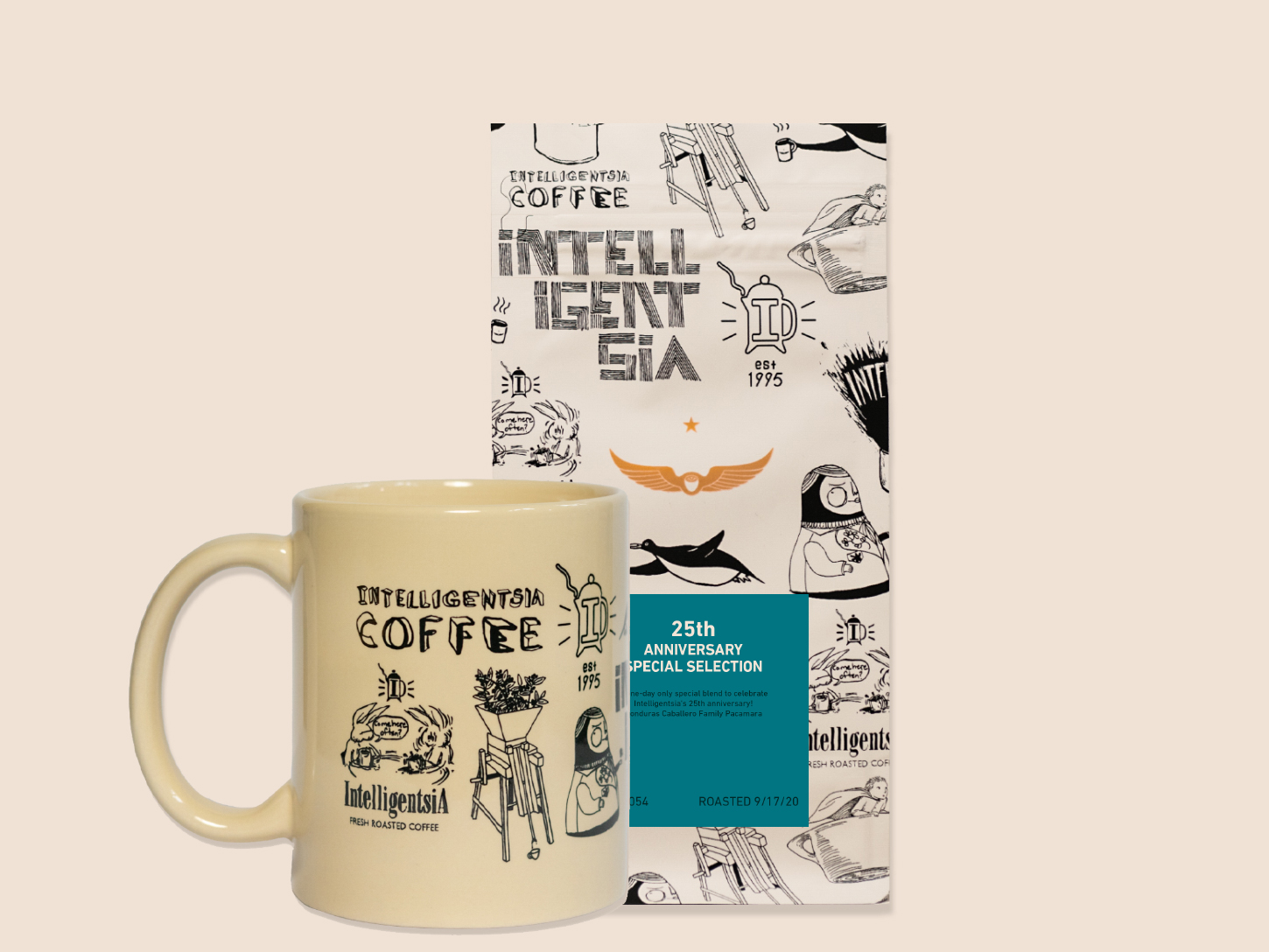 It's Fall, and you know what that means: hot cocoa, pumpkin spice everything, apple cider, and most importantly, hot coffee! This mood is just in time, too, as it's the 25th anniversary of Intelligentsia Coffee! It's a notable anniversary for third wave coffee as a whole, as the Chicago-based Intelligentsia is the first of the "big four" specialty coffee pioneers to reach a quarter century, and definitely a marking moment for Los Angeles' coffee scene with their Silver Lake location back in 2007. 
In the years since they became part of the city, the influence they have had on LA coffee can be seen through an impressive "family tree" of folks who have passed through Intelligentsia and played a role in defining LA's specialty coffee culture as one of the top/most unique in the world. To name a few — Charles Babinski and Kyle Glanville of Go Get Em' Tiger, Tony Konecny of YesPLZdotcoffee, Michael Phillips of Blue Bottle Coffee (former co-founder of Handsome Coffee) and Tyler Wells of Nice Coffee (former co-founder of Handsome Coffee) have all indulged. 
Intelligentsia is doing several things to help celebrate with their customers. From October 2nd through October 8th, they will host an online warehouse sale, selling merchandise, one-off collaboration items and brewing equipment from their training labs. This includes, bikes from Heritage Bicycles, holiday sweaters, logo tees, Bonavita brewers, and LA-specific items like the Silver Lake 10-year anniversary t-shirt, and the Hollywood coffeebar mug.

On their actual anniversary — Friday, October 9th — they will sell a $25 coffee and mug bundle online and at their Silver Lake and Pasadena coffeebar locations. While only available on that day, both the mug and coffee bag will feature a limited-edition design that showcases old iterations of the Intelligentsia logo and hand drawn sketches from old Intelligentsia advertisements. Limited amounts are available, so get them while you can! Finally, Intelligentsia will also be giving away a free year of coffee; and, customers can enter to win at any Intelligentsia coffeebar on Oct. 9th! What a way to celebrate the cooler weather and holiday vibes!