Midheaven, formerly Midheaven Denim and a brand specifically for tall women, is relaunching with a chic collection of denim & RTW for all women – not just the long-legged ones. The young company was launched not long before the pandemic hit, yet it's taken off with huge demand.
Midheaven's Founder, Kathryn Brolin, recently launched a chic capsule of limited edition robes in collaboration with renown interior designers, Louise Pierce & Emily Ward (https://pierceandward.com/ ), in addition to a larger selection of lounge. The trio have dreamed up the gorgeous robes made with 100% European-imported silk, and have produced everything in the US for a one size fits all robe perfect for at-home lounging or pairing with jeans. Additionally, Midheaven debuted their second collaboration with Cynthia Rowley at her show this past NYFW as well.
Sustainability is of the utmost importance to the brand – fabric used is produced in the world's greenest and most sustainable denim mill, with valuable measures taken to reduce waste and promote environmentally-healthy production tactics. We conducted a brief Q&A with Kathryn, where she gave us even more insight into Midheaven's creation, and their sustainability efforts. Read on below.
Q&A with Founder & Visionary Kathryn Brolin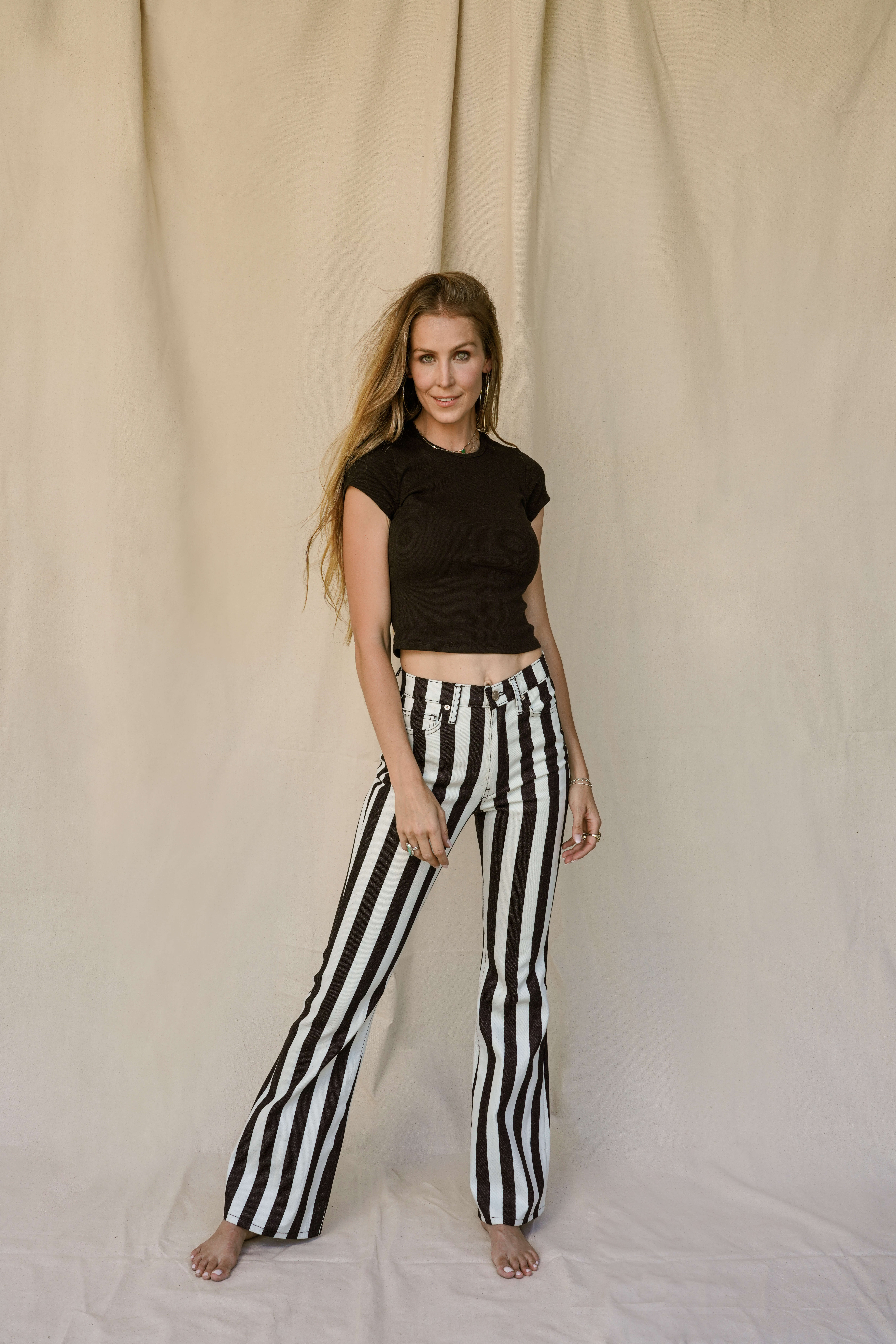 Q: To start us off, would you mind letting us know some of your story? What led you down the path to eventually make Midheaven what it was (before dropping "Denim"), and what it is today (embracing RTW)?
Kathryn: I was living and working in the Los Angeles modeling scene, and I found myself frequently discussing with fellow tall women how difficult it was to find a good pair of jeans. I was determined to set out and find a solution and in 2018, I founded Midheaven Denim, which finally offered long-legged ladies a line of denim of timeless, beautiful silhouettes. I do not come from a fashion/retail background, but rather a film and editorial background, so this was a brand new industry for me to break into. I had some amazing mentors in the beginning who walked me through the process of making our first samples. We made four samples to start and they sold out instantly. Now, with expanding into other categories, the goal is to target all women who comprise the more 'underserved' categories in the marketplace. 
Q: It's no secret that society is harsh on women when it comes to many things – but especially beauty standards. How do you hope to help change this reality for women who struggle with finding clothing they feel confident in due to their height, size, weight, or other issues?
Kathryn: I want women to know that our clothes should not hamper us, but complete us and make us feel confident and the best version of ourselves. Midheaven is expanding into petites, plus sizes and of course still our best-selling longer inseams, because I want each and every beautiful body type to feel catered to. Our height, size and weight are not "issues" but rather assets that define each woman and make her who she is. I want women to recognize that by wearing Midheaven, they can be their most authentic, comfortable and confident self.
Q: There's always a word or two that comes to mind when you think of a brand or use their product. What is it that you want women to feel when they think of and wear Midheaven?
Kathryn: For starters, Midheaven is an astrological term that marks the highest point the sun reaches in its daily traverse across the sky. For my team and myself, it's a personal and company-wide guiding mission to be the best, truest version of ourselves. That being said, I want my customers to feel authentic, confident and powerful when they think of the brand and wear it.
Q: Are there any struggles that you and the brand faced, and how did you overcome them?
Kathryn: Being a newer company when the pandemic hit definitely presented us with its challenges – we were just beginning to form a following/customer base, and we had also just opened a brick and mortar store in Malibu. Things obviously slowed down in the pandemic, and we were also toying with the idea of category expansions or not. We ultimately decided to push through and look ahead, which was met with the most incredible support from our customers. Online shopping has never had such momentum as it does right now. Our business felt a major energetic shift. We are now having trouble keeping our best sellers in stock and are so excited to see how much the company is growing. We felt the shift and we leaned into it, and we are so proud and happy that we did.
Q: With sustainability being a necessity for nearly every industry these days, how do you ensure that Midheaven is doing its part now and will continue to do so 10 and 20 years from now?
Kathryn: Midheaven has an ongoing commitment to sustainability and this is at the forefront of all we do. Our fabric supplier has the same ethos of wanting to produce responsibly-made products. Over half of Candiani's materials are sourced from the Better Cotton Initiative. They recycle all of their water waste and both their company (and Midheaven) has fair wages and a healthy work environment. We plan to continue to work with Candiani into the foreseeable future due to their amazing ethos and practices.
Q: Given that "Denim" has been dropped from the brand's name, what is your ultimate vision and goal for Midheaven?
Kathryn: We were a very young company when COVID came around and so it was a little risky for us to be pursuing a new category, but at the same time, it was just a natural next step because everybody is wearing loungewear. Moreover, the main goal is to continue to do what we do best, but also activate different audiences that wouldn't normally be drawn to Midheaven. We really want to embrace the use of color and unique silhouettes, which some of these collaborations and category expansions are allowing us to do. So ultimately we wanted the brand name to not limit us, but rather support us in all of the categories we are passionate to explore.
Q: For women out there reading this who may be skeptical, what do you say to erase their doubt and encourage them to give Midheaven a try?
Kathryn: Midheaven's intentional and sustainable design practices are implemented to not only show our customers how much we care, but in order to produce the most premium product for you. Our pieces are made to last a lifetime, and are the perfect, elevated basic for your daily life. There is still so much to come for Midheaven, and we are a company you can trust as we head into further expansions.