When it comes to summer and cook outs, seltzers have been all the rage in recent years. In this new trend of bubbly spirits, there has also been a battle brewing about the best brand, and how they have the best ingredients, best nutritional makeup, and best caloric and/or sugar content.
Blowing them all away by carving their own lane comes JETWAY, the convergence of Wine & Seltzer, founded by musician Albert Hammond Jr. (The Strokes) and veteran winemaker Ben Parsons (founder of Infinite Monkey Theorem). Keto-friendly, 100% natural, gluten-free, vegan, and at ~100 calories for both available flavors, there's a whole lot to like about JETWAY's offerings!
JETWAY is an ultra-premium, naturally uplifting wine seltzer inspired by Albert's travels around the globe as a musician, and it is currently available in two incredible flavors – a Sauvignon Blanc (infused with yuzu, Fijian ginger, elderflower, yerba mate) and a Rosé of Syrah and Cabernet Sauvignon (infused with white peach, Fijian ginger, yerba mate, orange peel) – both of which are sourced from the McNary Vineyard, which overlooks the Columbia River in Washington State.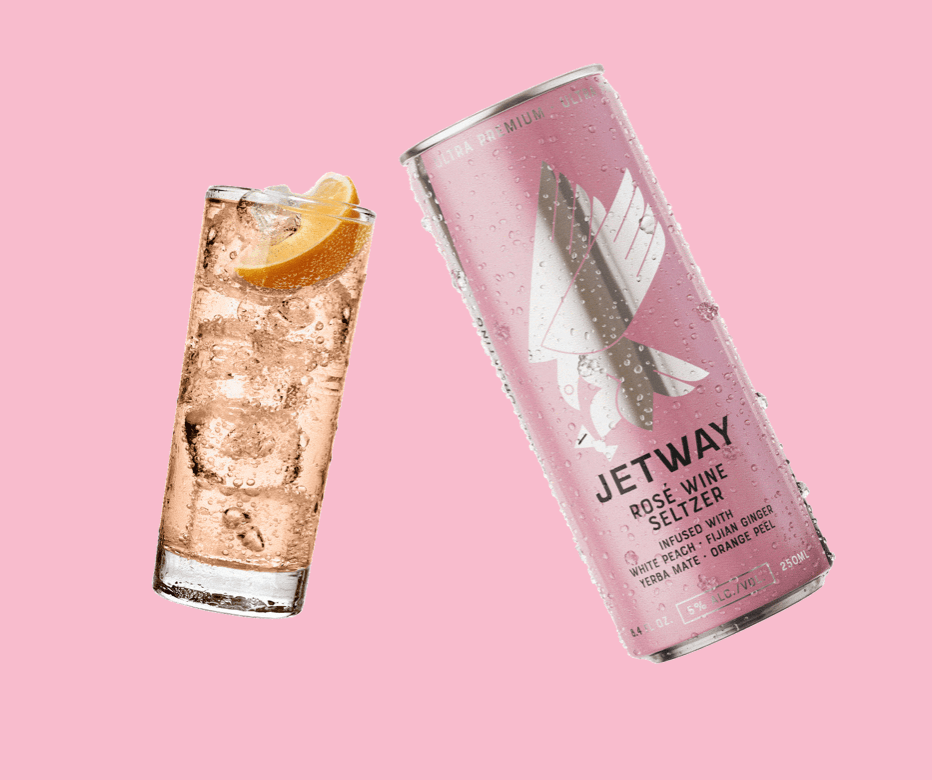 Available canned or in a keg, JETWAY was recently featured at Coachella (keg-packaged), and Disneyland began serving the elevated fizzing experience by the keg just weeks ago — marking the first time a wine seltzer is being served this way! With investors including Joaquin Phoenix, Rooney Mara, Robert Schwartzman, Nick Hoult and Zooey Grossman, JETWAY is currently working on their DTC license and working with distributors to provide nationwide availability.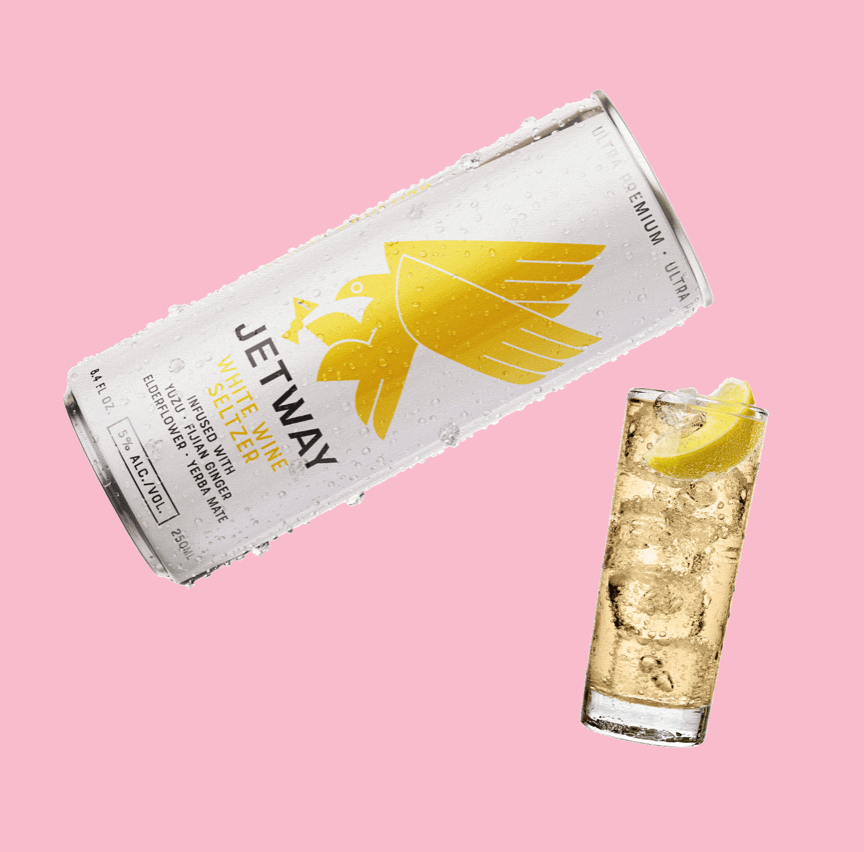 The possibilities for JETWAY are endless, and it's only a matter of time before the brand has an undying grip on the market in today's age consumers desiring cleaner and more premium consumption practices.
We had the opportunity to conduct a Q&A with Albert and Ben so that they could provide additional details about the work that went into launching JETWAY, and the challenges they faced. Read more below:
Q&A with JETWAY Founders Albert Hammond Jr. & Ben Parsons
Q: Can you share a bit of information about your backgrounds and how you got started with JETWAY?
Albert: I've been a musician for 20 years, playing guitar in a band called The Strokes. The short, short version is I had an experience in Milan on the way to the MotoGP race in Rimini and I fell in love with the idea of creating a new beverage. I wanted to create a modern drink for the people my age. Something that paired well with food and lifestyle but also was refreshing, tasty, and consumable.
Ben: I've been making wine for 20 years and was credited with making wine in a can cool by Food and Wine Magazine. I was introduced to Albert via a friend of a friend of a friend and we just started chatting about drinks in general, and the sort of drink we'd like to make and enjoy.
Q: What are a few highlights from behind the scenes that readers should know about JETWAY, and how you differ from other seltzers and/or canned wine brands?
Albert: Other seltzers are the bottom of the barrel. They are fermented sugar cane with essence. We liked the seltzers category, though, because we thought it had more to give than just being a cheap alcohol. Thought there could be an elevated version of it that could one day compete with beer.
Ben: Jetway is a gritty startup trying to rattle the seltzer industry and make a wine-based seltzer that a wine drinker would want to enjoy. Jetway is certainly premium and the rare instance when wine and other ingredients come together to create something better than the sum of its parts. I think Jetway is sessionable and much more thoughtful than the alternatives.
Q: What has the journey been like for you and your team, from the moment you envisioned JETWAY's wine seltzers to now? 
Albert: A rollercoaster of a ride. I spent 4 years trying to do something in different places and the moment I met Ben it took off. We made the drink together. Created its uniqueness.
Ben: Ditto. A wild ride, trying to keep it all moving forward. We have a great product and that's a good start. Finally getting some traction in S. CA and now CO.
Q: Were there any setbacks or challenges along the way, and how did you overcome them?
Albert: There are always setbacks and challenges for any company growing or established. But sometimes in those challenges, if you survive, you end up discovering new paths.
Ben: Our license to sell in CA was delayed 3 months, meaning we launched a seltzer in CA in Winter. Not ideal, but it gave us time to test the market and gear up for Spring/Summer '22.
Q: How about the good? What are some of your proudest accomplishments with JETWAY so far?
Albert: I mean, the first batch we made for investors was an achievement on its own. I had never made a deck and I thought well I'm happy I was able to bring it this far. Then we got the investors and started getting everything in a row. When the art came together and we were doing our first canning, I thought, "Well, we made it this far." And now launching [in] a new state and bringing in draft – the freshest and tastiest way to drink it – I feel the same.
Ben: I think seeing other people enjoy it for the first time. It's unique and some drinkers approach seltzers thinking it's going to be garbage, so changing their perceptions is inspiring. Albert and I were up in WA for the first canning date and we got to taste the product directly from the tank.  We basically stood around a massive stainless steel tank pulling samples from the valve and it was the most delicious thing we'd ever tried. "Tank Time," as we coined it, is one of those great memories.
Q: In terms of flavors and ingredients, premium is clearly the standard as you go with some of the rarer (and most delicious) choices. How do you decide which ingredients should be paired and finalized for a flavor profile?
Albert: Well, with these first two SKU's I wanted to bring a bit of my childhood and background. My mom is from Argentina, hence the [yerba] mate. I also grew up with my parents' friends being Japanese, so yuzu and ginger were around from a young age. Besides that we really tried to bring out the flavors of the wine. Ben had learned a lot in the process of canning wine and we felt that the product we made was better than the products by themselves.
Ben: Yeah, Albert had a good idea of the ingredients; it was bringing them together to create balance that took time and plenty of bench trials and testing.
Q: It may be a bit early for this, but have you been working on any new surprising products that you can hint at?
Albert: We have some new flavors in the works. It's a process because we are a small company. We'd also like to pair with other wineries to create limited edition versions of Jetway. Maybe for certain events or for an airline or restaurant. Jetway is more of a lifestyle than a drink so there is room to grow.
Ben: We've got some good ideas around new flavors. Nothing final. Also different containers and sizes. We think it would be great in a 750ml glass bottle, served as an aperitif in a restaurant.
Q: Finally, every company hopes to evoke a feeling when their product is used or consumed. What is it that you want consumers to feel and taste when they get that first sip of JETWAY's wine seltzers?
Albert: I wanted you to feel something from [the moment] when you saw it and held it. I think the art evokes the golden age of travel. I wanted to have a certain nostalgic feel, but be modern. I think the refreshing tastes and the sessionability allow you to keep excited about what you are doing or what you are gonna do next. I think people feel different when they are holding something that's good. I think it transports you to where you wanna be.
Ben: The aromas and flavors are certainly thought provoking and lend themselves to food pairing. I just want them to enjoy it and be like, "Wow, this tastes frickin' great."
JETWAY is available for purchase here.