There are some things in life that are just perfect, and able to create an unparalleled mood you always come back to. Some of those perfect things include lo-fi music, lo-fi aesthetic, and now Lo-Fi Aperitifs! If you're looking to hold on to Summer just bit longer, or even if you're only hoping to spritz up the Fall and Winter seasons a bit, Lo-Fi Aperitifs wants you to feel reassured that they've got you covered — recipes included!
From impressing friends and family, to just indulging for ourselves, there's a Spritz for everyone, starting with the Amaro, or a Napa Negroni —  with both tapping into the Sweet Vermouth and Gentian Amaro. Lo-Fi has recipes covered for all types of drink preferences. Lo-Fi Aperitifs is made up of a team of spirits experts who have worked at iconic establishments, such as New York's award-winning Italian café Dante and San Francisco's beloved 15 Romolo. In addition to recipes, they also gave us some of the best tips, advice, and insight on fortified wines, vermouths, amaros, and the Lo-Fi team. Read on for more on what makes Lo-Fi a must-buy, with commentary straight from Victoria Canty, the spirits expert behind the magical team!
What are some top must-try recipes recommended by the Lo-Fi team?
"Lo-Fi is so amazing on its own so I love to start simple. Dry Vermouth and Tonic (we call it the V+T) is such an easy refreshing way to use our Lo-Fi Dry. Botanicals like elderflower, chamomile and fennel really play well with the bittersweet elements of tonic. Two of my faves come from Fevertree. Their Mediterranean and Cucumber tonics are so crushable with the dry and it's my favorite go-to sipper. Garnish with a lemon or get creative with herbs-you can't go wrong! 
For the Lo-Fi Sweet Vermouth, I gotta say the High Point– just that + coconut water. That's it. There's coconut in the vermouth and it just is shockingly good for being so simple. Do try at home. If you wanna up the ante, put it in a freshly opened coconut and live your best life! 
And for the Gentian Amaro, she is a spritz queen! That's not the only thing Gentian shines in but it's truly a delicious combo. A little Lo-Fi Amaro, some dry bubbly, a splash of soda and a grapefruit slice will be just the perfect combo to see how it shines. There's a few things this expression does well. Use this to make any drink pink, anything with tequila or mezcal just gets better with it, it goes in as a replacement amaro and if you're feeling adventurous, use it in place of anything with red (sweet) vermouth.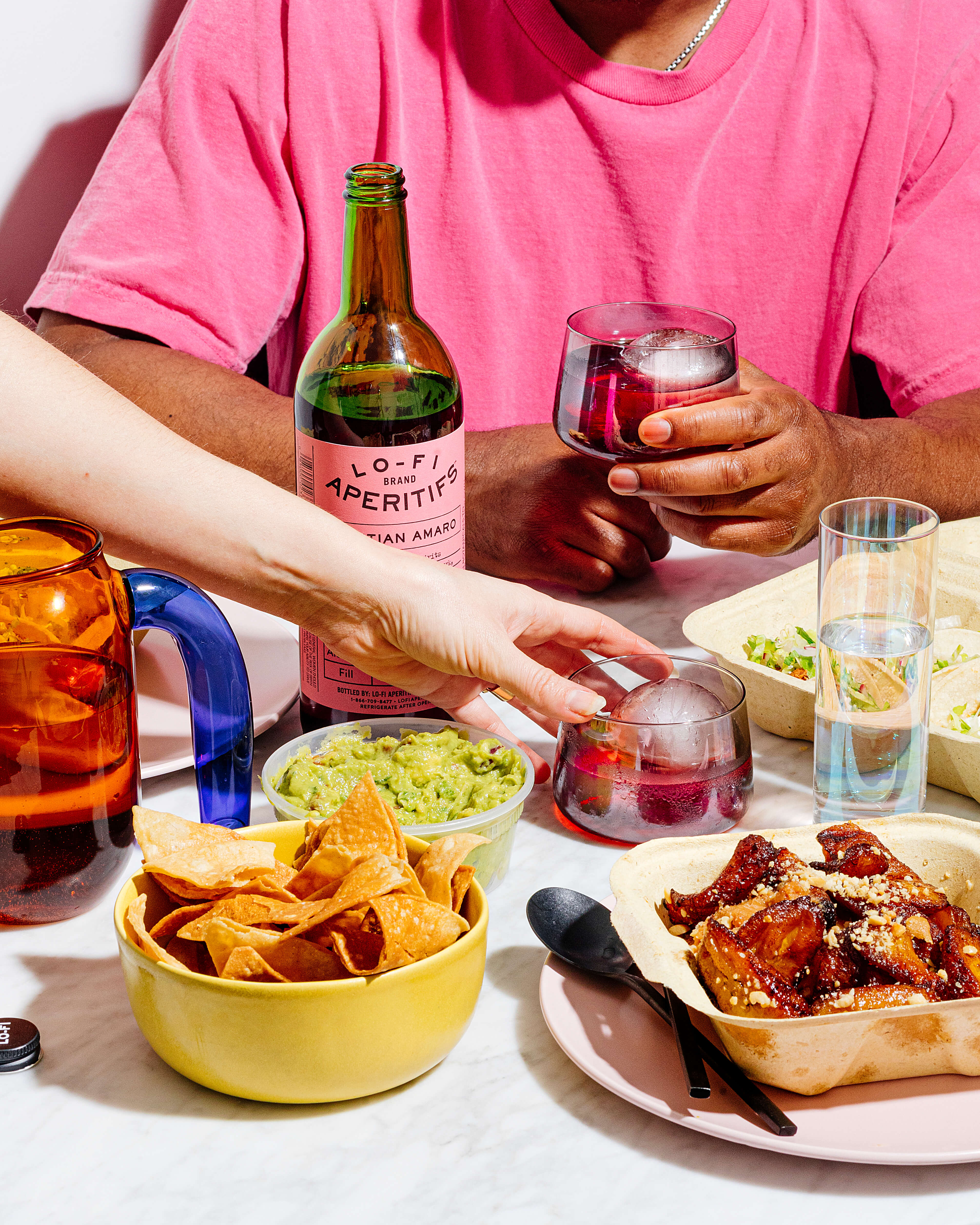 Do try a Napa Negroni to have a California spin on the classic. It's light and refreshing, a soft pink color, with a round and floral palette. The best part is it's super easy with just equal parts Gin, Lo-Fi Gentian Amaro, and Lo-Fi Dry Vermouth all stirred together. If you like Negronis, you'll love this CA twist."
Where does Lo-Fi draw inspiration, and determine the best ingredients?
"I totally look at the label, all of the Lo-Fi Aperitif bottles have the ingredients on them which is so nice for both transparency and inspiration. I like to take the botanicals or the fruit elements that are on the bottle and use sodas, juices, bitters, liqueurs and garnishes that are either the same or super complimentary.  
As an example, Lo-Fi Sweet Vermouth is clear, barely has sugar in it and it has all these baking spice notes, one of the main ingredients is coconut. It's not your average sweet vermouth with caramel coloring and a lot of weight from sugar. It's clean and delightful. So… in comes the High Point cocktail: just sweet vermouth and coconut water! It's a sure thing if you're into coconut.
Don't forget to think of complimentary flavors too. The Dry Vermouth for instance, has fennel. I love fennel with strawberries so working strawberries into a dry vermouth cocktail would be a total win win and compliments so much that's in it! Again, look at the label for inspo. I love looking at the farmers market for fresh ingredients to experiment with too and I am a total sucker for following bartenders on instagram for cocktail recipes. On the @lofiaperirifs instagram, they have been doing a thing called Mod Squad where Lo-Fi is the go-to modifier. They repost a lot of amazing recipes with all of the expressions and it's super fun to recreate those from the best in the biz. Lo-Fi Aperitifs is so fun and easy to work with. The possibilities are nearly endless!"
You can find where to buy Lo-Fi Aperitifs here, while also keeping an eye out for any upcoming recipes and releases from the brand!