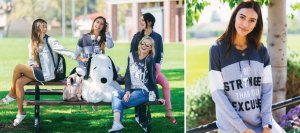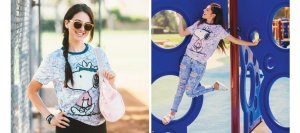 No stranger to collaborations, popular juniors label, Love Tribe, has just launched its latest offering of athleisure with a special Peanuts collection featuring classic American cartoon star, Snoopy. SoCal Magazine thinks this line is perfect for back to school, and quite frankly, anything featuring Snoopy and Woodstock works for us anytime of the year. Check out Love Tribe's official announcement below, and shop the new collection HERE.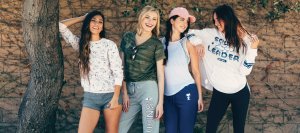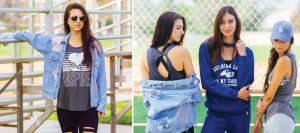 We're excited to announce that we've partnered with Peanuts Worldwide to launch a new collection of Peanuts-inspired pieces, available now at 250 Macy's stores, LoveTribe.com and macys.com. Featuring the iconic and lovable Snoopy and Woodstock, our new athleisure collection offers young women comfort and style in these timeless pieces.
"We want girls to feel comfort in the clothes they wear, while having fun, hanging out with friends, lounging around, or being active," said Bonnie Dogan, Vice President of Sales for Specialty Retailers at Hybrid Apparel. "This new collaboration brings girls that perfect combination of comfort and style, perfect for every day and every casual occasion. By mixing trendy Peanuts prints, inspirational quotes, and fun and flattering silhouettes, we made sure to have something for everyone in this collection."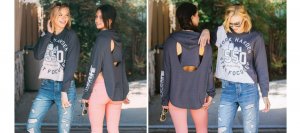 Bonnie said it all! We know comfort and style are the keys to satisfying today's fashionable and active young women. Our new garments do just that and include inspiring and humorous slogans such as "Be Stronger Than Your Excuses," and "Squad Leader." We're also pleased that the dynamic duo, Snoopy and Woodstock, are the two main featured characters in this collection.
"This new line is extremely different from our previous collaborations," said Dogan. "Peanuts is an absolute classic cartoon that we all have a special place in our hearts for. We are happy to now offer our customers a sporty and athletic collection, versus one that is strictly fashion-based."