Contributions by Anthony Stafford
It's rare to find a restaurant that has the courage to take on the challenge of offering a variety of international dishes, and even rarer to find one that does so flawlessly. And we're not talking about a buffet-style restaurant, either!
We present to you, Mambo International Kitchen, where you can truly "savor the world on your table." Located in Northridge on the Northeast corner of Roscoe Blvd. and Tampa Ave., the family owned business is a bit of a hidden treasure — at least until they get their new sign up to let the world know they exist! Upon entering the restaurant, it felt as if we were immediately whisked away, stepping through a portal into some other part of the world. Mambo's interior looks and feels like a high-end, industrially repurposed dreamscape. Complete with branded wooden planks accentuating the concrete walls, and creatively reimagined colorful seating, tables, and decor, Mambo feels wildly alive — even when there aren't many guests dining. Interestingly, Mambo's design comes full circle, once you learn the backstory from one of the owners, Raymond Magsaysay, below.
Words From The Owner
Naturally, when you encounter a restaurant as ambitious and amazing as Mambo International Kitchen, you may feel inclined to know just how they pulled it off, along with some interesting tidbits. Luckily, Raymond was more than happy to answer a few questions from us.
Q: What inspired you to open the restaurant, and ultimately settle on an international menu that highlights flavors from all over the world?
A: Originally, it was supposed to be a modern Filipino kitchen, but then we decided that it [would] limit our clientele, wherein we have so much more to offer than just Filipino fusion. Since, as a family of 6, we love eating various cuisines and normally have a hard time deciding where to eat because each one has their preference, we thought of combining the cuisines we love to eat.
Q:  What was the hardest part of getting started and opening Mambo International Kitchen?
A: Our biggest challenge was having the restaurant open because of permits and construction issues. The landlord hired an incompetent contractor to do all the rough construction and he cut corners. I had to intervene and get it all corrected and passed. It helped that construction is my primary business. Good thing [we] also, protected ourselves when we signed the lease, so those expenses were paid for by the landlord and we didn't start paying rent until the restaurant was ready to open.
Q: What is your ultimate vision of what you want Mambo to become in 5 to 10 years?
A: Our vision is to franchise and expand Mambo, providing both brick and mortar, and mobile restaurants.
Q: How did you choose which international dishes made the cut to be served at Mambo?
A: This is the hardest part, because there is so much more we have to offer. As it is, the menu is huge! That's why in the future we plan on highlighting a cuisine weekly and offer specials for that week. We started with what we love to eat at home, and what can be efficiently prepared since we don't have a big kitchen.
Q: Will you feature more international dishes on the menu someday?
A: Yes, definitely.
Q: What is your favorite menu item and why? Or is that item not on the menu at all?!
A: My personal favorite is really steak and sushi. I'm still trying to figure out how to incorporate it in the menu. (Laughs.) What stands out for me in the menu is the pita wrap, Hawaiian bowl, sisig, truffle fries and under s'mores.
A Tour for The Tongue
Raymond, and his wife and co-owner Donna, were kind enough to welcome us into their restaurant to try a variety of menu offerings, and if we had to use one word to describe our experience, it would be "authenticity." Anyone who has traveled abroad would find that Mambo's dishes taste exactly like they should. There is a very limited "fusion" aspect to Mambo's dishes. A great example of this would be the extended variety of tacos they offer. We feasted on their Filipino, Korean, Indian, Vegan, Irish, Vietnamese, and English tacos, and taste after taste was an immediate gateway into a new culture. Each taco brought its own unique flavor and traits altogether in a corn tortilla — and the only taco that rang close to the traditional Mexican taste was the Vegan version — filled with truffled infused mushrooms, roasted corn, pico, black beans, and Korean barbecue sauce.
The English Taco comes with melt-in-your-mouth fried fish and pico de Gallo, while one of our favorites, the  Korean Taco with its bulgogi, tastes exactly like a traditional bulgogi meal, but shrunken down into a fun-sized package. The Indian Taco with its potent chicken tikka masala and cilantro didn't come anywhere close to being short on flavor, while the Filipino Taco delivered an all-around complex of spicy, saucy, salty pork adobo topped with salted egg salsa. Our favorites, the Vietnamese (inspired by banh mi) and Irish Tacos came with sweet pork, hoisin sauce, chicharron; and corned beef, lettuce, and a delightful mix of spices, respectfully. In a true whirlwind of flavor, a taco tour may be all you need to experience some of the best dishes from around the world.
Donna's Crab Cakes, named after co-owner, Donna, feature a lemon horseradish aioli. If you grew up on the coast and have ever had crab cakes, you'll know that Donna knows what she's doing! Crispy, flavorful bites with a spicy kick will accompany you through each crab cake. Vito's Pita Wrap is a mediterranean refreshment that awakens the taste buds. Complete with beef kabob, tomato, onion, garlic, lettuce, and tzatziki sauce, this gut filler comes with a side of fries to seal the deal. Our sides were Truffle Fries and 4 Cheese Mac and Cheese, both of which could be their own individual meals with a drink. The Mac and cheese was a perfect, creamy, smooth (small) pot of gold, subtly different from your usual. And if you love truffle, get the fries!
We saved some of our bests for last. While everything was amazing, and we recommend it all, Mambo offers so much within their menu that it's almost impossible to figure out what you'd like to try first. From rice bowls to Specialties, Sides, Starters, and Desserts, it's jarring to see the options. For that reason, we're providing you with the first thing you should try upon your visit. As recommended to us by Juliano, Raymond and Donna's son, the Wintermelon Tea with Boba, and the Hong Kong Bowl are absolute must haves. Wintermelon Tea is like drinking a dessert, and tastes nothing like a fruit. In fact, this refreshing milk tea tastes like a creamy, sweet graham cracker and caramel blend. Think s'mores in a cup. Incredible!
On the other hand, the Hong Kong Rice Bowl is a mandatory must-have. This isn't your regular old sticky rice. Garlicky and  buttery undertones penetrate the cores of each grain of rice, making for a truly dimensional experience, while the fried pork spareribs greet the palate with the sweetness of cinnamon and the savor of deep fried meat. The spareribs seemingly melt away with each bite, and paired with the rice, it's a perfect match.
The conclusion of our meal meant it was only right to close things out with a sweet treat that would be none other than Mambo's banana Nutella egg roll with a scoop of vanilla ice cream. We were stuffed, but how could one pass this up? Sweet, fried crispy, hot, and the perfect end to our tour.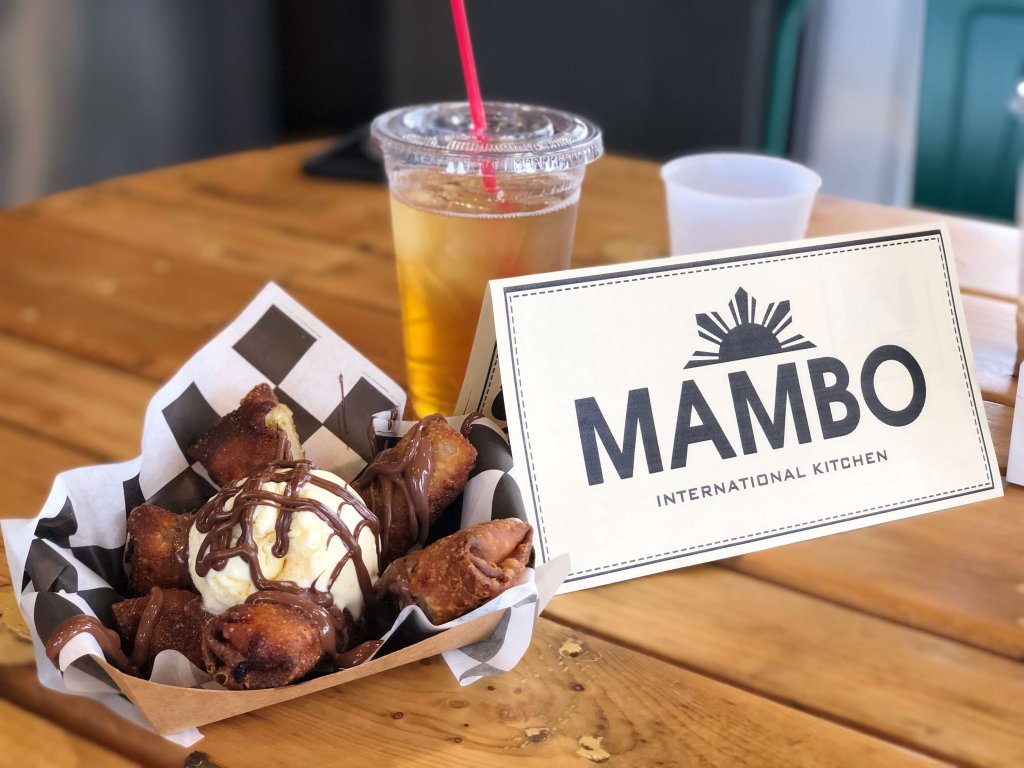 Amazingly, it doesn't feel like this restaurant is doing too much when you see their menu. Instead, it feels like you've got some catching up to do. Mambo has proven that a focus on International Cuisine can be done successfully. Raymond and Donna have mastered the art of bringing the world under one roof, and offering the best of it to the colorfully diverse Southern California. If you crave some Indian flair, or even Korean sophistication, you don't need a passport to get it. Mambo International Kitchen took our mouths on an international tour, and we never even had to leave our seats.
Mambo's Story
The owners of Mambo are very passionate about good food and equal to that is their delight in hosting and serving people. For many years they've dreamed of opening a restaurant that people will love and finally that dream is now a reality.

Our company is established with a passion and desire to serve high quality and cost effective gourmet food with excellent customer service; quickly and consistently. By combining homestyle comfort food with creative and fun dishes, and a family friendly atmosphere with old industrial decor, we know Mambo is soon to be a community favorite.
Address:
8300 Tampa Ave
Northridge, CA 91324
Delivery: Yes