The Los Angeles Premiere of "NAKED IN ALASKA" opens at BOOTLEG Theater's SOLO QUEENS FEST Saturday, October 28, at 7:30 P.M.
Valerie Hager's Award-Winning Show – (Plays through November 19)
Directed by Scott Wesley Slavin
After three sold-out, award-winning runs in international Fringe Festivals (New York City, Edinburgh, and Chicago), Valerie Hager's autobiographical solo play about her years stripping in the Alaskan frontier will open at Bootleg Theater on Saturday, October 28.
The recipient of the 2013 Award for Outstanding Solo Performance from the New York City International Fringe Festival, 2013 Audience Favorite Award from the Chicago Fringe Festival, 2014 Pick of the Fest Award from Edinburgh's The New Current Magazine, and Time Out New York's four-star Critic's Pick and Recommended Show, "Naked In Alaska" is a visceral, fire-hot experience not-to-be-missed.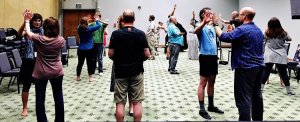 Valerie Hager is a former exotic dancer and award-winning writer-performer. She's also a movement artist, a teacher, and founder of SOLOfire Workshops through which she teaches movement-based story-creation to individuals and groups across the U.S.
Bootleg Theater, named by Time Out as one of Los Angeles' "best performing arts centers," is a year-round, inclusive art space for original, boundary-defying live theater, music, and dance performances. Bootleg Theater is proud to present its first-ever SOLO QUEENS FEST, featuring solo performances by local female artists. Bootleg has a fierce belief in the power of women in Art to create change in the world, and this festival will celebrate women and their life experiences.
For ticket info click here (showtimes vary). Tickets are $15 Stud/Sen, $20 GA, and group discounts are available.
Tickets for Valerie's solo technique workshop "SOLOfire – a Writing and Movement Workshop"  – are $30.
Bootleg Theater is located at 2220 Beverly Blvd, Los Angeles, CA 90057
Street parking and a free lot is available at the church across the street at the intersection of Beverly and Roselake.