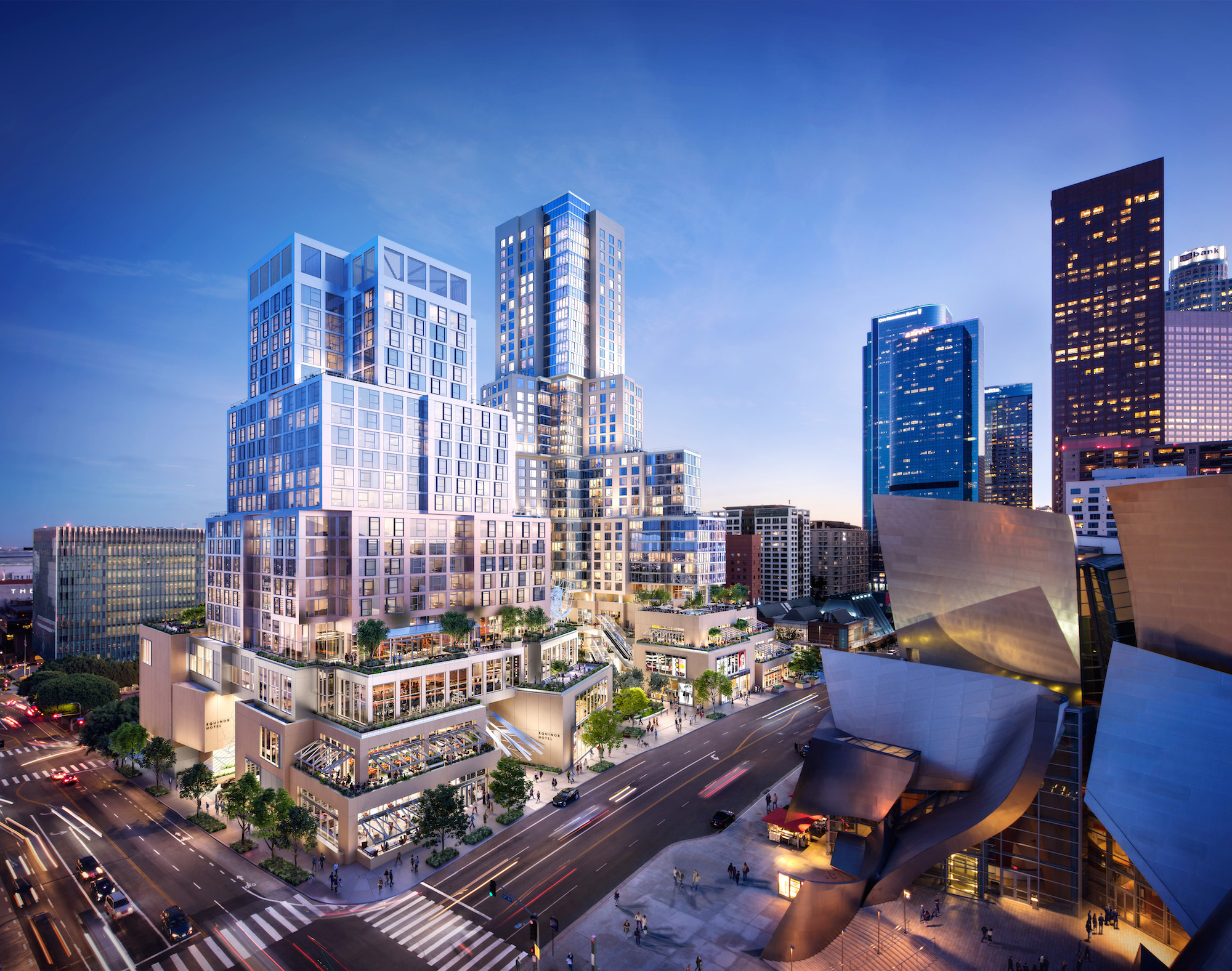 Recently, Zuke Oshiro (SoCal's travel editor) and myself were invited to get a bird's eye view of the beginnings of something rather grand. Looking out from the 44th floor of the Wells Fargo Tower, we could see not only helio-pads on multiple rooftops, and amazing views of the San Gabriel mountains, but also the auspicious foundations of the future GRAND.
The GRAND, located at the epicenter of Grand Ave's Arts corridor in DTLA, is designed by 90-year-old, Frank Gehry—the man who revolutionized architecture's aesthetics. This newest Frank Gehry project is being constructed right across the street from his famous Walt Disney Hall, and this is the first time that Gehry has designed a second building alongside one of his own. Not only that, but a third design is in the works for the Colburn School of Music expansion. That means Los Angeles will boast three Frank Gehry designed buildings in a row. The rest of the dream team signed on to bring this vision to life is: the Rockwell Group, Tara Bernard and Tony Ingrao.
The GRAND will be a dynamic destination for shopping, dining and entertainment, with chef–driven restaurants, and name brand stores— as well as being a paradigm-shifting place to live.
For long-term residents there's "The Grand Residential Tower"—39 stories boasting 436 residences of which 323 are luxury apartments and 113 are ultra-reserve collection. If all this sounds very luxurious it's because it is. There's a swimming pool over-looking the Walt Disney Hall, stunning BBQ areas, 24-hour concierge, 24-hour valet parking, plus a dog sitting facility where you furry friends will be well looked after if you need to go out of town.
For short-term guests, there's the 20-story, 309 room, Equinox Hotel. This is the third hotel for the luxury fitness company that touts "high performance living" and offers exceptional health and wellness for their guests. Like their flagship hotel in NY, the Grand Equinox will focus on three core concepts: movement, nutrition and regeneration. In line with these principles, there's a state of the art gym, a pool deck on the 7th floor, restaurants with top chefs (who take your dietary needs to heart), and regeneration? Well, that's all about getting the perfect night's sleep. Due to extensive sleep research, Equinox Hotel rooms come equipped with a button you press to hit "sleep mode". This means your room darkens to zero light, the acoustics bring you noise-free nights, and since apparently the best temperature to sleep in is 66 degrees, your room will stay at that temp for the night (if you so choose).
The Grand Ave Arts Corridor is already home to: MOCA, the Walt Disney Hall, the Broad, The Colburn School of Music and the Dorothy Chandler Pavilion. In fact, there are more performing arts venues in a 2 block radius than anywhere else in the US.
At the hub of the Grand Ave Arts Corridor, located within walking distance to eight different entertainment and cultural venues, the GRAND aims to fully support the world-class Los Angeles's performing arts and cultural scene by offering free, curated performance events, multiple public programs and plan on hosting permanent and temporary art installations, too.
The pedestrian walkway and public plaza (which Gehry calls the Urban Room) will have green spaces (using rainwater collection for irrigation purposes), and outdoor benches set amongst olive trees and tranquility. Having incorporated sustainable and innovative features, The GRAND exceeds energy efficiency requirements and further offers guests EV charging stations, on demand EV car sharing, and 150 bicycle parking spaces. The GRAND is also accessible from the Civic Center/Grand Park Metro Rail station, plus there's a new Grand Ave Arts Station being built—set to open in 2021. There's even talk of a free Streetcar that will service the DTLA area.
Lastly, an oval outdoor bar at the epicenter of the towers–suspended between floors with an exotic sculpture overhead, promises to be a huge attraction. My favorite thing is that on special occasions, the GRAND will project images and videos of the LA Phil onto the actual Walt Disney Hall itself. Imagine sitting in that oval bar on NYE watching fireworks in the sky while symphonies sweep across the beautiful Walt Disney Hall building. I want to do that. Okay, so when will all this be ready? Roughly, at the end of 2021. I believe the GRAND will most certainly live up to its name.
 Rendered photos courtesy of "Red Leaf, New York".
A time-lapse video of The Grand's first concrete foundation pour, in which 13,478 cubic yards of concrete were poured into the foundation of The Grand's 39-story residential tower. The first pour took place this summer.