Lots of things have changed, of course, since the L.A. Weekly's Thursday issue was what you rushed to get a hard copy of in order to gauge your spot in the Hollywood hierarchy and with which to strategically plan every move in your upcoming week's nightlife carnivale.
For one thing, Coke Zero has edged out Diet Coke as the drink of choice.
But for those of you who don't, or can't, or were too young or too unhip to remember, back in the day there was a nightlife column in the Weekly called L.A. Dee Da, and it defined what and who was hip in L.A, via words and pictures, for many years.
We didn't start the L.A. Dee Da column, nor name it, but we wrote and took the pictures for it for over 7 years, until we killed it — very possibly because we had just seen too fucking much to leave the house one more fucking time! And that was that. Until now.
Here again, for the armchair clubgoer, is classic L.A. Dee Da, 2.0:
Unexpectedly pleasant was the 7th Annual Rock Against MS benefit at downtown's historic Palace Theater. Originally set for the Los Angeles Theater directly across the street, when sound issues arose at the Los Angeles, chill-as-ice proprietor of both theaters Ramin Delijani (of the downtown Ezat Delijani Square Delijanis), was kind enough to allow the show to move across Broadway to one of his other three historic venues, one of which — the Tower — is slated to become the downtown Apple store.
With reserved seating, actual songs with beginnings and endings, and sound levels not too loud for casual conversation, this was no recipe for high millennial attendance. In fact, when the MC asked if anyone in the audience was under 20 … the sound of crickets could almost be heard amongst the crowd. Yes, it was a playdate for the senior set! Comprising the first part of the evening was various songs done in tribute to some of the musicians who'd died in 2018, kind of a feel-good tribute to death: some of those honored musically were Temptation Dennis Edwards, Motorhead guitarist Fast Eddie Clark; Lynrd Skynrd guitarist Ed King, the fabulous Aretha, Pantera co-founder/drummer Vinnie Paul, and The Cranberries' Dolores O'Riordan, among others. It was like being in the audience at American Idol, but with real celebrities doing the covers. Even stand-up comic Bill Burr took a turn on the drums.
When headliners Marky Ramone's Blitzkrieg came on, the audience was allowed to leave their seats and rush forward — or maybe saunter is a better word for how this particular audience of post-punk pensioners drifted stage-ward, where not only was no mosh pit created, there was not one instance of even the most minor pushing, shoving, nor the most light, accidental jostling. Look at us — we're all so goddamned nice now! When did that happen?
The band proceeded to play a tight as a drum, feel-good walk down the oldies-but-goodies lane of memories that is a Ramones' greatest hits cavalcade, including "Beat On The Brat," "Sheena Is A Punk Rocker," "Rock n Roll High School," "I Wanna Be Sedated," and all the rest, with Marky doing a surprisingly serviceable job on vocals — considering he was previously the group's drummer, replacing Tommy Ramone, until (according to Wikipedia) he was fired for alcoholism. But by 2014 all the original members were dead, leaving Marky the only one left to carry the "Gabba Gabba Hey" torch well into the present century. His reception at Rock Against MS proved that, for some of us, it just doesn't get old.
It didn't hurt that Marky and the current lineup were totally on point, moving from one hit to another like a greasy machine. Marky was the epitome of classic New York cool in a Dean Martin t-shirt, a full mop of longish hair, and a physique that would have rivaled Twiggy's in her heyday, with no appreciable difference in his sartorial style from that of the original New York punks we saw congregating outside New York's CBGB and Max's Kansas City circa 1978.
Coming from the Silent Auction area, we ran into local keyboard goddess Gere Fenelli, formerly of Redd Kross, who announced gleefully that she'd become a first-time bride at 56 and gesturing to her groom, proving that young love isn't the only game being played in this town.
Backstage after the show, Blitzkrieg guitarist/former Bad Religionist/Circle Jerk Greg Hetson was as perplexed as anyone as to why the MC, former Mad TV castmember Debra Wilson, chose to stride back out onstage amid audience chants of "Hey Ho, Let's Go!," cutting off the band's encore and closing the show rather anti-climatically, rather than with the hoped-for "Blitzkrieg Bop."
An event that captivates both young and old is the best karaoke night in L.A. This fun-for-all-ages event takes place once a month not strictly in L.A., nor in the environs of Hollywood, Koreatown nor Little Tokyo. It takes place inside the kind of massive, three-sided strip mall that only the suburbs can spawn. Maui Sugarmill Saloon, the site of the festivities, shares Tarzana Square with dozens of other in-high-demand local emporia such as O Fancy That! British gifts and Abi's Judaica ("beautiful gifts from Israel"!), which itself shares a very trayf wall with a Round Table chain pizzaria. But one thing Tarzana Square features that not even we can disparage: more than enough easy, convenient, hassle-free and no-cost parking for the overflow crowds at the Sugarmill.
You can keep your clusterfuck of a Downtown L.A. We're partying in beautiful downtown Tarzana.
Organized by booker Sarah Elizabeth, there's no vanilla joke of a ballad-filled karaoke machine involved at the Sugarmill's karaoke night. The tiny stage tucked into a corner of the intimate venue holds a full live punk band, with San Lee of the Dickies and Greg Hetson, again, on guitar, and longtime scenester Nubs Gutmacher on sound, and singing along with the hoi polloi are a few celebrity ringers such as Mikey from the Adicts. The action all takes place just steps away from the pool table area, where — of course — people are calmly playing pool amid the din and sports coverage plays non-stop on a TV mounted on the wall. With the band ripping through a rolicking set of punk classics, this IS your mother's karaoke — or maybe your grandmother's — with hits by Iggy, Joan Jett, The Clash, FEAR, Misfits, Stiff Little Fingers, Buzzcocks, Circle Jerks, and more.
Even youngsters who could not have been born when this music was first inciting the dance known as the pogo were getting down with the vocals. Lyric sheets are provided, and it's a free-for-all to sign up. Unlike "classic" bar karaoke, it doesn't really matter here if you can hit any of the notes — no one can hear you above the band when you screw up, and the supportive audience claps for every valiant effort.
We got so caught up in the spirit of the evening we earned 2.5 of our 15 minutes of fame being an almost-for-real Runaway on "Cherry Bomb." Punk rock karaoke takes place at the freeway-close Sugarmill, so grab your grandparents and their handicapped placard and join in the fun, which takes place the first Saturday of every month.
From punk rock to drunk rock and, ironically, on 4/20, the tongue-in-cheek country outfit Groovy Rednecks celebrated the joys of alcohol abuse with their third-Saturday-of-the-month gig at downtown Culver City's historic Cinema Bar, a cozy spot with free admission, frequent live music on the miniscule stage, and just enough room to cut a rug. Nights start with two opening bands, one of which is the duet Talking Treason featuring Laura Smith and Rednecks' guitarist Bob Ricketts. With songs such as "Always Bring A Beer" and "How Come I Only Love You When I'm Drunk," the Rednecks' paen to John Barleycorn was show 153 at this particular spot in the 12 years they've been in residency at the Cinema, or show 921 for singer Tex Troester, who's spent 25 years teamed with guitarists Bob Ricketts and Barefoot Gary Riley who does, in fact, play all shows barefoot. Watch that broken glass! More recent members are stand-up bassist Steve Seifert and drummer Chris Bailey, a newbie of about a year, who is better known in certain circles as Grand Poobah for life of the venerable Hollywood institution The Water Buffalo Lodge — not Fred Flintstone and Barney Rubble's Lodge 26, but a loosely knit fraternal organization that once boasted a who's who of the L.A. rock underground and whose legendarily debauched afternoon picnics were once the talk of the town; word is that another is being planned for this summer. Dedicated appreciators of feminine pulchritude, we witnessed one particular annual Water Buffalo Beauty Contest where the fair damsel who stole the coveted crown of Miss Water Buffalo that year demonstrated her "talent" of shaving her legs to an appreciative audience of Water Buffaloes and their Ladies Auxiliary.
Which just goes to show that here at L.A. Dee Da, whether you have true talent or are merely talent-adjacent, you too can make it into boldface!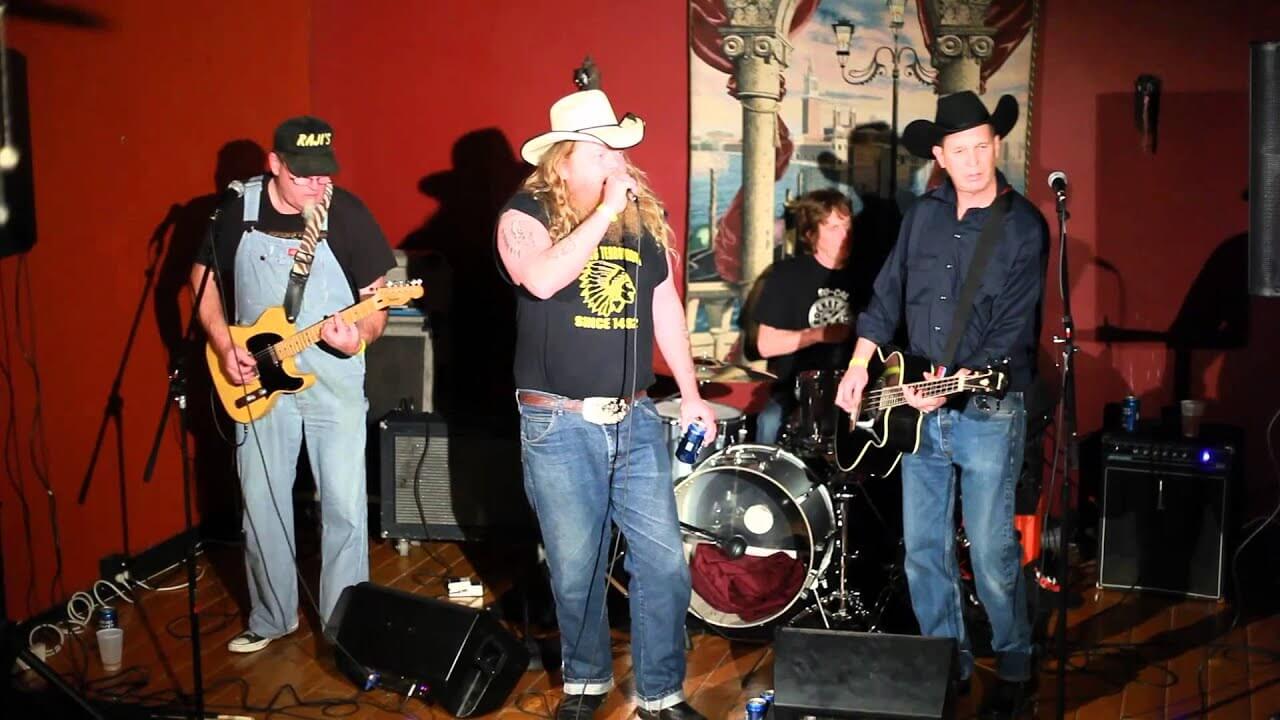 MEET THE GROOVY REDNECKS
My band The Groovy Rednecks have been playing since 1991 (28 years) We have played 921 gigs and counting!
Tex Troester – vocals/lyrics
Bob Ricketts – guitar/music
Gary Riley – guitar/mandolin
Steve Seifert – bass
Chris Bailey – drums
The first time we played The Cinema bar was 17 years ago, we started playing the 3rd Sat of every month 12 years ago. (this will be our 154th gig there) The show starts at 10 pm with "Talkin' Treason" (a duet of my girlfriend Laura Smith and my guitar player Bob Ricketts. They play mostly covers of country, blues, rock, and pop standards. The Groovy Rednecks start at 11 pm. And we choose a different band to play the midnight slot every month. (any genre as long as they're good) The bar is one of Culver City's oldest dives, with a tiny stage and a comfy outdoor smoking patio in the back. This month on 5/18 we are playing with a band called "Cool House". We also have Merle Jagger on 7/21 and Wreck n Sow on 9/21. We are always looking for fun bands to play with. We need bands for 6/15 & 8/17. Let me know what else you need and thanks ! ~ Tex