If you're looking for a place to knock out hunger pangs while also taking in this season's spooky vibes, there's something new to put on your radar.
On October 21, Roberta's announced the official opening of its second Los Angeles location in Studio City, with the news of their "Opening Fright" Grand Opening Party on Thursday, October 27 from 6:00 – 9:00 PM. With costumes encouraged, and complimentary food and drinks being served, it's a deliciously spooky kick off for the iconic Brooklyn brand.
Roberta's Studio City is an elevated casual evolution of its famed original restaurant in Brooklyn, New York. The restaurant at The Shops at Sportsmen's Lodge highlights Roberta's legendary pizza creations, along with a specially curated menu of signature dishes, natural wine, and craft beer.
Whether it's the simple Margherita (tomato, mozzarella, basil, evoo) or the fan favorite Famous Original (tomato, mozzarella, parmigiano, caciocavallo, oregano, chili) that rarely leaves the menu, pies at Roberta's Studio City are all based on the original recipe developed in 2008, delivering a pliable, flavorful crust, a sauce that does its job exactly right, and mozzarella that is the perfect balance of creamy and salty. From the Bee Sting (tomato, mozzarella, soppressata, basil, chili, honey) to the Crispy Glover (tomato, taleggio, guanciale, red onion, garlic, breadcrumb, chili) to the Baby Sinclair (dinosaur kale, maitake mushroom, caciocavallo, parmigiano, Calabrian chili), Roberta's pizzas exhibit the stunning creativity that becomes possible when a killer foundational recipe meets culinary-genius level experimentation.
Guests of Roberta's Studio City order at the counter, with food delivered to their tables. In addition to pizza, the tightly edited menu offers veggies in the form of Smashed Cucumbers (roasted garlic, Calabrian chili, mixed seeds and market herbs) and Green Lettuces (soft herbs, pumpkin seed, sea lettuce vinaigrette, caper breadcrumb, fiore sardo), sandwiches including Italian Comboand Peppered Roast Beef & Horseradish, along with an assortment of other signature items including House Made Stracciatella, Buttered Radishes, and Giardiniera. A curated menu of natural wines, craft beers, and non-alcoholic beverages are available to enjoy for a quick bite or over a long leisurely meal.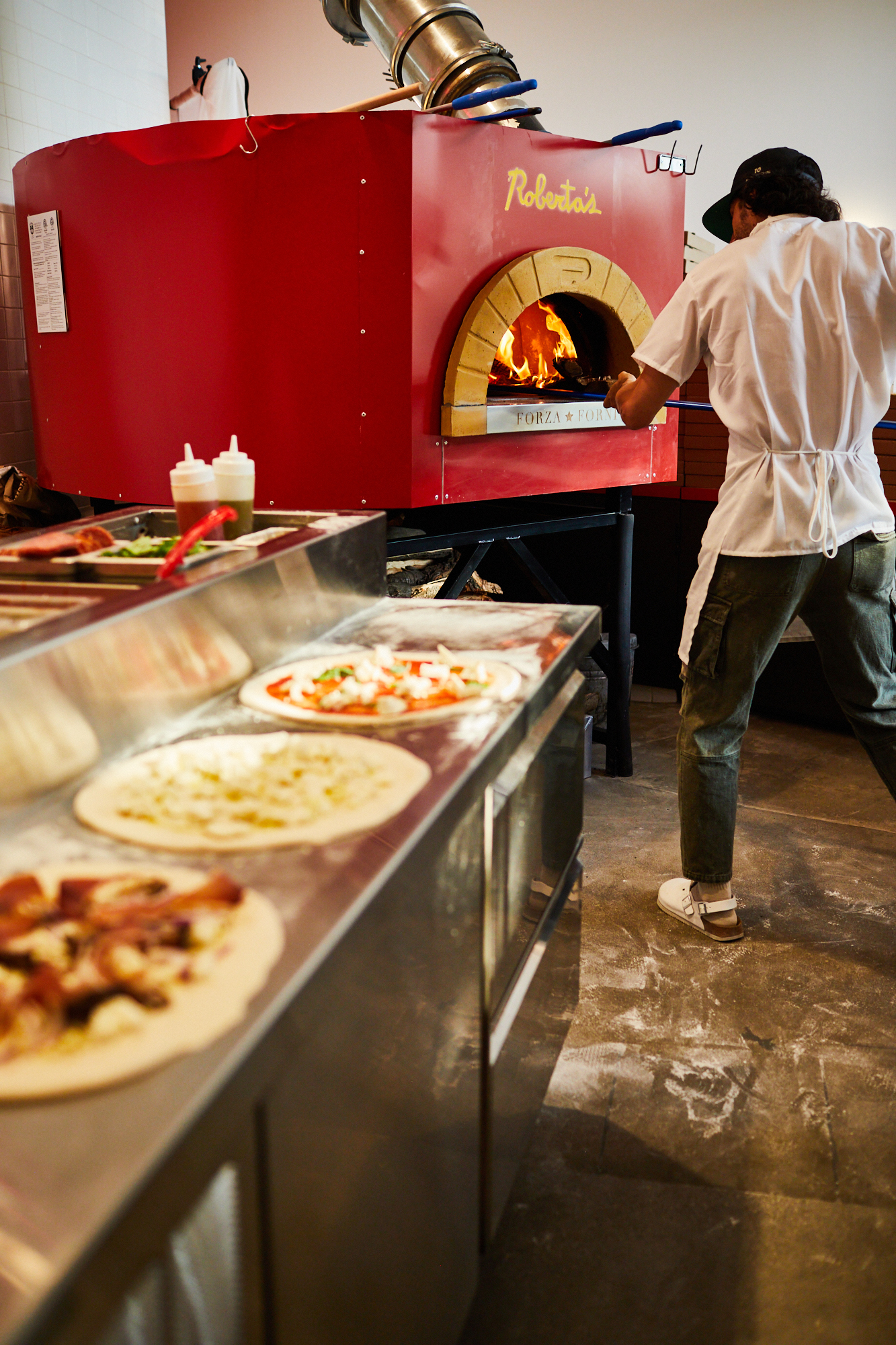 While certainly inspired by Italian tradition, the Roberta's wood-fired crust is sturdy and chewy, able to withstand eating with one's hands while being perfectly suited for the locally sourced, inspired topping combinations for which Roberta's has become world famous. Each 12" pie is considered an individual serving size; buy one for yourself or a few to share with friends. The entire menu can be enjoyed at the restaurant or ordered to go.
Roberta's Locations:
Studio City
Quick & Casual
Open 7 days a week, 12 pm – 9 pm
4220 Coldwater Canyon, Studio City, CA
Culver City
Full-service
Open 7 days a week, 12 pm – 10 pm M-F/11 am – 10 pm S/S
8810 Washington Blvd, Culver City, CA
About Roberta's
Roberta's fanatical following and enduring acclaim belie its humble beginnings in a cinderblock warehouse with no heat or gas in Bushwick, Brooklyn. Celebrating its 15-year anniversary in 2023, the restaurant has become a neighborhood institution, an international culinary destination, and a model of accessible excellence. Today, Roberta's has spawned a global empire with a variety of full-service and elevated casual concepts all built on Roberta's three principles of "good": using only good quality ingredients, providing good value, and most importantly, delivering a good time with every experience. Roberta's wood-fired pizzas, made with locally sourced ingredients, are also available frozen online along with a curated selection of food items, cookbooks, and an ever-rotating offering of exclusive merchandise.
For more, please visit www.robertaspizza.com or @robertaspizza on Instagram and @robertasrestaurant on Facebook.