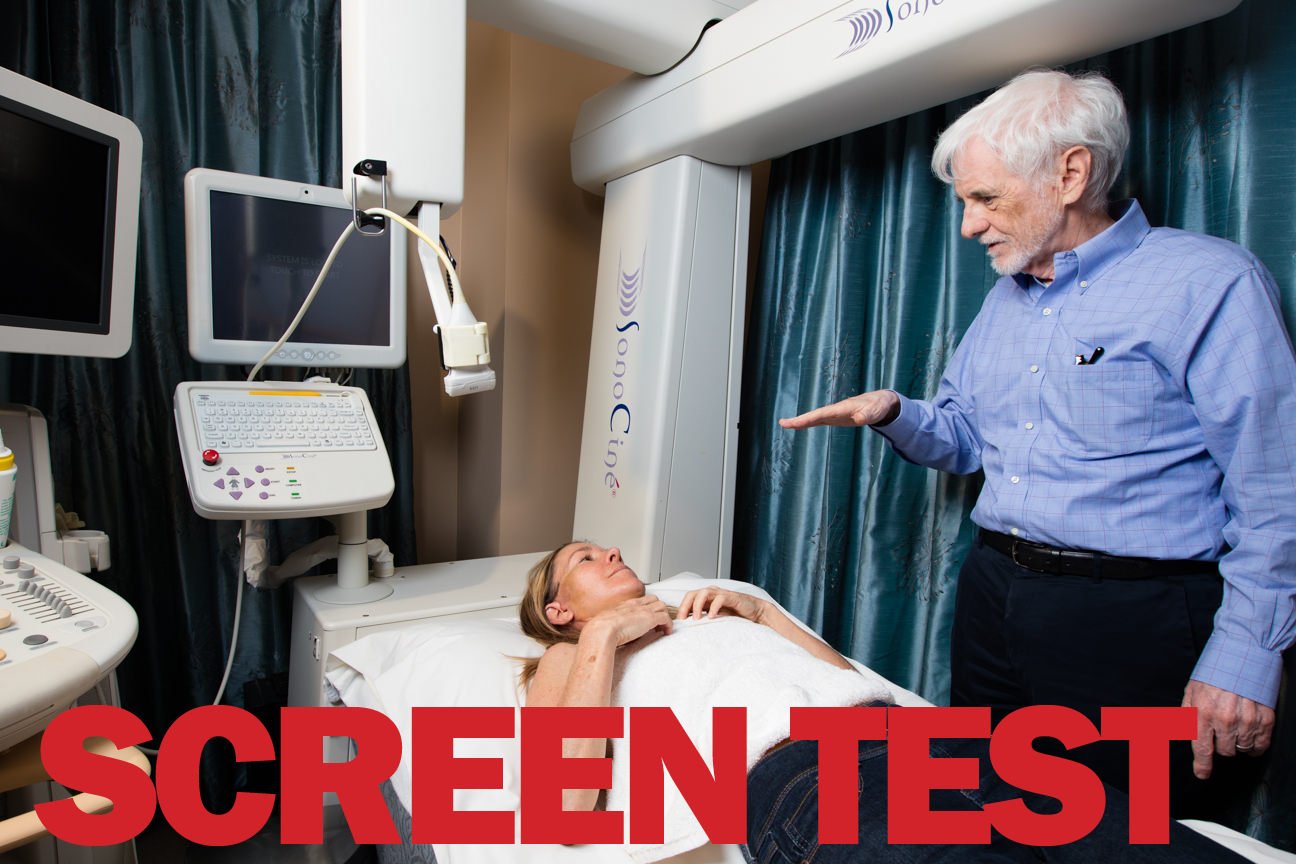 Take Your Pick
Two lab results by the same doctor on the same day, reveal two completely different results.
           "Breast cancer should be the #1 issue for any woman.
             They should all be saying "enough of this bullshit"."
By Niki Smart * Photographed by Jared Rubin
This is a personal story for me because I've suffered with dense, fibrocystic breasts since forever. I was 15 when I had my first scare due to severe lumps, resulting in a breast aspiration. My lumps have gone on and on, and I know that caffeine exacerbates lumps, ergo I've always been careful with my caffeine intake.
Be that as it may, I've had several more cysts aspirated; I've had lumps surgically removed; I've had 2 biopsies, and it's just no fun whatsoever. Each time a new mass appears, I worry that I have cancer, and dread the procedure that I'm about to face. Since I'm quite small-framed and don't have much breast tissue, mammograms are fairly painful (I believe they're painful even if you have ample breast tissue). I've grown to loathe mammograms, not only because they're painful but because they're 100% guaranteed to be inconclusive for my breast type, which means an ultrasound will soon follow. That too, is usually inconclusive, and then the surgeon will start digging about in my breast – which is scary, painful and expensive on top of everything else.
To add to my confusion/frustration, I once received two different results (they arrived on the same day).from a mammogram done at Kaiser Permanente
One letter said – you are in the clear, no follow up needed.
The other said – you urgently need a biopsy.
Both letters were signed on the same day, by the same doctor. Not very reassuring is it?
Another thing of note was that every lump that required attention was always in my right breast. You'd think that would have been a clue for any doctor right? Apparently not.
Finally, after years of scares and strange lumps, the biggest mass of all showed up on my mammogram results.
"That's a 50% chance of being cancer," the department head nurse at Kaiser Permanente told me when I refused to have a "core" biopsy.
I was sick and tired of people cutting and digging into my breast and I just couldn't bear to have another biopsy. Plus, I've heard that if you do have cancer, a biopsy can sometimes actually spread the cancer cells. Whether or not that's true, I can't say, but it certainly puts me off. So I went on a mission to find out what alternative non-invasive tests were out there to determine breast health.
I went for Thermography – an infrared heat reading that can pinpoint cancer. I went for Suretouch – similar to an ultrasound experience but it detects differences in hardness under the layers of soft tissue, and professes to be able to catch cancer 5 years ahead of a mammogram.
Both the Thermography and the Suretouch are painless and radiation free, but they couldn't completely put my mind at ease. They both registered a large mass in my right breast, and both results said it didn't seem likely to be cancer, but they couldn't 100% guarantee this.
A friend told me about Dr. Kelly and his SonoCiné ultrasound – she didn't just tell me about him, she sang his praises, so I made an appointment with Dr. Kelly.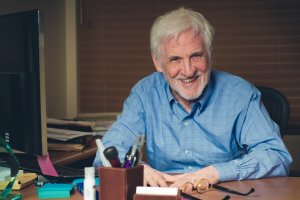 Okay – so what is this technique? The SonoCiné is an automated whole breast ultrasound – a simple procedure similar to a regular ultrasound, but more thorough.
First of all, you have to wear a mesh vest – a proprietary camisole developed for the SonoCiné that fits like a sports bra. This helps to hold your breasts in place (which is especially helpful for women with larger breasts), and prevents the technologist from going over the same area twice. Next, you have a hydrogel nipple pad placed over your areola to flatten it, which prevents any shadows from causing a false reading. (Dr. Kelly has a patent on this nipple pad).
You lie on your back as your technician scans your upper areas with a hand held roller device capturing rows sequentially from below the collarbone to the lower margin of the breast. Then the SonoCiné machine relays the images to film.
Dr. Kelly stresses that it's important to train the technologist to make enough images – 3mm apart at the most, so when watching the film, one can spot cancer small enough to stop it becoming a problem.
Once I was done being scanned, Dr. Kelly watched my film with me at his side. He pointed out everything he was
seeing, and assured me that my large mass was definitely NOT cancer. Well, I just wanted to kiss him for that alone, but then he asked me a question that no other health professional in 30+ years has ever asked me.
"What do you do on the right side of your body that is different form the left? Do you carry your handbag on your right shoulder?"
I had to think for a moment – then it came to me.
"I play guitar and the body of the guitar hits me exactly on my right breast."
"That's it" Dr. Kelly smiled. "The vibration from your guitar has altered the tissue in your right breast."
He further explained that violin players can get this same tissue distortion in their necks from the vibration of their violins. Well, now I wanted to kiss and hug and squeeze Dr. Kelly, not only because he is adorable and the sweetest man, but because he had solved a life-long issue for me. Thank you a million times, Dr. Kelly.
INTERVIEW WITH DR. KELLY
I was so impressed with Dr. Kelly that I had to go back and interview the good doctor – because this man deserves attention – as do your breasts.
How long have you been in the "breast" business?
I've been a radiologist since 1975, and solely a breast radiologist since 1982. I realized that I could improve on the current ultrasound technology and by 1998 I'd come up with SonoCiné. Two years later (in 2000) I had a test run on 500 women. On one woman, the SonoCiné detected a cancer in each breast – her right and left – neither mammogram, nor ultrasound had picked up these cancers. This is when I knew I was definitely right – up until then my ideas had been theoretic.
Why is the SonoCiné better for dense breasts?
A mammogram stacks images and cancer is like a bear in the forest – fatty, or dense breasts have many leaves – meaning, mammograms aren't great for dense breasts. Plus a mammogram has the extra risk of radiation and SonoCiné avoids the radiation. The SonoCiné can catch cancer at 10mm or less. 40-50% of cancers are felt before they are seen on a mammogram. By this time their size is 17mm-25mm.
Can you tell me more about your text and drive theory?
The human brain can't successfully text and drive at the same time. You may think you can, but your brain physically can't focus completely on both tasks at the same time – they require the same part of the brain to do. Same thing with a regular ultrasound. The technician is reading the monitor at the same time as focusing on sliding the roller across your chest. If you separate the two actions, there is less room for error and if you improve the gathering of information by having the images closer together – then the readings will be easier. With the SonoCiné reading, you give the film your entire attention in a distraction-free environment. This method of review has been shown to increase the detection of cancers as small as 5mm – 10mm in size.
What about MRIs as a way to screen for cancer of the breast?
People may think an MRI is the way to be sure – but MRI injects heavy metal into your system. In a tight spot, an MRI is okay, but you can't use it once a year as a screening procedure. That would be reckless as the gadolinium stays with you and ends up in brain and your bones.
How many SonoCiné machines are there?
There are now 50 SonoCiné machines worldwide.
How many women do you see in a month on average?
About 100.
Do you think there are a lot of unnecessary biopsies/removals?
Ultrasound is more definitive – but understanding is variable in this country.
In UK, Europe and Canada – they are better at understanding the images.
What do you recommend for women at this point?
Do both – in the interim.
Do you think we keep doing mammograms because it's cheaper for the medical field? Insurance companies? Is it expensive to replace the machinery?
Oh yes. This is a game changer. Disruptive technology means someone loses.
Talking of money, where do you get your funding?
The Bank of Kelly. I've put everything into this. I've even mortgaged my house, which didn't make my wife too happy, I can tell you. But I know that about 3000 women die every month from breast cancer in America alone. The rate is higher in China, with 1 woman per minute. There are approximately 190,000 new cases of breast cancer annually. And about 40,610 women in the U.S. are expected to die in 2017 from breast cancer. Breast cancer should be the #1 issue for any woman. They should all be saying "enough of this bullshit".
Here at SoCal magazine, we couldn't agree more.
For more information on Dr. Kelly's SoneCine click here
Other Screenings without Radiation
SureTouch: The SureTouch Breast Exam is painless, radiation free and delivers immediate results. Breasts are examined quickly and comfortably without compression. The patented, hand-held, SureTouch sensor glides easily over the entire breast and underarm area and detects differences in hardness under the layers of soft tissue. Its 192 sensing elements capture and document the shape, location, size and hardness of breast lesions.  Any breast lesions are displayed on the SureTouch console screen in multi-dimensional full-color images. Because images are digitally stored for future reference, results can be tracked and compared for changes over time. http://suretouch.us
Thermography:
Digital Infrared Imaging detects the heat produced by increased blood vessel circulation and metabolic changes associated with a tumor's genesis and growth. A thermography session can detect thermal signs that may suggest a pre-cancerous state of the breast, or signs of cancer at an extremely early stage. However, Digital Infrared Imaging does not have the ability to detect 100% of all cancers. Consequently, Digital Infrared Imaging's role is in addition (to mammography and physical examination, not in lieu of. www.breastthermography.com