The mushroom market continues to grow at a rapid rate, with the realization of just how much of a superfood fungi can be. In even greater news, access to some of the most nutritious and beneficial fungi is about to get a lot easier!
In early May, Smallhold began delivering locally grown, USDA Certified Organic specialty mushrooms to Southern California. This West Coast expansion, alongside existing farms in Brooklyn and Austin, furthers the five-year-old company's mission to build a hyper-local solution to a broken global food supply chain.
Smallhold enters the Southern California market by profoundly launching in over 90 stores, including Whole Foods, Erewhon, and Lassen's. Southern California customers will also be able to order Smallhold mushrooms online via e-commerce suppliers. like Good Eggs, and Imperfect Foods, while acclaimed restaurant Kismet, known for celebrating fresh and vegetable-based Mediterranean-inspired dishes, is officially Smallhold's first culinary partner in Los Angeles. Amazingly, when COVID first took hold of the country in 2020, Smallhold was on the shelf in a single grocery store in Brooklyn, NY. Now, Smallhold can be found in approximately 400 retailers and restaurants.
The new farm opens in Vernon, California, less than a mile outside of DTLA, bringing increased choice to consumers by growing harder to find mushroom varieties, including organic Lion's Mane, Blue Oyster, Yellow Oyster, King Oyster, and more. In addition, Smallhold's regional retail partnerships continue to grow with partners, like Erewhon, Lassens, Good Eggs and Imperfect Foods, along with an expansion of their existing partnership with Whole Foods Market in their 60-store South-Pacific region.
According to Smallhold, the average US mushroom case is dominated by button, crimini and portobellos — completely ignoring an entire kingdom (literally, fungi is a kingdom!) of texture, flavor, and nutrition.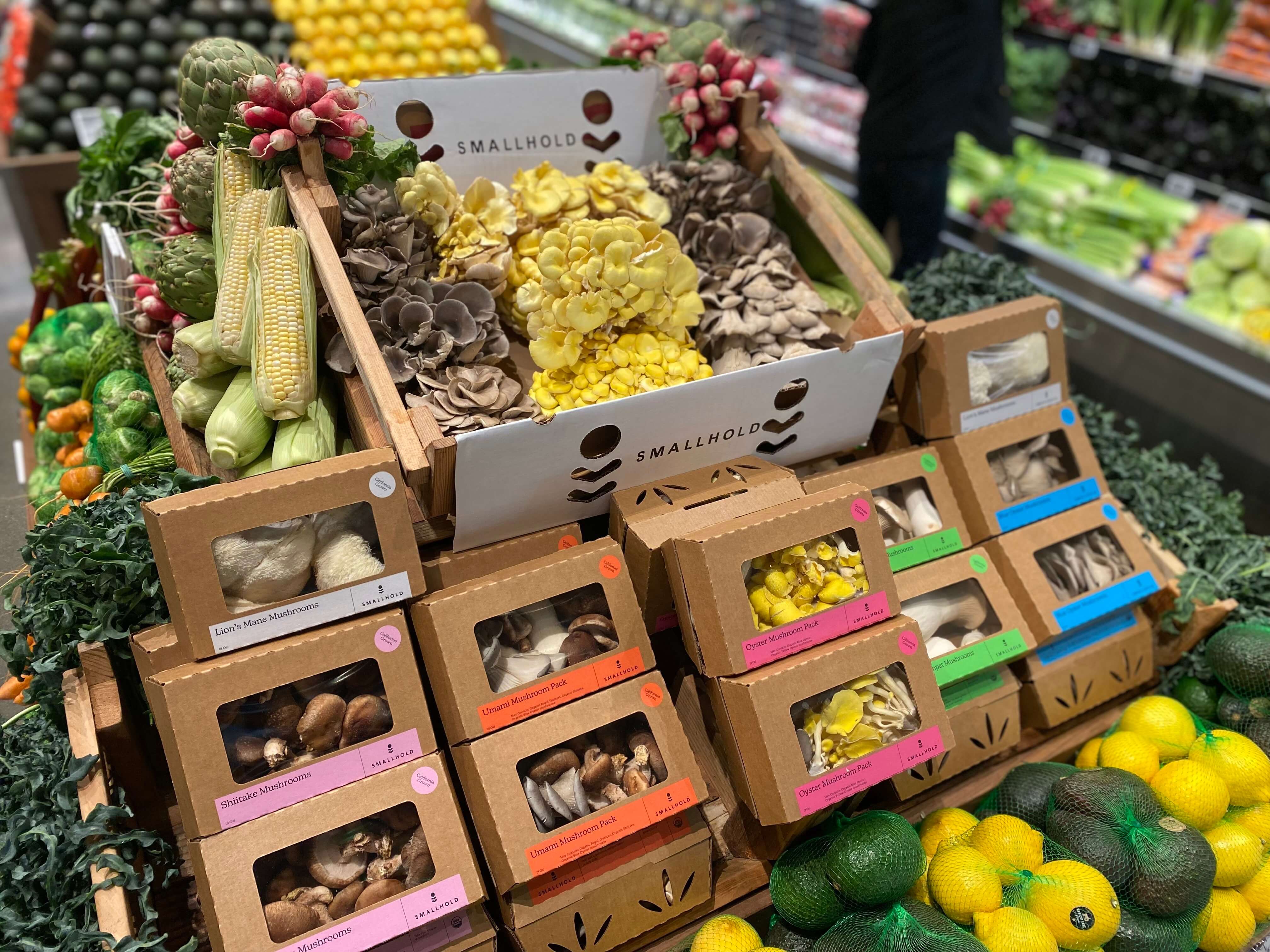 Building a case for sustainability, Smallhold is committed to building hyper-urban farms in key regions and exclusively using compostable cardboard packaging, while it reduces food miles traveled, improves mushroom quality, extends shelf life, and drastically reduces carbon footprint, food waste, and plastic usage. This scalable approach to local, organic farming allows a wide array of specialty mushrooms to be grown, harvested and sold in meaningful quantities directly where consumers live. By comparison, 68% of mushrooms consumed in the US are grown and shipped from Pennsylvania, while Shiitake mushrooms are almost all grown completely off logs originating outside of the US.
"Educating and sparking curiosity about mushrooms is an integral part of our mission," said Andrew Carter, CEO and Co-founder. "We want people to ask where their food comes from, think about their diet, and reconnect with the planet. This means installing our Minifarms in unexpected places like The Standard Hotel, or having Smallhold mushrooms on the menu at places like Eleven Madison Park—all while concurrently placing locally grown packaged mushrooms in grocery stores across the nation."
Furthermore, in Los Angeles County, Smallhold continues its practice of hiring locally, always paying above the living wage and partnering with regional non-profits and groups; while also being a trailblazer in the industry, creating an effective circular model for sustainable mushroom farming that relies on and gives back to the very soil their mushrooms grow from.