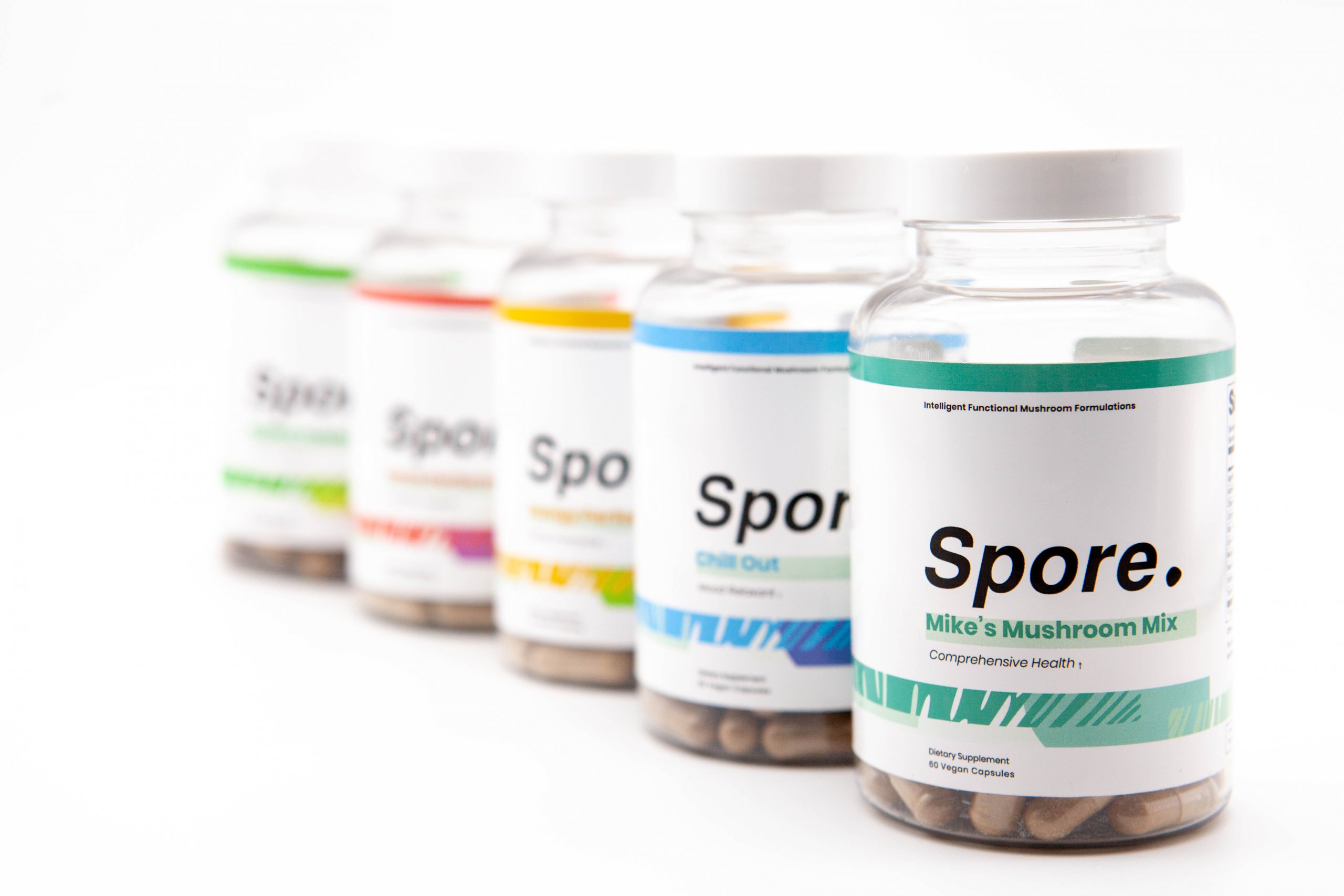 These days, our health and wellbeing is more thought about probably ever before. The good thing is you can never take too many measures to protect yourself from illness — including the current pandemic we're all facing right now. With perfect timing, Spore has entered the scene! This new consumer wellness supplement company just launched in September, and they aim to transform our health through the use of functional mushrooms. Spore separates itself from competitors by pioneering a holistic approach to modern medicine with the use of mushrooms, its unique founder story, and helping people regain control of their health from the inside out with their breakthrough line of science-based nutritional supplements. We know, you're probably thinking, "What's so special about mushrooms?" Well, it turns out a whole lot! We're happy to fill you in on what could be the next big health trend with a special Q&A with Spore's co-founder, Michael Zavet.
After being diagnosed with multiple sclerosis (MS), Michael was determined to find a holistic and all-natural solution, which led him to discover that functional mushrooms are a potent and effective treatment. In conjunction with their launch, Spore is committed to partnering with and donating a percentage of all revenues to organizations that are dedicated to researching and discovering transformative treatments for MS. Spore's supplements effectively improve immunity, increase energy, balance blood sugar, lower cholesterol, and improve sleep and are ideal for those who want to gain lasting control over their overall quality of life.
Spore is available in five different powerful varieties:
Spore's proprietary blends are sold for $49.99 for a monthly subscription at  SporeLifeSciences.com, and on Amazon beginning this month. Read on below for our Q&A where we get answers to burning questions, and learn some of the science behind Spore's supplements.
Q & A With Spore Co-Founder, Michael Zavet
Q: Hi, Michael, and congratulations on the launch of Spore! I hear that you have a very unique story that helped contribute to the creation of Spore — and I'm sure it's undoubtedly the core of why you do what you do. Can you tell us about your experience with MS, and how it helped to make Spore what it is today?
A: I think, like many people eventually diagnosed with the disease, MS had begun to affect me long before my diagnosis. I experienced chronic fatigue and illness, muscle soreness and stiffness, lack of focus or brain fog, and trouble sleeping. These symptoms are what drove me to look for a solution. I wanted to avoid the world of pharmaceuticals and find something all-natural. This is what ultimately led to my research, discovering functional mushrooms, and the creation and foundation of Spore.
Q: MS is an immense challenge on its own, and quite possibly the largest one you faced. With that said, what are some of the other uphill battles you and your team faced while breathing life into Spore?
Starting any business is an immense challenge, as any entrepreneur will tell you. I mean, everything from financing to creating formulations, down to logistics, needed to be aligned and thought out, and nothing ever goes as you planned. But arguably the most important and biggest challenge has been creating and continuing to build a brand that people can relate to and trust. I hope we've done a good job at that so far, and we will continue to refine and improve things as we get more feedback from our customers, partners and advisors.
Q: I've heard of a company that uses mushrooms to make elixirs and teas — essentially being pushed as a healthy replacement for coffee and soda due to its health benefits. The mushrooms-for-health market is one that has yet to really turn into a trend, and it's only a matter of time before it does catch popularity. Can you explain to readers what Spore is, and what the many benefits are to taking your supplements?
A: Spore, at its root, is a wellness company focused on intelligent-thought out-functional mushroom-based formulations. We source and use over 10 species of functional mushrooms and combine them with proven all-natural supporting ingredients to give our customers the best desired effect. The end result was five all-natural formulations, powered by functional mushrooms, that aim to tackle everyday issues we and the broader population face. Whether it's a supplement for overall health, a natural sleep aid, a clean energy boost, a way to improve cognitive function, or a functional mushroom supplement to strengthen your immune system, Spore has you covered.
Q: Is it possible that mushrooms are a superfood that have been sitting in front of us all along?
A: It is not only possible, it is a fact. People are sort of just waking up to all the benefits mushrooms can offer us, but mushrooms have been used as medicine and superfoods for literally millennia. They have been in a staple in both traditional and modern medicine. In fact, penicillin was derived from mushrooms. As was rapamycin which allowed for doctors to perform organ transplants.
Q: We live in an increasingly eco-conscious world. Where and how are your mushrooms and herbs sourced, and does Spore have a sustainable practice?
A: In order to get the best quality ingredients, Spore sources from all over the world, from the mountains of Tibet to the interior woods of the pacific northwest and everywhere in between.  Our chaga is Scandinavian, our Maitake is from maple trees in Japan, and so on. We ensure all of our ingredients are carefully selected from our trusted partners, that meet the highest quality standards like cGMP, etc. All Spore ingredients are eco-friendly and ethically sourced from our specialized partners. Going "green" in all aspects of our business is extremely important to our team.
Q: Mushrooms come in many shapes, sizes, colors, and apparently flavors! Can you provide just a little insight into a couple of lesser-known mushrooms and herbs that go into your products, and why people should be consuming them more often? (What is Turkey Tail?!)
A: Absolutely. Turkey Tail is a common species found throughout the world. It grows on logs or decaying trees. The reason you haven't heard of it is because it is not prized for its flavor or texture, but rather its potent immune boosting properties. Another more obscure species is Agarikon, a fairly rare fungus that only grows in the wild and has potent anti-inflammatory properties. Lastly, you may or may not be familiar with Antrodia, also known as the fungus of fortune – prized for its hepaprotective qualities – or in other words, it's known to support blood and liver health.
Q: What are your dreams for where you'd like to take Spore in the next year or two? Do you plan on remaining a supplemental company, or possibly venturing into the food market?
A: I think the biggest dream for Spore is to provide a supplement that genuinely helps people with ailments that affect everyone. We've all experienced that lack of focus or the mid-day crash and the hope is that with Spore, we may be able to curb or beat these challenges with an all-natural supplement. Further to that, we will be looking to expand our product line. Look out for our Vegan functional mushroom and adaptogen infused Protein powders early 2021.
Q: Some people are picky eaters, and refuse to eat mushrooms. Spore is a great alternative for anyone who may want the health benefits without having to chew on the beneficial fungi. Do you recommend a mix of a few different blend varieties, or is just sticking to one good enough?
A: Spore products can be taken in conjunction with each other, and I'd definitely recommend it. I'd start with Mike's mix, since it provides a great base with 10 different functional mushroom ingredients, then I'd layer in some energy and focus performance to get through a busy day. Chill out is a perfect nighttime supplement to help you do just that, unwind after a long day and ease into a restful night of sleep. And protect and defend speaks for itself in these uncertain times where strengthening your immune system and general health are top of mind.
Q: Finally, you told us what the benefits are to taking Spore supplements, but are there any indirect or unintended advantages, like IBS (irritable bowel syndrome) relief or stopping migraines? Is it safe to say that taking your supplements is comparable to just eating well on a daily basis, leading to overall wellness?
A: Definitely. Beyond achieving the desired effects of each product, functional mushrooms are nutrient dense, packed with antioxidants, improve gut health and liver function, have anti-inflammatory and anti-aging properties, and support immune health, they're a super food, and pair perfectly with a healthy lifestyle. The way we approach our products is that eating well is a great start to overall wellness, but it's often tough for most to cover every segment of the food chain in their day-to-day diet with a hectic life or work schedule. That's why the ease of a supplement like ours is really a helpful way to aid someone in going from a good to great diet as they strive for overall wellness.