7th Annual Taste of the Eastside Food Festival Returns for Another Fabulous and Fun Sunday
(Los Angeles, CA) Foodies and connoisseurs of the incredible and evolving Los Angeles food and drink scene with be gathering once again at the Los Angeles River Center and Gardens, a stunning and picturesque venue on Sunday, April 30th for the 7th annual Taste of the Eastside (TOTE).
Taste of the Eastside began with the charitable idea of raising money for local non-profits including Rose Scharlin Cooperative Nursery School, LA's oldest co-op for kids, which is the primary beneficiary and organizer of the event. It has now become a must do for families and friends all around Los Angeles who come to enjoy a beautiful Sunday with samples and creations of vendors from Silver Lake, Echo Park, Eagle Rock, Highland Park, Los Feliz, Atwater and beyond.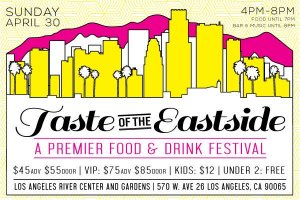 Representing the uniqueness of the Eastside will be over 30 vendors, both newcomers and returning names who represent diverse cuisines and popular local places. Angelenos all around are sure to be familiar with some of the loyal participants such as tasty Mexican spot, Diablo Taco, chic, Los Feliz joint, Little Dom's and that sweet, sweet local ice cream shop- Jeni's Splendid Ice Creams. Just some of the new but familiar names joining this year will be Go Get Em Tiger Coffee, Silverlake's new Chinese Kitchen Fat Dragon, WOOD pizzeria, New American favorite Red Herring and for those sweet tooth lovers, FrankieLucy Bakeshop and McConnell's Fine Ice Creams.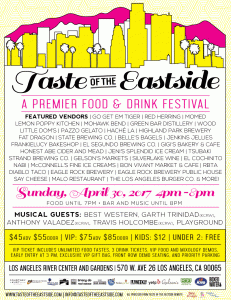 Taste of the Eastside would not be complete without flights from the region's finest, boutique wine merchants, Silver Lake Wines. Aside delightful wine pours will be signature cocktails from Mohawk Bend and Greenbar Craft Distillery. El Segundo Brewing, Highland Park Brewery and State Brewing will be providing refreshing beer on draft among other cool local breweries. KCRW DJ favorites Anthony Valadez, Travis Holcombe and Garth Trinidad will be spinning tunes for all music lovers, in addition to music from DJ duo Playground and live music from Best Western.
All proceeds from Taste of the Eastside will be donated to highly-deserving local organizations, including Rose Scharlin Cooperative Nursery School, The Pablove Foundation, and Friends of the LA River.
For more info on the event and to buy tickets visit  http://tasteoftheeastside.com
More about The Los Angeles River Center and Gardens:
The Los Angeles River Center and Gardens has been home to TOTE now for the past three years, giving the festival a unique location and vibe. The venue, a stunning mission-style villa with lush landscaping, soothing fountains and meandering, tiled patios, provides a breathtaking backdrop for SoCal foodies to sample delicious offerings from some of LA's hottest purveyors of food and drink. The lovely grounds are home to several non-profit organizations that aim to revitalize the Los Angeles River and promote sustainable living
More about main beneficiary: Rose Scharlin Nursery School:
Rose Scharlin is a cooperative Nursery School in Los Angeles' Silver Lake area founded in 1939 with the distinction of being the very first cooperative nursery school in the City of Los Angeles and the model upon which local schools patterned themselves. It was founded in 1939 as the Echo Park Cooperative Nursery School, using the facilities of the Echo Park Playground but later merging with what was Lakeview Nursery School in Silverlake. The purpose is to provide a safe, secure and challenging environment for the children; to offer them a range of developmentally appropriate activities; and to reflect the diversity of backgrounds, our community and our world. They emphasize the process of parents and children learning and working together for the social, emotional, physical, intellectual and spiritual growth of all.
Press Release: Sara Franco

Sara Victoria PR