The 6t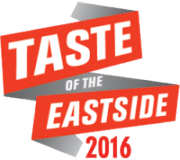 h annual Taste of the Eastside – May 1, 2016.
Los Angeles River Center and Gardens
570 W Ave 26
Los Angeles, CA 90065
4-8PM GENERAL ACCESS, 3PM VIP EARLY ACCESS
Taste of the Eastside is a food & drink festival that showcases the ever evolving, diverse food scene of the eastside neighborhoods of Silver Lake, Echo Park, Eagle Rock, Highland Park, Los Feliz, Atwater and beyond.
Local restaurants/food vendors/chefs showcase a signature dish, or create something unique specifically for the event.
Last year, Bon Vivant presented their Oaxacan Razorblade cocktail – prepare for another kickass cocktail this time around. Other vendors include: Silverlake Wine, Donut Farm, Kitchen Mouse, Wax Paper, Momed, Barcito, Mohawk Blend, Lemon Poppy Kitchen, Eagle Rock Brewery, and many more.
Plus the historic venue is definitely worth a look-see. Comprised of beautiful mission-style grounds, the Los Angeles River Center is a hidden jewel, sequestered behind thick, ivy covered walls, with fountains, flowers and serenity inside. The Center serves as a focal point for the renewal of the Los Angeles and offers a vision for the LA River's future.
To top it off there will be live music and KCRW DJs  
Charlie Overbey & the Broken Arrows

Garth Trinidad
Anthony Valadez
DJ Aire
General Admission:
$40 pre-sale
$50 day of event
Unlimited food tastes
Wine, beer and spirits available for purchase
VIP:
$70 pre-sale
$80 day of event
Includes unlimited food tastes, 3 drink tickets, VIP demos, early entry to event at 3 pm, exclusive VIP gift bag, front row demo seating, priority parking (2:45-4 pm)
Kids under 2: Free
Kids 2 – 12:
$8 Includes face painting with Macaroni Kid and a Tinkergarten art project
Taste of the Eastside is a rain or shine event!  Tickets are non-refundable/non-returnable.   BUY TICKETS 
Don't miss this fabulous, fun-filled, tasty event! For more information visit Taste of the Eastside