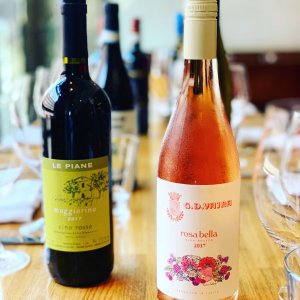 The Factory Kitchen is launching their new summer wine Monday special running Monday, September 30th, 2019. Guests can enjoy 50% off any bottle of wine from their extensive wine list. The weekly special is available every Monday during both the lunch and dinner business hours. Beverage Director and Sommelier Francine Diamond-Ferdinandi has created a wine list which reflects the essence of their distinctive regions. Though Italian wines are prevalent at The Factory Kitchen, additional wines from neighboring Western European countries and beyond are served.
The Factory Kitchen is the product of a long-standing friendship between Ferdinandi and Chef Angelo Auriana. Ferdinandi and Auriana share the vision of imparting their Italian roots and memories through food and hospitality. The original trattoria, serving traditional Italian recipes, opened its doors on Oct. 24, 2013, in The Arts District, Downtown Los Angeles. The Factory Kitchen takes its name from the street it's located on and the former factory building complex that hosts it, but the restaurant is purely Italian.
The food at The Factory Kitchen takes center stage, with a lively pasta-making station where pastas including Casonzei, pork sausage and veal ravioli with pork belly, sage brown butter and Reggiano Parmigiano cheese and Modenesi, 18-month aged Prosciutto di Parma tortellini. Filling the length of the back of the restaurant, the pasta station is also where The Factory Kitchen's signature Mandilli di Seta is made—thin sheets of handkerchief egg pasta with Ligurian almond basil pesto, a favorite at the restaurant's flagship location in Downtown Los Angeles.

The Factory Kitchen Los Angeles is located at 1300 Factory Place #101 in Los Angeles, CA 90013.
The restaurant serves lunch Monday through Friday from 11:30 am to 2:30 pm. Dinner services on Monday through Thursday from 5:30 pm to 10 pm, Friday from 5:30 pm to 11 pm, Saturday from 5 pm to 11 pm and Sunday from 4:30 pm to 9:30 pm.
Connect with The Factory Kitchen online and on Social Media below:
Website: www.thefactorykitchen.com
Facebook: https://www.facebook.com/thefactorykitchenrestaurants/
Instagram: http://instagram.com/thefactorykitchen