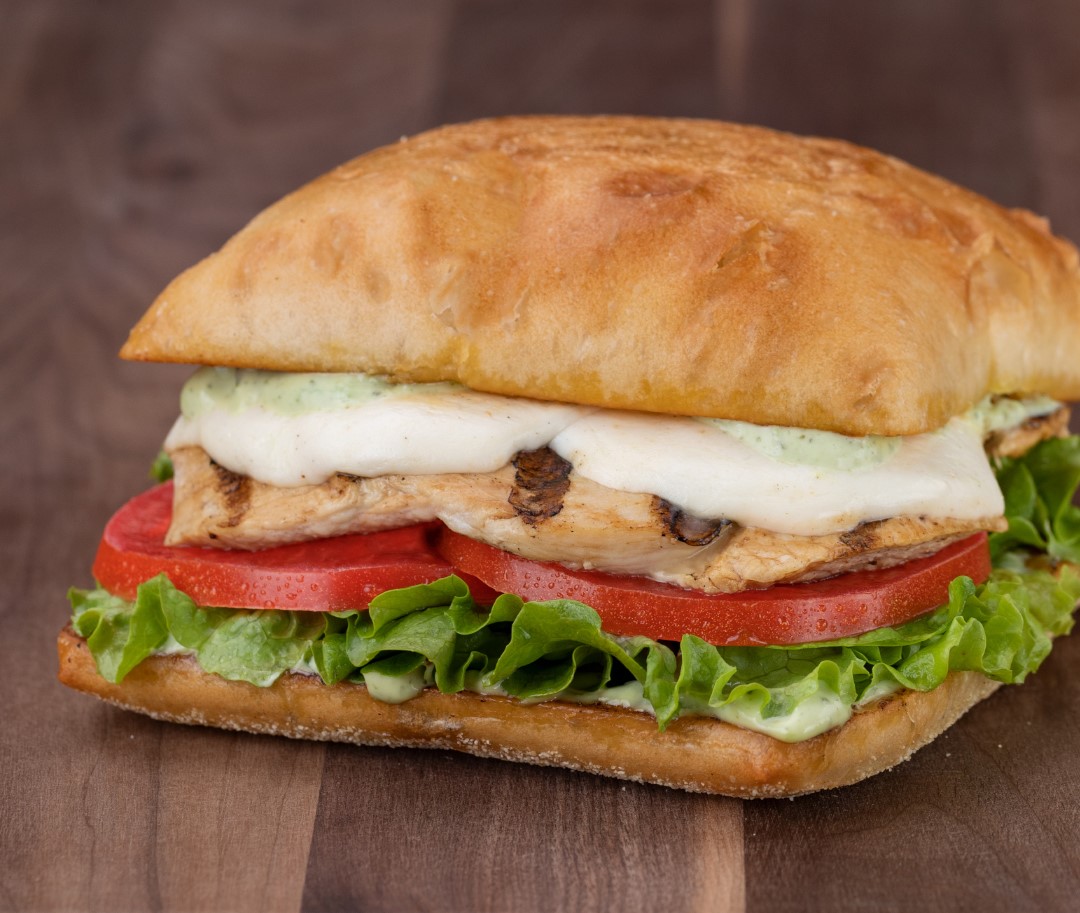 The Habit Introduces the new chicken Caprese!
Summer is nearing its end, but that doesn't mean that The Habit Burger Grill is turning down the flames and heat!
The flame-grilling chain launched their new Chicken Caprese sandwich earlier this week, which is a perfect way to switch things up when you're growing tired of burgers. This mouth-watering new menu item comes topped with melted mozzarella cheese and house-made basil pesto aioli. As if that weren't enough the Chicken Caprese comes on Garlic Ciabatta, and is full layers of flavor that all fit together to create a delicious Italian-inspired sandwich.
The Habit Burger Grill is known for it's made-to-order mantra, and always putting freshness and quality above all else. The Chicken Caprese on Garlic Ciabatta delivers on The Habit's high standards when it comes to quality ingredients and fresh flavor.
The Habit has been cooking fresh marinated chicken and more over an open flame since 1969 to sear in their signature smokey flavor in every bite. The chargrilled Chicken Caprese on Garlic Ciabatta is a one-of-a-kind culinary experience you can't find anywhere else. Trust us, we tried it — and it's pure YUM!
What else are they cooking up?
In addition to a delicious new menu item, The Habit Burger Grill just announced its Golden Charticket sweepstakes promotion in celebration of National Cheeseburger Day on September 18th (tomorrow!).
Golden Chartickets will be distributed at random to guests at select restaurants across the US. Golden Chartickets hold the value of up to $500 in Habit gift cards which can be redeemed for future visits to The Habit (no cash value). Why not knock out two birds with one stone, eh? Try the new Chicken Caprese & possibly win a golden Charticket! Sounds like at least one win to us. 
About the habit
The Habit Burger Grill is a burger-centric, fast-casual restaurant concept that specializes in preparing fresh, made-to-order chargrilled burgers and handcrafted sandwiches featuring USDA choice tri-tip steak, grilled chicken and sushi-grade ahi tuna cooked over an open flame. In addition, it features fresh made-to-order salads and an appealing selection of sides, shakes and malts. The Habit Burger Grill was named the "best tasting burger in America" in July 2014in a comprehensive survey conducted by one of America's leading consumer magazines. The first Habit Burger Grill opened in Santa Barbara, California in 1969 and was recently named in Thrillist's list of "Underrated Burger Chains that Need to be in Every State!" The Habit Burger Grill has since grown to over 275 restaurants in 13 states throughout Arizona, California, Florida, Idaho, Maryland, Nevada, New Jersey, North Carolina, Pennsylvania, South Carolina, Utah, Virginia and Washington as well as seven international locations. More information is available at www.habitburger.com.