Looking for something to do this weekend? How about taking in some fine art as soon as this Thursday?
LA-based, Fine Art & Commercial Photographer Jussi Grznar will be hosting an intimate reception to debut his first US Solo Exhibition Landscape In Movement on Abbot Kinney tomorrow, June 9th, from 6:00 PM – 9:00 PM PST.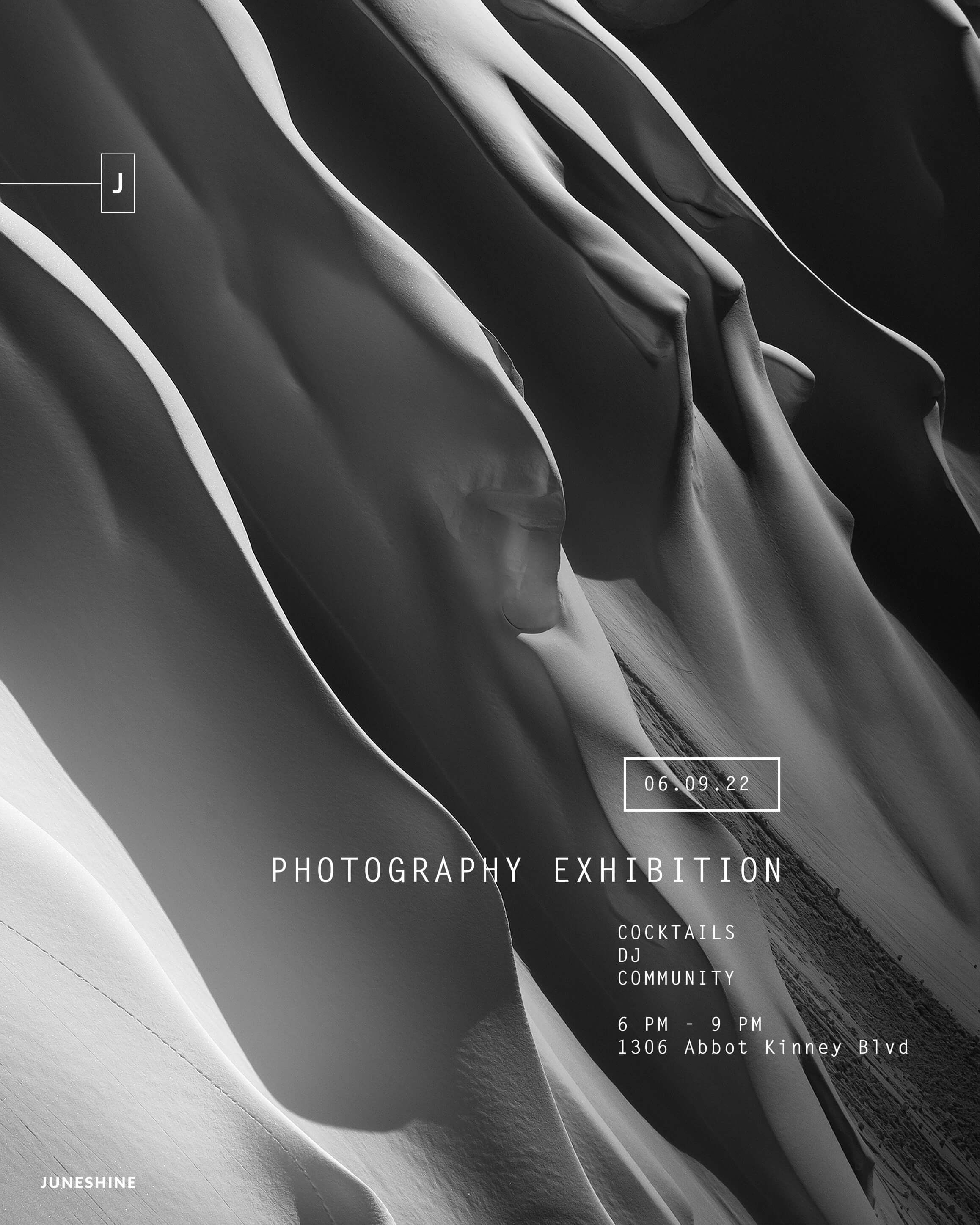 With a passion for the exhilaration of a life lived outdoors, Grznar's work tells the extraordinary stories of some of the world's most diverse and remote views. Born and raised in the former Czechoslovakia, Grznar spent a lot of his early years in nature, forming a lifelong affair with a subject that he really cares about. Observing his work, viewers can find understanding in his appreciation for the natural world around us, along with the complexities that make it all possible.
Details about the exhibition are below:
Landscape in Movement is Grznar's observation of permanent, yet ever changing landscapes and its relations and interactions with elements, such as temperature, gravity, wind, topography, climate and human kind.

The exhibition will feature 18 images, including 4 never before seen photographs, taken on location In California, Nevada, British Columbia, Japan and beyond. They will be on display during the event and through June 14.

Prints on display and an additional portfolio book will be available for guests to place orders during the event. Grznar's work starts at $1,750.

Sponsored by hard kombucha & spirits brand Juneshine and Zinqué, cocktails and small bites will be served throughout the evening as guests mingle, enjoy the elevated ambiance infused by a live DJ and take in Grznar's compelling imagery.

The launch event is open to the public, and Grznar's work will be available for further viewing on Abbot Kinney (1306 Abbot Kinney Blvd, Venice) during normal gallery hours starting on June 8th – June 14th (10:00 AM – 10:00 PM PST).
More About Jussi Grznar
Jussi Grznar is an award-winning photographer whose work tells the extraordinary and ever-changing stories of some of the world's most diverse and remote views. Teaching himself to ski at the age of three in the former Czechoslovakia Jussi's love affair for the mountains and the exhilaration of a life lived outdoors was solidified at an early age. Jussi Grznar has a continual appreciation for the environment around him and values photography  as a means to document life.  At home in the backcountry, Jussi has been witness to our changing environment as the temperatures rise. He hopes by sharing the beauty and elegance of these places he can bring awareness to the importance of conscious environmentalism and sustainability.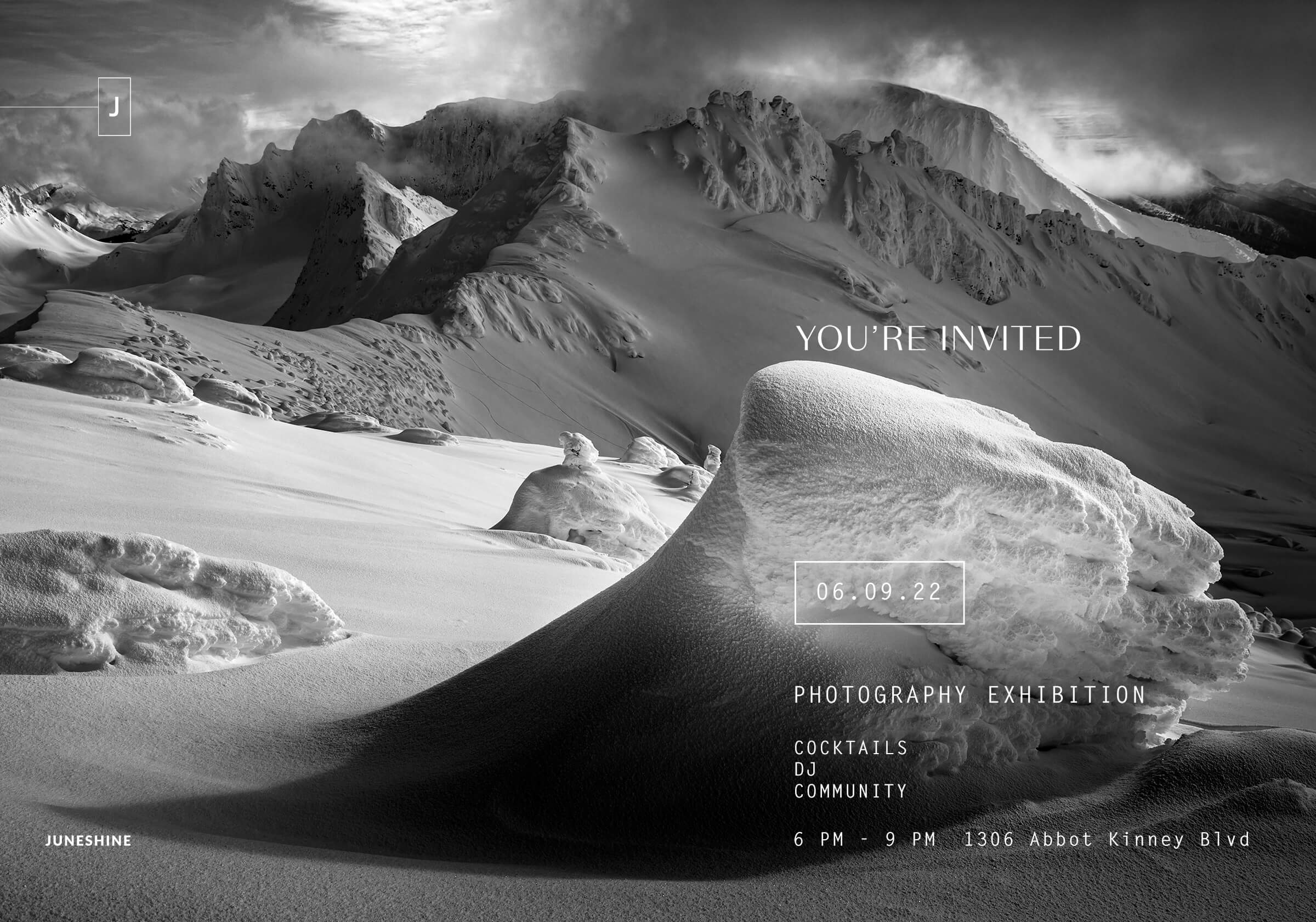 His work has taken him across the globe through numerous mountain ranges, rice fields,  double-overhead barreling waves, to the Ghats of Varanasi.  These experiences have earned him a global perspective. A perspective that has earned him a multitude of accolades for his work including APA Photo of the Year Awards in "Sports/Adventure" Category, the Pro Photographer Showdown at World Ski and Snowboard Festival and Red Bull Illume. 
In addition to his Fine Art projects, Grznar has partnered with many of the world's leading action sports and commercial brands including Redbull, Bose, Adidas,  Coors Light, Puma, Toyota, Lululemon and more. Grznar currently resides in LA and splits his time between California and British Columbia.