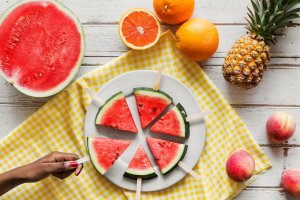 August 3rd is officially deemed National Watermelon Day, and it just so happens to be my personal favorite fruit of all time. I've legitimately been anticipating this day all year long, and now that it's here, I just can't contain myself.  For SoCal Mag, I wanted to come up with ideas on how to celebrate this day and share my own personal love for nature's juiciest, sweetest delight. Here's a curated list from our editors on some fun recipes, watermelon infused products, and locations that Southern Californians can enjoy all weekend.
1.First up, if you're in Beverly Hills and want a refreshing treat, order the "One In a Melon" cocktail from Citizen Beverly Hills. This cocktail treat is mixed with Vodka, St. Germain, Lime, Fresh Watermelon, Cucumber, Petite Cane Syrup,  & Soda. If you're dining in, start off with their delicious Watermelon Salad paired with Cucumber, Heirloom Tomato, Chili,  & Lime.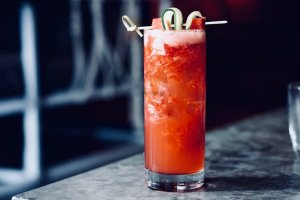 ---
2. The Bamboo Face Scrub from GOLDEN DOOR is infused with Watermelon Fruit Extract. This delightfully aromatic facial scrub effectively exfoliates dead skin cells leaving a deeply cleansed, smooth, even-toned complexion. Retail value $48.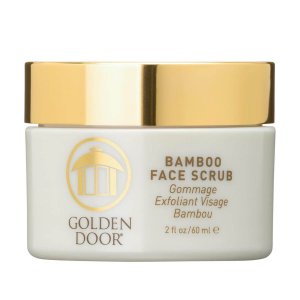 ---
3.  How about a game you can enjoy with the whole family? Word-A-Melon is the new family-fun word search game grown by BANANAGRAMS! Players take turns rolling the die, flipping the letter chips and creating words with the overturned letters. The unused letters get flipped back over so players must be sure to use their melon to remember where they are! The player with the most chips wins the game! Retail Value $20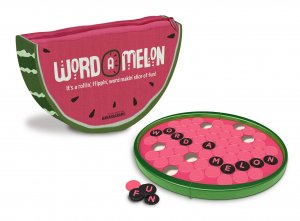 ---
4.  If you want a beach day, take this Super Chill Cooler Bag from ban.do and go in style for the occasion. Their watermelon bag is officially a national obsession, so join the party! Retail Value $32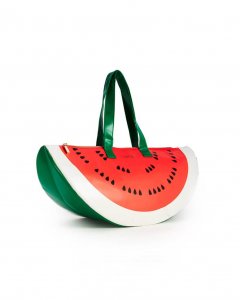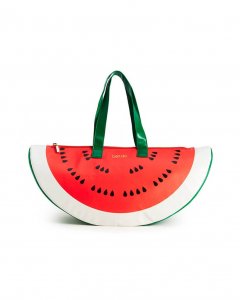 ---
5.  One of my absolute favorite drinks is WTRMLN WTR, and there are so many options with this refreshing drink. Check out their Five Facts You Didn't Know About Watermelon.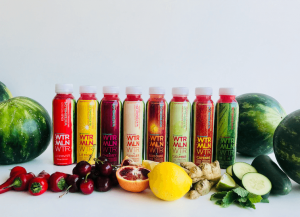 Beyoncé has her own 'Watermelon Water': As a partner in the popular drink, WTRMLN WTR,  she launched her own LMN-ade flavor timed to the Lemonade album. The LMN-ade flavor is WTRMLN WTR's Vitamin C Superstar and is packed with watermelon flesh, watermelon rind and Vitamin C, which supports health and happiness.*Since Beyoncé's investment into the company, WTRMLN WTR has accomplished to be in over 15,000 stores nationwide and in all 50 states – giving Americans a healthier choice. 
They're called watermelon for a reason: They're 92 percent water, making them a perfect refresher for those hot summer months and is an ideal hydration solution.
Watermelon is what your skin is craving:Watermelon is packed with antioxidants and free radical fighting lycopene, meaning the delicious fruit is really good for your skin, too. It also is rich in beta carotene which will give the body protection from UV light this summer!
6 Billion Pounds of Watermelon are Considered 'Ugly':Billions of pounds of watermelons go to waste each year in the U.S. simply because they are they are blemished, dented or discolored. Brands like WTRMLN WTR are using these cosmetically challenged watermelons and turning them into health fuel.  In 2017 alone, WTRMLN WTR is predicted to save over 50 million melons that would otherwise be discarded.
Watermelon is full of Vitamin A:Vitamin A helps to promote healthy eyes and can be attributed to better eyesight. It also maintains healthy skin and teeth!
---
6.  If you're in San Diego, Check out Café 21 in the Gaslamp District. The cocktails were created by Owner and Chef Leyla Javadov in collaboration with Greenbar Distillery. The Sandia Beach $14 is crafted with IXA Reposado Tequila, watermelon, lime and chili salt.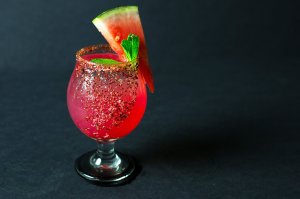 Also in S.D. is Madison on Park. Bar Manager Danny Kuehner has crafted the Motor Bike $10 with El Jimador Blanco Tequila, local watermelon, aperol, ginger and lime. Paired perfectly with the Watermelon Stack, made with local watermelon, radish, jalapeño, grilled halloumi cheese, avocado, mint and lime, $12.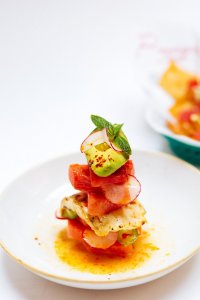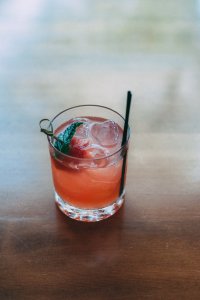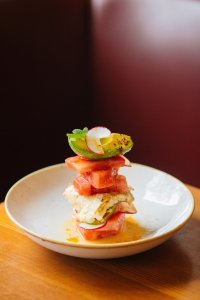 ---
7.  American Heirloom has a great maple Watermelon Cutting Board perfect for today and any other occasion. Retail $30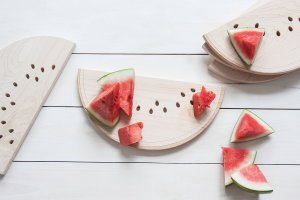 ---
8.  Courtesy of Minibar Delivery, here are two delicious watermelon cocktail recipes for any party.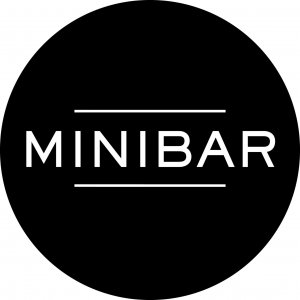 Watermelon Margarita:  2 oz tequila; ½ oz lime juice; 2 oz fresh watermelon juice; 1 oz cointreau; Watermelon balls to garnish.
Combine all ingredients into a shaker filled with ice. Shake until chilled and pour into glass. Garnish with Watermelon balls and enjoy.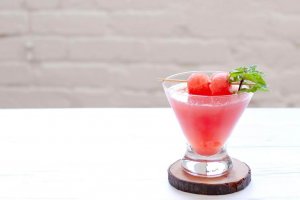 Frozen Watermelon Cucumber Cooler:  ½ a watermelon cubed; Cucumber slices; 2 oz Vodka; 1 oz triple sec; 1 oz lime juice; Ice.
Combine all ingredients in a blender. Blend until well combined. Pour into glass and garnish with watermelon slices.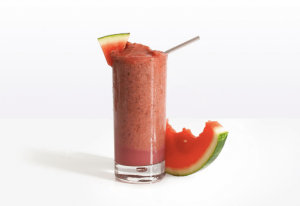 ---
7.  There's something for everybody today, and for the cannabis enthusiasts, there's the Watermelon/Peach flavored CannaSmack's "Coral Kiss" tinted lip balm. This lip balm offers a pop of moisturizing coral-pink pigment to match your summer tan – apply lightly for a more subdued tint, or achieve a much bolder lipstick-like appearance by layering. The formula is infused with premium Hemp Seed Oil, providing the highest plant-based source of Omega 3 and 6 fatty acids, as well as vitamins A, B, D, E, for an uber-moisturized, kissable pout. It's also cruelty-free, paraben-, sulfate- and gluten-free and Made in the USA.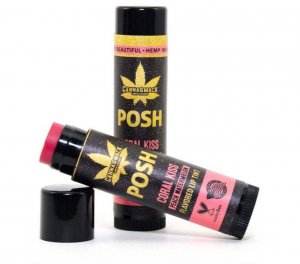 ---
8.  For the Fashionistas in your life, California-based KAYU has an option. Available exclusively at J. Crew, this hand-woven watermelon clutch is made from raffia and features embroidery and shell embellishments, with a fun pom pom accent and removable crossbody chain. The bag retails for $84 at J. Crew.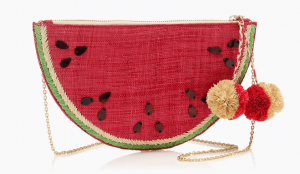 ---
9.  Let's also sport a fresh face today. What better way to celebrate in this summer heat than waking up with the refreshing Bliss What A Melon Reviving & Destressing Overnight Mask? What a Melon creates a nutrient veil to remove dead cells and toxins for a dewy complexion, all while boosting the skin's defenses against stress and the environment. The mask calms and rehydrates as it tops off moisture levels and electrolytes to plump and soften. Just smooth on a layer, let it soak in, sleep on it and wake up to vibrant, supple skin. The cruelty-free (recently PETA certified) mask is available at Ulta and BlissWorld.com ($16) and is Blissfully free of Parabens, Phthalates, SLS/SLES and more.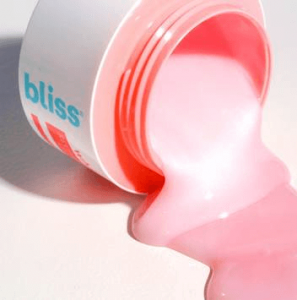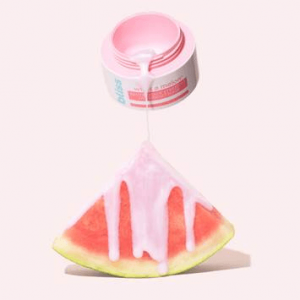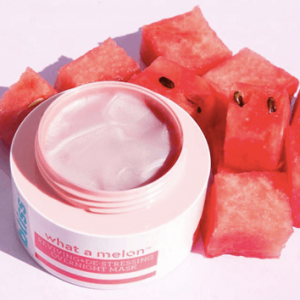 ---
10.  And for the whole body, there's Shea Nilotik' Oil (KALAHARI MELON). 100% Natural, multi-use organic oil for the whole body, even hair. Silky smooth skin and lustrous, soft hair can be achieved in only minutes a day with this easy to use spreadable form of "shea". Help decrease the appearance of stretch marks, help improve skin tone and texture, help give skin a healthy glow, and more. Condition and help improve hair growth with this fractionated shea butter oil. Use for massage or even to soften bath oil. Contains Kalahari melon oil and scented with natural watermelon extract. Retails for $18.