Chocolate, gifts, an exchange of cards—it must be Saint Valentine's Day. But wait—this festive holiday has some dark roots: Historians believe Valentine's Day actually began in Ancient Rome as a pagan fertility festival called Lupercalia, with the celebration dedicated to Faunus, the Roman god of agriculture, and Roman founders Romulus and Remus. According to History.com, the day was celebrated with activities that included sacrificing animals and whipping women with animal skins until they bled, signifying their fertility. But that's all behind us now, we even buy our pets a Valentine's treat! For most us, we head out for a dining adventure to share with the one we love. We have assembled a small selection of our favorite places this day or any other for your consideration.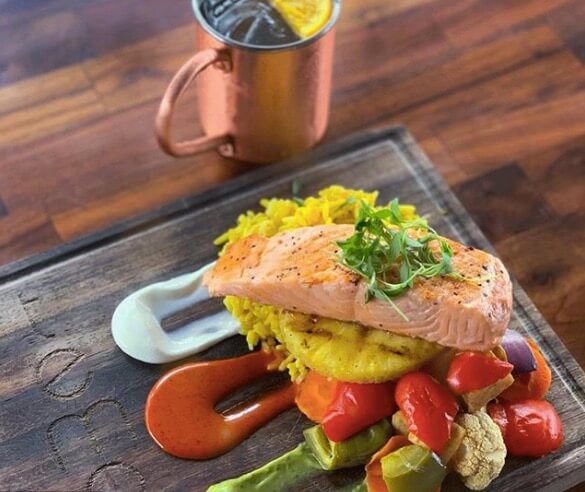 Tempo Cantina
Modern Mexican Cuisine. Pictured here is MAYAN GRILLED SALMON served w/ saffron rice, roasted veggie, grilled pineapple, lime crema, avocado purée, achiote sauce! There's enough goodness here to make any heart melt.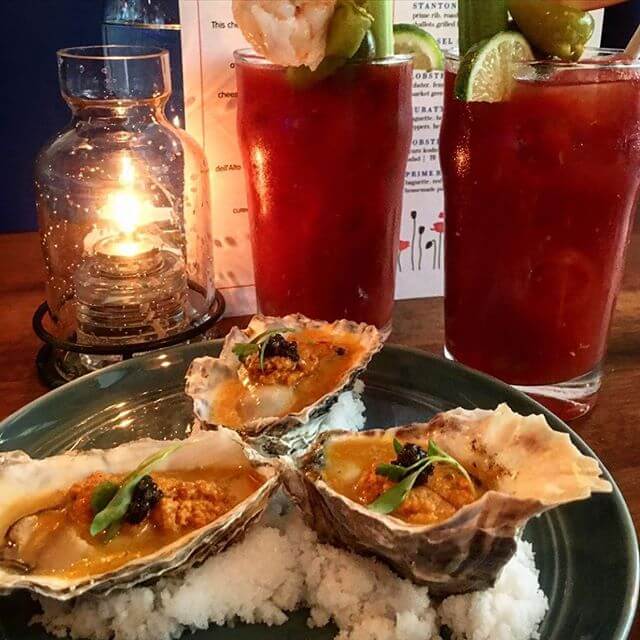 The Stanton DTLA
The former Bottlerock location is now home to The Stanton DTLA. A corner side seat to the activities on Hope and 11st, The Stanton offers up some great vegetarian dishes such a Brussel Sprout salad and Housemade Meatballs. Dinner entrees range from Lobster Linguine to Lamb Bolognese. With an excellent wine selection at hand, the appropriate romantic lighting, and seating both in and out, this is the place for a romantic downtown Valentine.
The Stanton DTLA
1091 S Hope St. Los Angeles CA 90015
https://www.thestantondtla.com/
Off Vine
Since 1989, Off Vine has been serving a wide range of hearty California favorites with regional American influences. Yes, the food is very good, but let's recollect for a moment—this is located in the heart of Hollywood, in what is now a bustling area of many restaurants, shops, theaters and bars. Rendezvous by the fireplace, enjoy a comforting,  hearty meal in the vine-wrapped outdoor garden, or perhaps a celebration with all your friends and family in one of their private rooms. If you are looking for that special zone romantic, this is one of your best bets.
VALENTINE'S DINNER AT OFF VINE
Date: 2020-02-14
Time: 5:30 pm-9:00 pm
Price: $ 80.00 (Per Person, Not including Tax, Gratuity & Beverage)
To reserve your exclusive seat please call: (323) 962-1900