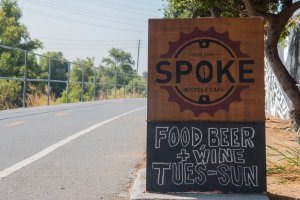 Longing to escape the L.A. freeways? At Spoke you can. This quaint combo café and bike shop on the L.A. River is an oasis from the typical L.A. gridlock. Owners Laurie Winston and Rich Latronica opened Spoke with the hope of getting people out of their cars, closer to nature, and into relationship with their neighbors.
Accessible by the L.A. River bike path, Spoke is one of the only places in the area locally known as 'Frogtown' where cyclist and pedestrians can pit stop for biking needs and quality fare. Expert repairs, custom builds, and even bike rentals (even tandem!) are available at the bike shop. At the Café the vegan-friendly menu features breakfast all day, sandwiches, salads, locally roasted coffee and California wines and beers. Try the Spoke Veggie Burger (smoked mushroom and beet patty with heirloom tomato) or the Breakfast Bun (scrambled egg, bacon and aged cheddar with chipotle aoli).
Seating is a large outdoor patio with a community feel, suggesting that this hip new spot is not just about exercise and eats, it's a way of life. Owner Laurie believes that people who are closer to nature and more connected to each other make for happier neighbors. The café makes it a point to source products locally, encourages patrons to walk or bike whenever possible, and fosters relationships in the neighborhood by hosting community events.
Follow Spoke on social media for upcoming event information: local musicians, arts events, kids activities and a by donation Yoga class (Saturday mornings at 8:30) to name a few.
Come by bike or on foot if you can as parking is tight. (If you have trouble, try parking at Marsh Park). Here's to more Spokes and fewer cars in L.A.!
3050 North Coolidge Ave, Los Angeles, CA 90039 323.842.4313
Cafe: Tues-Thurs 8a-6p; Fri-Sat 8a-10p; Sun 8a-9p                    Bike Shop: Tues-Sun 10a-6p
www.spokebicyclecafe.com    twitter: @spoke_lariver     Instagram: @spokebicyclecafe