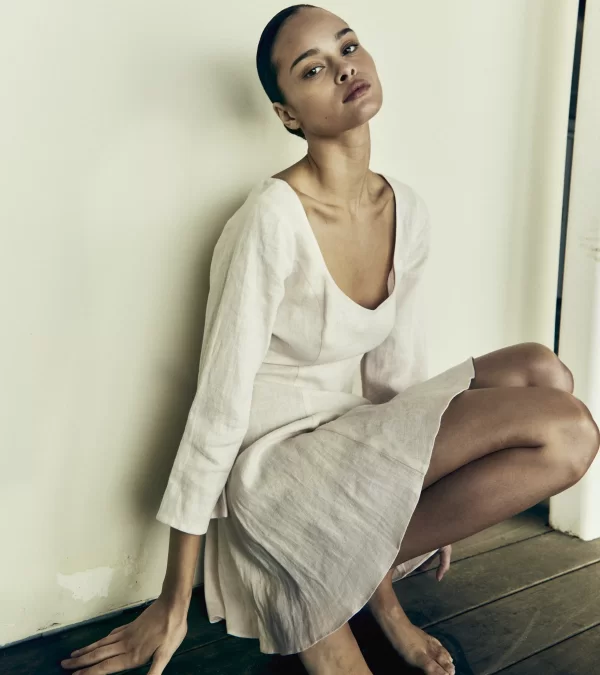 30 Years Strong
Timeless, classic, and elegant are just a few words used to describe her designs, yet, somehow they are much more than that. LA's very own Jane Booke—a native Angeleno designing luxury bespoke dresses, jumpsuits and coats—has long been capable of creating designs embodying the utmost bohemian styles. Crediting Camelot and Star Wars as her key inspiration, it's no wonder she continues to captivate the minds and hearts of those she dresses today.
As attention spans shrink in this social media age, trends continue to see shorter cycles before everyone moves on to the next thing. However, at the heart of fashion relevance and perseverance, simplicity, convenience, and reliability reign supreme. Jane understands the everyday woman and her needs, believing in fashion that makes sense, like 'wash and wear' silk dresses and coats to create a glamorous look with the practicality needed for women on the go.
Jane has always stayed true to her aesthetic as she reimagines her heritage designs while honoring her personal style, and it's evident in her latest Summer 2023 line. We had the opportunity to conduct a Q&A with Jane to get some insight into her story, accomplishments, style, and how she's managed to create the successful label that she has. Read on for more about Jane and her brand, and shop her Summer 2023 collection at Jane Booke.
Q&A With Jane Booke
Q: Hi Jane! To start us off, would you mind letting readers know some of your story? What led you down the path to create your label?
JB: Since I was a young girl I've always loved beauty. As a child, my parents traveled constantly, which left me pretty much on my own. Now I wouldn't change that for the world because I had no choice but to be creative, whether it was music, clothing, or art.
As a teenager, I traveled every year to stay with my father in the south of France. We would always stop in London, where I searched the vintage stores and found stunning dresses from the 20s, 30s, and 40s. Some of the best pieces I found were in London. They weren't really wearable because the fabric was so old, so when I returned back to the states, inspired by these dresses, I had the idea to create similar pieces in newer fabrics. I never intended to start my own line, but friends and passersby alike kept asking about my clothes. I began my own line about 30 years ago and have been creating these signature, bespoke pieces ever since.
Q: At nearly 30 years old, how has Jane Booke evolved from its early years to now? Is there a unique bit of DNA that continues to live on even in today's designs, or is it drastically different?
JB: In a world where trends are over the top, and only last a few minutes, I have stuck with classic designs which are timeless. There is DNA in my line from 25 years ago. I might change something here and there, and it looks completely different. However, it is still timeless. I've even had clients call me and ask if I have any "OG" Jane Booke dresses available, and they search for them on eBay. That said, my designs and overall aesthetic has remained pretty consistent over the years – I focus on creating a core collection of styles that can withstand the test of time. Each season I find new ways to freshen up these classics, with interesting fabrics, patterns,etc. All my fabrics even the faux fur, Silks and Velvet are all washable and dryable. I have an aversion to trendy clothing, and my formula works to keep my clothes timeless.
Q: It's not always easy to make something classic with the ability to withstand the test of time. How do you go about capturing the timeless nature of your designs? Does it start with a color, simple design choices, or something more?
JB: My designs begin in my head. I might see something that inspires me.
Fairytales have always been an inspiration to me. Art is another huge inspiration. Modern art mixed with pre-Raphaelite art is what I strive for in my designs. I believe the combination of old meets new keeps my clothes timeless. I might see a neckline, or a sleeve in a painting that will inspire a completely new dress.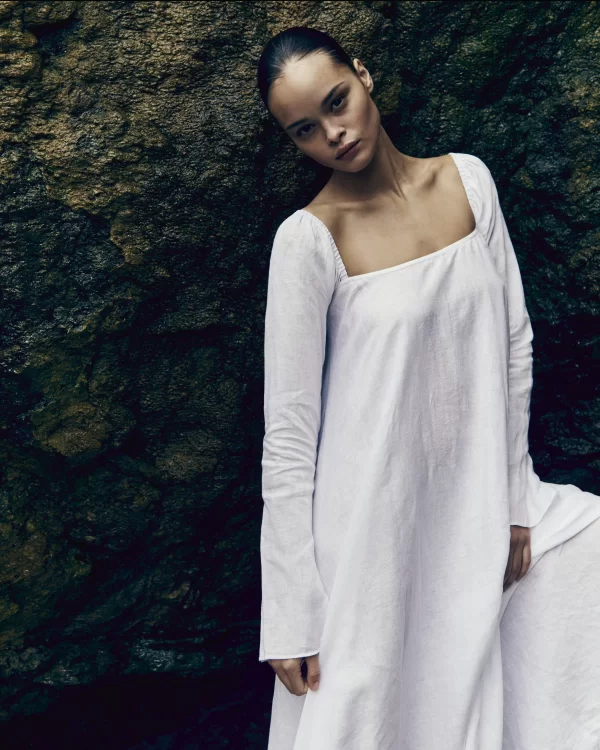 Q: Where has your inspiration stemmed from over the years?
JB: I think the best way to explain my collection is "Camelot meets Star Wars."
It might sound strange, but the ancient and the modern when they come together, make a classic dress or coat. My pieces can last a lifetime.
Q: How do you approach trends? Are they something to tap into every once in a while, or do you steer clear and stay strictly in your own lane?
JB: I don't follow trends unless it's by accident! Trends are not personal to me. I want my clothes to have heart, and I want women to feel that when they wear them.
It's important to me that I design pieces that will keep their value forever.
Q: There's always a word or two that comes to mind when you think of a brand or experience their product. What is it that you want women to feel when they think of and wear Jane Booke?
JB: I believe women have been trying to be more like men in order to be respected.
I tell the women who buy my clothes that their power is in their femininity.
Nine times out of 10, when a woman puts on one of my pieces, they actually stand taller, and their confidence level goes way up like they could conquer the world.
Q: Are there any struggles that you and the label faced, and how did you overcome them?
JB: The biggest struggle I've faced in my career is that I really never sought out to be a designer – as crazy as it sounds, one day I was just "in the business." I got my start when Les Habitudes saw me in one of my pieces. Three days later, they ordered 31 styles, four sizes per piece. I believe my whole career was just given to me from Heaven. I had to take a crash course in the fashion business and scale my personal designs into a label!
Q: What have been some of your biggest accomplishments and proudest moments to date?
JB: My biggest accomplishment was when I became partners with John Paul DeJoria, co-founder of Patron Tequila and Paul Mitchell. Unbeknownst to me, his wife bought about 80 dresses from my collection, and I accidentally bumped into them at a fashion event, and we were in business. John Paul is a humanitarian and an innovator. We met because we happen to have the same dentist. After I left the dentist, he smelled my signature fragrance Taken and they told him it was me.The rest is history.
Q: You've worked with icons and legends in entertainment! Is there anyone you haven't worked with yet, that you dream of working with?
JB: There are two. I love Stevie Nicks and Margot Robbie. Both of these women have confidence and attitude. They also know that their power is in their femininity.
Q: Have you achieved your ultimate vision and goal for Jane Booke, and if not, where would you like to take the brand in the near and long term future?
JB: I want Jane Booke to bring glamour back, and to see women wearing my clothes everywhere. I want women to be enriched by the lifestyle that glamour can bring. It doesn't have to be difficult. Glamour is power, and it is not hard to achieve.
I want more and more women to stop saving beauty for later.