Nostalgia hit me heavy when I found out about the latest collaboration between Hybrid Apparel's line, Love Tribe and Nickelodeon. This new collection is all about taking it back to Millennial childhood by making a nod to 90's cartoon classics that so many of us grew up on, and personally, I'm loving every single piece! My favorite pieces include characters from hit shows like Rugrats, All That, and Hey Arnold!. You can also find pieces that feature quotes and characters from Clarissa Explains It All, The Ren & Stimpy Show, and SpongeBob SquarePants.
According to the Vice President of Sales for Specialty Retailers of Hybrid Apparel, Bonnie Dogan explained that the collection was actually in the works for a while now. She says,
"We have been partners with Nickelodeon for a long time, building an incredible relationship together. We love their creativity, and combining their vision with ours was the perfect recipe for an inspiring unique apparel line. There is nothing better then remembering the past, and the things we watched and loved while growing up."
The Nickelodeon collection a retro style for fashionable millennial women. The garments possess a "throwback" feel, having been made with materials such as terry cloth and jersey, and include trendy slogans such as "Trust Me, I'm a Rugrat," featuring Chucky Finster from Rugrats and "Haters Gonna Hate," featuring Arnold from Hey Arnold!.
Love Tribe X Nickelodeon has officially launched this week in stores and online at Macys.com, but the line will officially kick off nationwide with a special event at Macy's Herald Square in New York at 2:00 pm on August 26, 2017.
Make sure to follow Love Tribe on Instagram here:  @lovetribeapparel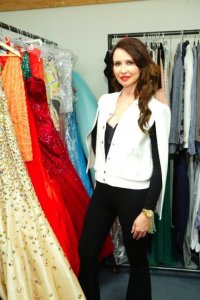 We all have our favorite characters on a TV show. We love the way they look, talk, the way they behave, and sometimes we want to emulate what they wear. This is why the costume designer of a TV show makes an impact on the fashion world. Some people watch certain TV shows for the clothing and style alone. The clothes can even take on personality in a show, and become a crucial part of the story and the development of the characters.
TV shows afford the costume designer greater opportunities than a movie, as the designer has to build a wardrobe for an ongoing character in an ever-changing climate. And the scope is on a larger scale – in a TV show you have to dress women, men, children, of all socioeconomic backgrounds, and all different body types.
Did you love the 50's style of Madmen? Or the colorful look of Telenovela? Well, then meet Janie Bryant, an Emmy award winning costume designer. Bryant is well known for her work on Madmen, Deadwood, Telenovela, and she is currently working on an Amazon pilot called "The Last Tycoon".
Did you always want to be a costume designer?
I actually studied fashion design and always wanted to be a fashion designer. When I moved to NYC after I graduated from college, I met a lot of people in the film industry, and I met a costume designer at a party. That was my first introduction to costume design as a career.
What's the best part about being a costume designer?
I love to create characters visually through costume design. I also especially love period costume design; it's about transporting the actors and audience into a different time and creating an entire world.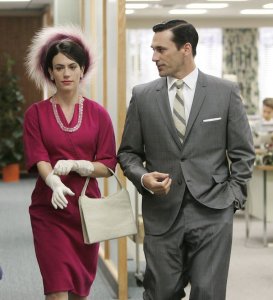 What's the hardest part about being a costume designer?
I find that the creative process, while being exciting and fun, is also hard and it can be painstaking to get that amazing end result.
Who have been your favorite characters to dress?
The list is long and for many different reasons. And so much has to do with what is happening in the script. For Mad Men specifically, I love all the female characters. Betty, Megan, Trudy, Jane and Joan!
Which of your characters do you think you most dress like?
Megan for sure.
Which TV shows/movies did you watch for the clothes when you were starting out?
Ever since I was a little girl I've been obsessed with old movies. I have many, many favorites like The Women, Gone With The Wind, My Fair Lady, Gi Gi, An American in Paris, Wuthering Heights, Guys and Dolls, Sound of Music, Grease, On the Town, To Catch a Thief, High Society, and many more. I've seen them all a thousand times.
I hear you are writing a book. Can you tell us more about that?
My book is called The Fashion File and it's available for sale.
Anything else you'd like to add? 
I'm working with Hartmann Luggage as a brand ambassador and plan to do a design collaboration with them in the future. It's a brand I love and grew up with. I just completed the first season of the NBC show starring Eva Longoria, called Telenovela. Working with Eva and the cast was such fun, and I loved designing the glamorous gowns and gorgeous heels (available on Shoes of Prey).  I'm also just now working on the new AMAZON pilot The Last Tycoon, which should be amazing. Lots of exciting things ahead.