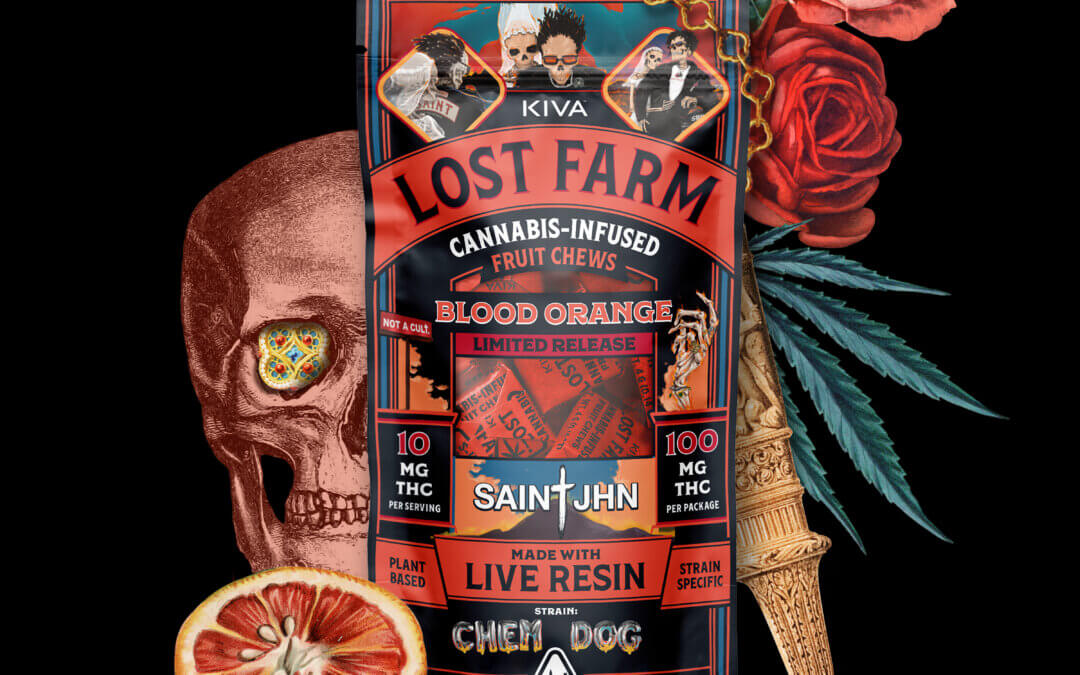 Magic is in the works, once again! Lost Farm by Kiva, the go-to vegan and live resin edible for the seasoned cannabis consumer, is launching the next drop in their limited edition collection designed in collaboration with 2x Grammy musician and songwriter SAINt JHN. The new Blood Orange Lost Farm Live Resin Chews, flavored and dosed to provide a mouth watering and Chem Dog infused punch, are available now.
Following the sold-out success of SAINt's first drop, Dragon Fruit x Grape Pie Cookies Lost Farm Gummies, in April 2022, SAINt JHN himself handpicked the second release, Blood Orange x Chem Dog Lost Farm Chews. Layered with natural flavors of tart, berry-like blood orange flavors and chews are balanced with the earthiness of the Chem Dog strain.
Since launching in 2020, Kiva's Live Resin Lost Farm products have been a staple SAINt JHN's bag, playing a major role in his creative process (he even has his day to day team keep extra on them just in case he leaves his at home!) — whether it be listening to the music he just made, creating in the studio, or winding down after a live show. With such critically-acclaimed success the first go round, this second collaboration is sure to be an exciting occasion and one you shouldn't miss out on.
The hybrid hall of famer strain known for its loud earth and diesel aroma is made in small batches and available for short runs. The playful pairing is driven by experimentation and defined by their ever-changing experiences. The playful pairing is boldly matched with complimentary fruit flavors, resulting in a dynamic live resin-infused edible bursting with a full-bodied flavor and full-bodied high. The Blood Orange x Chem Dog Chew will be available in select California dispensaries and Kiva Direct from July 31st while supplies last.