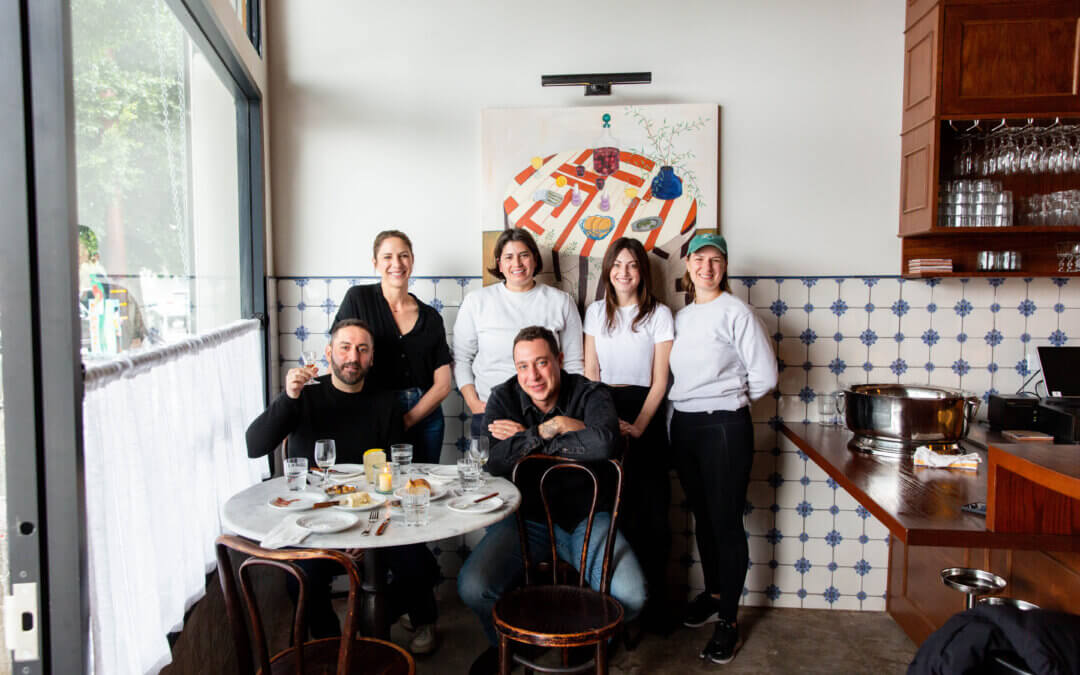 Last Word Hospitality Introduces Intimate Portuguese Restaurant Barra Santos to Cypress Park
If you're looking for something new to try in Los Angeles, on March 21st, LA-based restaurant group Last Word Hospitality (Found Oyster, Nossa Caipirinha Bar, The Copper Room) announced the opening of Barra Santos, a cozy neighborhood restaurant in Northeast Los Angeles opening on March 24th. Barra Santos is named after LWH's Director of Operations and Partner Mike Santos who is bringing the spirit of Portugal's quaint authentic restaurants and his Portuguese-American childhood in Rhode Island to the West Coast. Melissa López (Barbuto, Bestia) serves as Executive Chef and Partner, joining the team at this welcome new addition to the community.
Embracing the ethos of creating food that is simple and straightforward, Chef López has developed a thoughtful menu based on classic Portuguese dishes both inspired by research trips to Lisbon with the team and Mike Santos' memories of family meals and special occasion feasts. The menu spans snacks like Bacalao Fritters to larger items like the traditional marinated pork sandwich Bifana, Buttered Sardine Toast, and Piri Piri Chicken all prepared in the open kitchen viewed from the bar. Expect a wide selection of wines from Portugal and Spain alongside a curated list of sherry, port, and Madeira and the requisite cold draft beer of the house, LA's Skyduster Super Dry Lager, all from hand-selected by LWH's Wine Director Evelyn Goreshnik. Be sure to ask for the porto tonico, made with white port and tonic.
The jewel box of a space features a handsome 25 foot red oak bar punctuated by hanging milk glass light pendants, concrete floors, white gauzy curtains, and original artwork from Sasa Studio depicting a tableau of Portuguese daily life. Throughout the restaurant, from the exterior to the bold interior arch, are hand-painted tiles made in Los Angeles featuring historic, licensed representations of the traditional Portuguese glazed blue and white tiles, or azulejos.
With indoor and outdoor seating to accommodate 40 guests, Barra Santos is a friendly neighborhood destination whether you're popping by after work for a glass of cold beer or catching up with a friend over lingering glasses of wine and small plates. Barra Santos is honored to be joining the tight-knit Cypress Park community and fellow mom-and-pop businesses like Castro's Barber Shop, Loquat Coffee, and Permanent Records.
Barra Santos is located at 1215 Cypress Ave Los Angeles, CA 90065 in Cypress Park. Barra Santos is open Wednesday through Sunday, from 4pm – 10pm. For more information, please visit barrasantosla.com and follow along at @barrasantosla.
About Last Word Hospitality:
Established in 2014, LWH's mission is to create charismatic neighborhood restaurants and bars that also serve as city-wide destinations. The LWH team's passion lies in the equitable development of charming neighborhoods, providing inspired platforms for chefs and hospitality professionals to become owners, integrate themselves into the local community, and tell their own stories through food, drink, design, and a persistent commitment to making people feel welcome.
Every restaurant we create is built around the personalities of our operating partners and the neighborhoods we are joining.  Each partner brings their own passions and life experiences to each store, and it is that direct connection that builds concepts that are truly distinct.
LWH first established their model while launching Same Same Thai, and have since launched Found Oyster, Caipirinha Bar, the Red Dog Saloon, and The Copper Room.