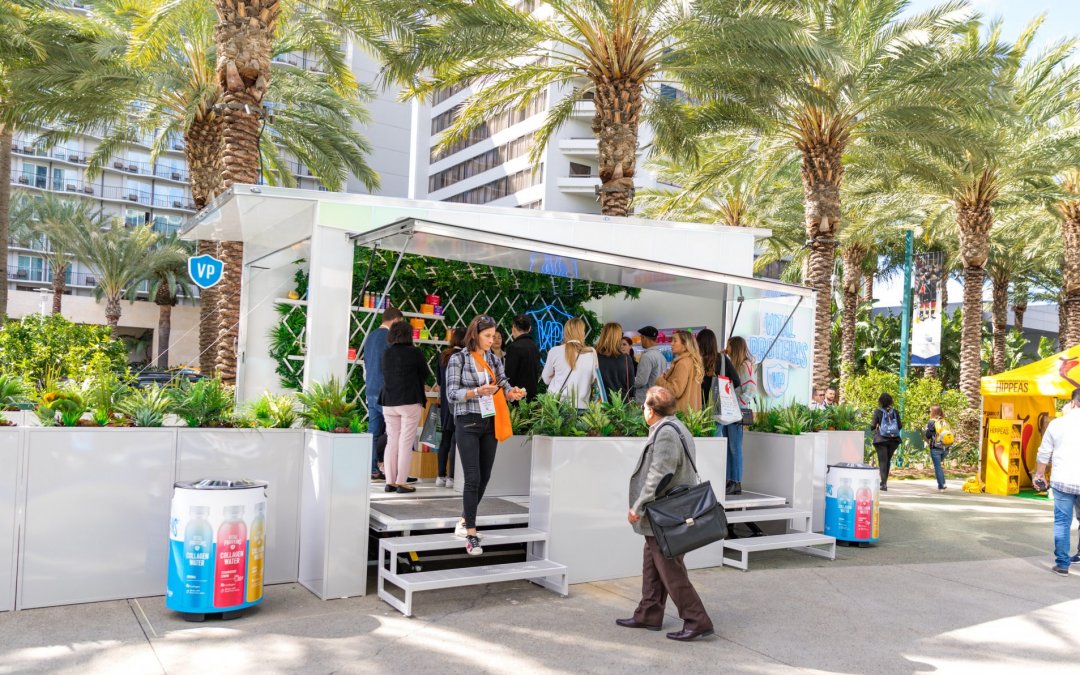 Some of us may have had a rough start when it came to getting our bodies and health summer-ready. Guess what, though? It's never too late to hop aboard the fitness and wellness train!
Vital Proteins
is popping up at The Grove this summer, from July 26th through August 4th with lots of fun activations — including workout classes, afternoon mani, cocktail hours, meet & greets and more. With yoga, dancing, boxing, and so much more, it's a good idea to check out Vital Proteins for
more information and scheduling
on each event (or read on) in order to get prepared for full-body wellness!
All attendees are required to
RSVP
for each event.
Here are a few highlights attendees can look forward to:
Meet & Greet w/ Gold Medal Gymnast Nastia Liukin
Cycle House Spin Class w/ Nichelle & Aaron Hines
Summer Slim Down Class w/ Katie Dunlop
Activity Schedule
WEEK 1
Friday 7/26
RISE & SHINE FULL BODY WORKOUT w/ LINDSEY HARROD (@LINDSEYHARROD) 8:30 AM
Get ready for the weekend with Lindsey Harrod's full body workout
SUMMER FRIDAY MOCKTAILS 1 pm
Raise a glass to Summer and stop by for Collagen Water inspired mocktails
Saturday 7/27
MEET & GREET w/ GOLD MEDAL GYMNAST NASTIA LIUKIN (@NASTIALIUKIN)  10am – 1 pm
Meet Nastia Liuikin, an Olympic gold medalist and sip on some complimentary celery juice (her fave!)
CYCLE HOUSE SPIN CLASS WITH NICHELLE & AARON HINES 4 PM
Come ride with us as Cycle House takes over the Grove on Bow Street
Sunday 7/28
SUMMER SLIM DOWN CLASS WITH KATIE DUNLOP (@LOVESWEATFITNESS) 9:30 AM
Sweat it out with Katie Dunlop and her full body workout
COLLAGEN & SNO CONES 10:30AM-1:30PM
Chill out with an ice cold treat at the Cabana brought to you by Sno Cone Amore
Monday 7/29
YOGA W/  RENEE BARGH 8 AM
Start your Monday right with a class with fellow yogi Renee Bargh
AFTERNOON MANIS by OLIVE & JUNE  3-6 PM
Get pampered by manicurists from Olive & June for complimentary Vital Proteins inspired nails
Tuesday 7/30
BOXING CLASS w/ DILLAN OSTROM (@DILLANOSTROM)  8 PM
Stop by for a boxing inspired workout with Dillan Ostrom
WEEK 2
Wednesday 7/31
COREPOWER YOGA CLASS 8 AM
Stretch it out with a morning yoga class brought to you by CorePower
MOLLY GREEN HANDSTAND WORKSHOP 9:15
CHARLOTTE TILBURY REFRESH
Swing by the Cabana for an afternoon touch up
Thursday 8/1
BOOTY WORKOUT w/ BETINA GOZO (@BETINAGOZO) 7 AM
Wake up and sweat with Nike Master Trainer Betina Gozo for an AM booty workout
AFTERNOON MANIS by OLIVE & JUNE  3-6 PM
Get pampered by manicurists from Olive & June for complimentary Vital Proteins inspired nails
Friday 8/2
SUNRISE YOGA w/ MARY BETH LARUE (@MARYBETHLARUE) 9 AM
Rise & shine at the Grove with an early morning yoga class by Mary Beth LaRue
MOLLY GREEN HANDSTAND DEMO 10 AM
Get some one on one tips from yogi Molly Green
SUMMER FRIDAY MOCKTAILS 1 pm
Raise a glass to Summer and stop by for Collagen Water inspired mocktails
Saturday 8/3
DANCE CLASS + MEET & GREET WITH ANGEL MERINO (@MAC_DADDY) 9:30 & 10:30
Dance with your favorite beauty influencer & say "hi" after class
LIVE PODCAST TAPING WITH ALMOST30 6-8 PM
Join us with Krista Williams and Lindsey Simcik from Almost30 for a live podcast taping in Alo Yoga's studio as they discuss all things lifestyle & wellness
Sunday 8/4
WELLNESS PANEL WITH CARINA WOLFF (@KALEMEMAYBE), MAX LUGAVERE (@MAXLUGAVERE), & JENN RANDAZZO 1-3 pm
Come listen to wellness influencers Max Lugavere & Carina Wolff chat with our in-house RD Jen Randazzo on all things wellness & nutrition
LAUREN GORES MEET & GREET 10:30 AM – 12:30 PM
Stop by and talk all things beauty with Summer Friday's Co-founder Lauren Gores