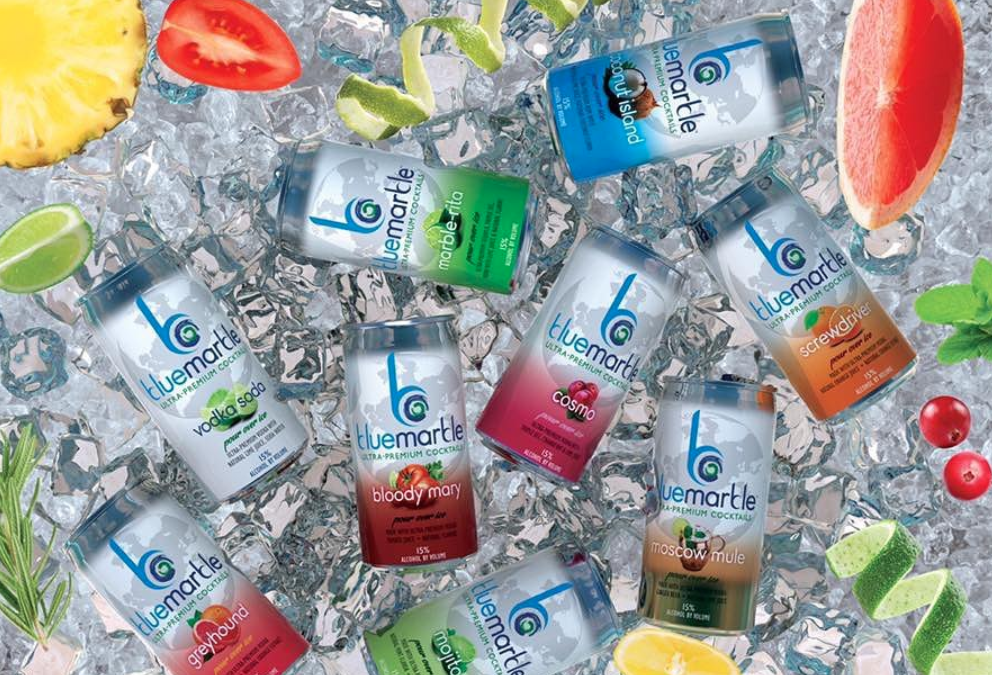 Whether you're excited for awards season, the Super Bowl, or any other winter/spring occasion, 
Blue Marble Cocktails
 wants you to know that they are more than worthy for your consideration at your next gathering! Sure, boxed wine may be the latest trend, but Blue Marble makes all-natural, pre-mixed, ready-to-drink premium cocktails perfect for any occasion, or whenever you want to enjoy a quick, easy way to sip your favorite mixed drink. And we're happy to say that you'll never complain about a lack of alcohol, because these canned cocktails pack a punch!
Offering nine different mixed drinks, including classics like the Mojito, Moscow Mule and Greyhound, Blue Marble's cocktails use ultra-premium distilled spirits, all-natural juices and handmade syrups. For a light refreshment, Blue Marble offers premium spiked seltzers, using vodka instead of beer malt, for a delicious beverage that has
only 95 calories
! Loved by consumers and drink conniesours alike, these cocktails are making a splash in the food & beverage world. Last year, 
the World Premix Awards recognized Blue Marble's Bloody Mary drink as the best ready-to-drink cocktail in the world!
When you drink Blue Marble, you're also giving back to the Earth! Drawing its name from the iconic photo taken in 1972 by NASA's Apollo 17 crew, Blue Marble is committed to ensuring their products are both high quality and earth-friendly. Created by co-founders Danyelle Rabine and Alan Miller, Blue Marble honors their ethos by using recyclable packaging and working with organizations dedicated to ocean conservation. Read on for a quick Q&A session, with answers provided by Alan Miller, about Blue Marble's beginnings, name, and the process to decide new flavors and creating cocktails.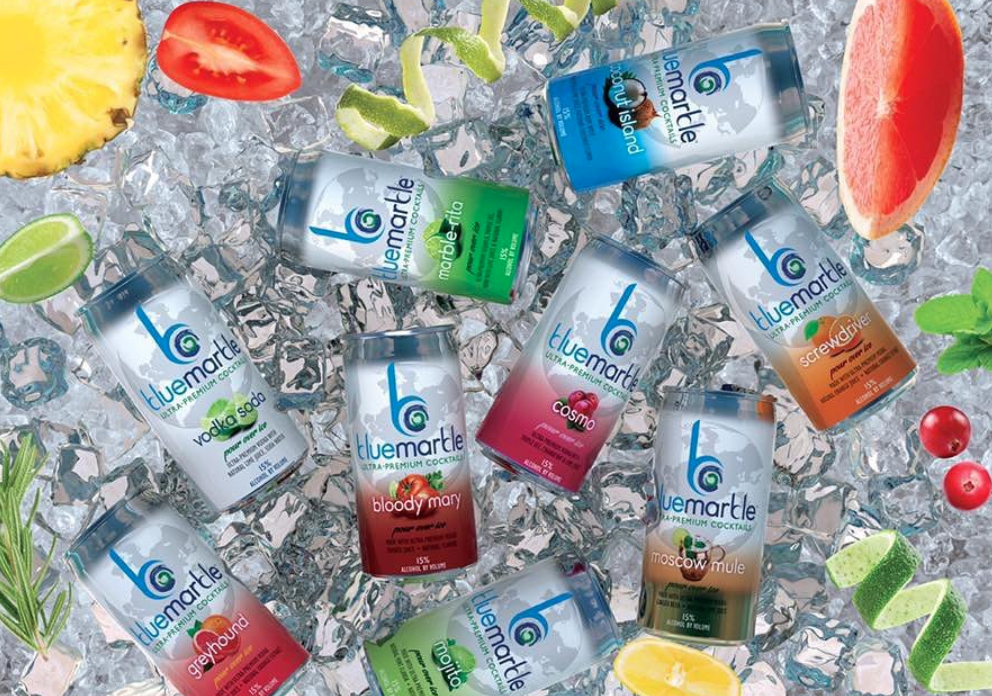 Q.: How did you get started?
A.: Danyelle and I wanted a better cocktail experience.  We wanted a cocktail that could be served on a moment's notice but it had to be premium and all-natural.  After exhausting our efforts to find something for our family and friends, we set out to make something spectacular for the world.  Honestly we were so frustrated with what was in the market we said to each other – let's do it. We changed people's perception on how good a cocktail out of can could be. It took years to develop the brand, formulate and build our own state-of-the-art factory.  Working with your spouse can be challenging.  Long days and nights with lots of stress could take a toll on most couples but it fortified our love for each other and the business.  We both share a passion of creating smiles and that's what our spirits, seltzers and cocktails do, they make people smile.
Q.: Why did you choose the name "Blue Marble"?
A.: We wanted our company name to represent who we are!  The NASA astronauts coined the term Blue Marble when they looked back at from outer space but to us we wanted the name of the company to resonate all-natural and bring awareness to the single-use plastic problem and the destruction we are doing to our oceans, reefs and beaches. Blue Marble was a natural fit!
Q.: How did you decide on flavors and ingredients?
A.: Easy we wanted to give people popular drinks that can be difficult to make themselves.  The ingredients were more complex as we wanted to use only the best ingredients from around the world.  The best ingredients make the best beverages.  We haven't cut cost by using cheap artificial flavors, substitutes or dyes.  All of our products are gluten free and you will know you are drinking premium from your first sip. We made our new seltzers with vodka – not with beer malt like a lot of the popular brands use.  We want only the best for our customers.
Q. What is the process for creating new seltzers, spirits or cocktails?
A.: Extremely difficult!  When you are mixing 20,000 gallons a day of product, consistency is everything. We had to build our own manufacturing facility to ensure quality, and now we are producing products for some of the biggest companies in the world.  Years of work go into each flavor and our mixing teams are some of the best out there.  Lots of things go into our beverages; needs assessment, route to market, development timeline, branding, and success plan and a lot of love. I guess the one big benefit creating new cocktails, spirits and seltzers, is lots of taste testing!