There's a new booming restaurant in town, so make sure you say "Hey!"
On August 5th, Hey, Sunshine Kitchen, a new, fast casual, plant-based, and all non-GMO restaurant, celebrated their grand opening. The restaurant's delicious and vibrant plant-based menu features warm bowls, fresh salads, and hot tacos and sandwiches, served up with house-made pickles, sauces, and drinks. Even the sides are noteworthy, with fresh takes on sweet potato fries, coleslaw, soups, and more!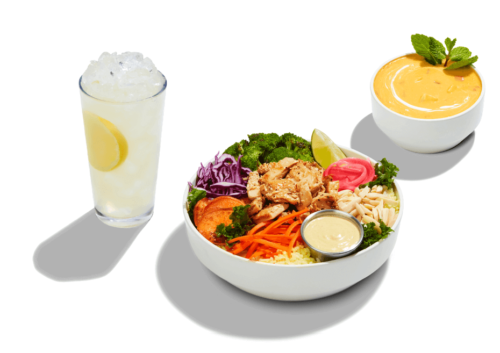 Perfect for summer, Hey, Sunshine Kitchen features a variety of refreshing drink choices, like wild blueberry lemonade, strawberry mint lemonade, and spiced hibiscus tea. Stomachs are grumbling and mouths are watering by just thinking about it.
Showing their dedication to the environment we all rely on, Hey, Sunshine Kitchen also partnered with Friends of Ballona Wetlands, offering the unique opportunity for guests to take home a complimentary plant with the purchase of an entree.
On Mondays only, Hey, Sunshine Kitchen will supply a limited amount of pollinator-friendly plants, curated by Friends of Ballona Wetlands.
Firm believers in not just serving food, but also dishing helpful information about how we can all do our part to look out for our planet, Hey, Sunshine Kitchen is walking the walk, too. How about a scoop of education with that meal?
If you're looking to pick up a quick and fulfilling meal (and pollinator-friendly plant) from Hey Sunshine Kitchen, the fast-casual restaurant is located in Culver City, at 3863 Overland Avenue Culver City, CA 90232.
It was a long journey to the opening of Hey, Sunshine Kitchen, as expressed by Co-Founders, Heather Golden Ray and Jenny Engel, and we had the opportunity to ask the duo some questions about how the restaurant came to be, what to expect in coming years, and more. Read on for more details below.
A Q&A With Co-Founders Heather Golden Ray & Jenny Engel
Q: Please share what your roles are at Hey, Sunshine Kitchen and describe to readers what this opening has meant for you and your team.
We are sisters, mompreneurs, and lovers of the planet. We have been business partners since 2007 in the plant-based space. We opened our first restaurant, Hey, Sunshine Kitchen earlier this month! Our restaurant is plant-based, non-GMO, and our ingredients are high quality. We are a fast-casual concept in Culver City seeking to inspire our community to nourish their inner shine through plant-based eating.
Q: How long did it take to get from the initial vision to the eventual opening day, and what did that process entail?
It took us truly a lifetime to bring this to fruition. Each moment leading up to this built upon itself in some magical way. Zooming in, about four years ago, the idea crystallized, and we set the wheels in motion. The process that followed was a roller coaster of emotions and challenges, an odyssey that could fill the pages of a book! The initial stages involved meticulous planning, all while maintaining a focus on our core values: exceptional vegan cuisine and sustainable practices. Navigating the regulatory landscape and city procedures demanded resilience. We took each challenge in stride, committed to translating our vision into reality. Our opening day was the culmination of countless hours of hard work.
Q: How did you come up with the concept of Hey, Sunshine Kitchen, and how did you want to differentiate it from other fast-casual restaurants?
We came up with the idea for Hey, Sunshine Kitchen as a way to promote healthier eating within our community. We wanted to create a space where everyone no matter their dietary preference, could enjoy flavorsome, innovative, and hearty plant-based meals. Through Hey, Sunshine Kitchen, we hope to showcase how delicious and satisfying plant-based food can be.
Q: Were there any unforeseen moments when things got tough and you doubted yourselves or if it was even worth attempting? If so, how did you overcome these challenges?
Absolutely, the journey of opening a new vegan restaurant came with its share of unforeseen challenges. Navigating these hurdles required determination and adaptability. For example, convincing some traditional diners to try vegan cuisine posed a challenge. To address this, we focused on educating our customers about the benefits of plant-based eating through menu descriptions and engaging staff. Remembering our initial purpose and the passion that ignited the idea of the restaurant kept us going. We leaned on our supportive team and sought guidance from mentors in the restaurant industry. Embracing adversity and finding solutions not only strengthened our determination but also reinforced our commitment to providing Culver City with a delicious vegan dining experience.
Q: How did you come up with the menu offerings?
We played with so many iterations of the menu for years. We had a plant-based BBQ idea at first, but ultimately, we decided on super fresh and healthy warm bowls, salads, tacos, and sandwiches that are all eco-friendly and non-GMO, plus pop with vibrant color and flavor. We wanted to create a space where everyone could enjoy flavorsome, innovative, and hearty plant-based meals. Through Hey, Sunshine Kitchen, we hope to showcase how delicious and satisfying plant-based food can be.
Q: Can visitors expect seasonal items?
Being five weeks in, we currently don't have specific seasonal items on our menu,  but it's a concept we are eagerly working towards as we continue to grow and evolve.
Q: It may still be early, but are there any plans or desires to open other locations in Southern California?
Yes, we do plan to open other locations regionally and expand within California and be able to grow even beyond that. Over the next few years, we will focus on our restaurant here in the Los Angeles area and see where that takes us. Eventually, we are hoping to grow nationally and potentially franchise out.
Q: What are the main priorities that go into what you offer, and how do you ensure your standards are met? For example, sustainable sourcing and freshness?
Our main priorities revolve around offering quick, delicious, and sustainable plant-based options. Freshness is crucial in fast-casual dining. Our menu is designed to incorporate seasonal produce, ensuring that every dish bursts with flavor and nutrients. Our chefs are trained to execute with precision, crafting meals that align with our culinary vision. Our commitment to sustainability, freshness, and taste remains unwavering, reflected in every plant-based meal we serve.
Q: Can you explain the importance of partnering with Friends of Ballona and why this environmental cause is important to you?
We are incredibly proud of our partnership with Friends of Ballona Wetlands to help support pollinator conservation. Through this partnership, Hey, Sunshine Kitchen will be giving complimentary pollinator-friendly plants to guests on Mondays while supplies last, when they purchase a meal. It is important for us that anyone that comes to Hey, Sunshine Kitchen for a dining experience is that they understand our passion for sustainability and the health of our planet.
Q: Is there anything coming on the horizon that you'd like to tease?
While we're incredibly passionate about our current venture and dedicated to making it the best it can be, we also have aspirations to bring Hey, Sunshine Kitchen to more locations. The response we've received from the Culver City community has been amazing, and it has further fueled our dreams of expanding our reach.
Q: What are your goals for the next 5 and 10 years?
Ultimately, our overarching goal is to grow Hey, Sunshine Kitchen into a beacon of mindful consumption, inspiring individuals to choose ethical and sustainable options that benefit both themselves and the planet. By focusing on these core principles, we aim to create a legacy that extends far beyond delicious meals, enriching the lives of both our patrons and the global community for years to come.