We are at a critical point when it seems that everyone is after products that are friendlier to them and their bodies. Many are avoiding vitamins and supplements that are overly processed, questionably sourced, and side effect-inducing, while trading them out for more natural alternatives. With a wave of new cannabis products being introduced that focus on enhancing or treating our various moods and ailments, there's one company who wants you to know it's time to upgrade your CBD stash's status from the kitchen drawer to the medicine cabinet.
On August 14, Huxleys, a premiere cannabis brand, officially made its debut in the California market. What sets Huxleys apart from others is its unique approach to crafting cannabis products that focus on minor cannabinoids to deliver specific effects – happiness, energy, sex, and sleep. In a groundbreaking move, Huxleys aims to transform your medicine cabinet with meticulously formulated, science-backed products that cater to distinct sensations, providing an unmatched experience.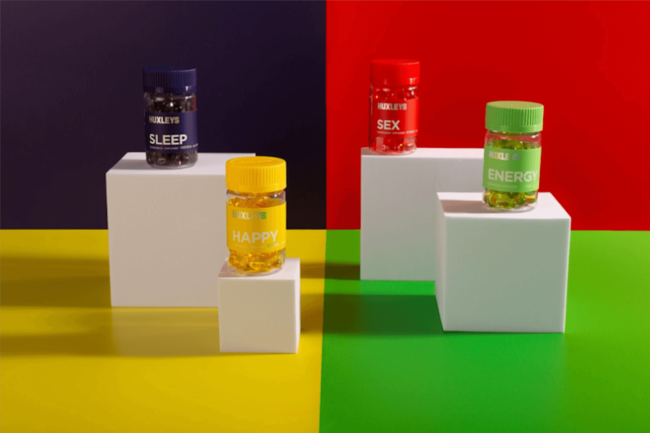 Huxleys firmly believes in the potential of discreet solutions that enhance various aspects of life. To realize this vision, the brand specializes in creating safe, discreet, and effective infused gel-caps and gummies. These products are expertly designed with a combination of THC, CBG, CBN, CBD, and THCV, all complemented by tailored terpenes. The result is a range of effects-based, targeted solutions for everyday life, addressing four areas of our lives that we crave some additional assistance in at some point or another.
At launch, Huxleys introduced four distinct collections of effects-based products, available in both gel-cap and gummy forms. Each product within these collections boasts a unique flavor profile and a range of cannabinoid concentrations, with servings varying from 5mg to 20mg. Notably, all Huxleys products are readily accessible at dispensaries across California, making the pursuit of enhanced well-being accessible with a uniform price of $40. Huxleys is ushering in a new era of cannabis products, where precision and tailored experiences are at the forefront of wellness.
We had the opportunity to try them, and the results were absolutely medicine cabinet-worthy! One point to note for anyone who is a micro-doser, depending on your limitations Huxleys' current lineup can be outside of your range of comfort, so consider this before buying. As mentioned, the gummies and gel-caps do differ in dosage, so it's worth checking between the two for what's right for you. We had the opportunity to try out the gel-cap lineup, and were honestly surprise at how powerful and effective these are.
Energy, Without The Punishment
Who needs coffee when you've god THC? That's basically what it comes down to with Energy, except in this case there's no crash! Accompanied by an enhanced feeling of focus, Huxleys' Energy gel-caps give a great mental boost, helping with productivity and even physical activity. The lightest dosage of all four offerings, I was able to test these out and loved how sharp I felt mentally, and without the munchies!
Energy features a blend of cannabinoids and a proprietary terpene mix—but most notably includes THCV, a key component renowned for its capacity to boost motivation, enhance alertness, and suppress appetite. At 5 mg THC and 1 mg THCV, even the lightest of micro-dosers can give this one a shot.
Happiness In A Bottle
I was happy to tap into a friend's assistance for the remaining three blends, because the last thing you want is for a fun ride to turn into a nightmare. And if there's one thing marijuana's going to do, it's most likely going to make you feel all fluffy inside with the potential to go way south if you overdo it. Happiness in a capsule is exactly what this is, with laughs, smiles, and pure joyousness emanating from within. At 20 mg THC, it's almost no surprise that the euphoric feelings are to come, but this little yellow bundle of joy even enhanced creativity for story telling, art, and expression. Happy was a mood elevator indeed, and I'd almost argue that I've never seen this friend happier.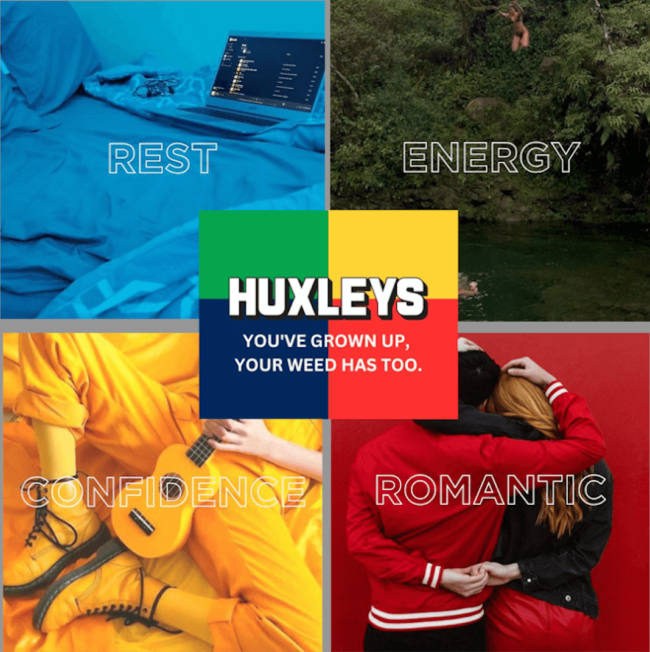 Sleep Like A Baby
For those restless nights, Sleep was an intense opponent to fight against—but it is possible to prevail in that fight. It's important to be mindful of when you're taking this one, due to the fact that if you find yourself too awake and outlasting the sleep-inducing transition, then you'll just feel yourself sinking into a lazy, bed-ridden hole. On the other hand, if you catch that sleep wave, it has the potential to be some of the best Z's you've experienced. 5 mg CBN, 5 mg CBD, and 5 mg THC make this formula the perfect mix to throw on your ocean sounds, slide on your eye mask, and count the stars.
Sex, Party, Euphoria
You know what it feels like to party? Well, that's basically what it feels like is going on inside of you here. In fact, besides date nights, parties and music festivals might be a suitable setting to enjoy these as well. This gel-cap had a rhythm to it from beginning to end, and lasted for hours from the initial gentle kick in, all the way through the rush of its peak and recurring waves of the cool down.
Euphoric, tantalizing, and heightened senses are a few of the descriptors I got about the Sex blend, and mention of it feeling like being "in a nightclub." Sex comes in at 5 mg CBD, 10 mg CBG, and 20 mg THC, which means it's quite the powerful formula. Experts only!
Just like the pain relief we reach for, Huxleys proved to us that there is indeed a place for them in the medicine cabinet for at least four different potential needs. We're excited to imagine what will join the lineup next!