Cowritten by Anthony Stafford
The Ingredients Of An Icon
There are some landmark hotels that are known in and outside of the state of California for their posh, chic, and luxurious experiences, from nightlife and dining to bustling with celebrities. And somehow there's still room for yet another that has all the right ingredients for the "icon" status—and even more.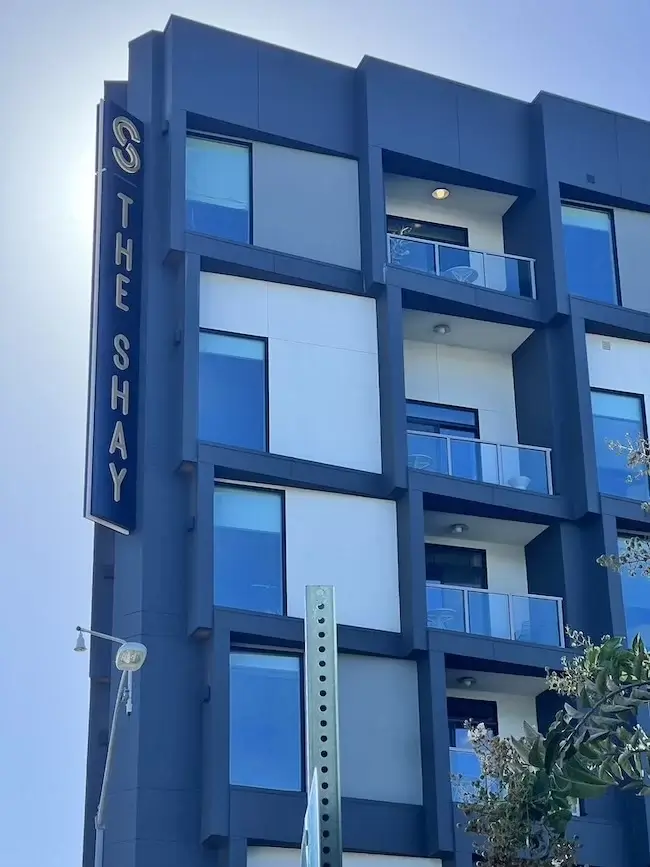 In the heart of Culver City's Arts District, there's a new promising icon on the block, The Shay Hotel. Opened officially in October 2021, this "Destination by Hyatt" hotel has swiftly become a mainstay, offering travelers and locals an enticing blend of posh accommodations, eclectic shopping experiences, and a dining scene that's nothing short of extraordinary. Now, just coming off their second-year anniversary, this new gem has a strong presence that tells us it will be around for years to come, while hopefully becoming an LA icon known for generations.
We were invited for a weekend stay to experience all that the hotel and its conglomerate of small businesses had to offer during their Mercado y Más event and Art Walk & Roll Festival, and we're providing all the details on why The Shay should be your next "Shay-cation" stay. In addition, you'll find a sampling of small businesses you should support this upcoming Small Business Saturday (November 25, 2023).
Home Away From Home In A Prime Location
The Shay Hotel is more than just a luxurious retreat. Nestled in the Culver City Arts District, it's perfectly positioned for exploration. The hotel is a stone's throw away from some of the city's hottest bars, the best restaurants, and a treasure trove of globally inspired art galleries and museums. As you explore the surrounding area, you'll find yourself immersed in the vibrant cultural tapestry that defines Culver City. The hotel has even seen some incredible parties this year thanks to the presence of Taylor Swift and Beyoncé bringing their incredible summer concerts to Los Angeles.
With the highly acclaimed etta anchored at its core and the glitzy Canopy Club as its crown, The Shay manages to purposefully and successfully integrate some of the community's undiscovered and uniquely gifted businesses and artists throughout the inner workings of a hotel that feels more like a home, from the lobby's gallery hall, which features the work of over a dozen artists and vendors, to the artfully adorned walls throughout the property. Some of these same artists and small businesses would grace the streets of Culver City and The Shay's outdoor courtyard during our stay. The lobby isn't your traditional kind, with a desk set front and center. Instead, you're embraced by plentiful seating around a fireplace, a bar, a game room, a library/study, and the infatuating etta restaurant tucked subtly away, while the front desk is cleverly and stylishly hidden behind a wooden partition wall.
One of The Shay's standout features is its rooftop pool, an exclusive gem in the neighborhood. Guests can bask in the California sun and soak in breathtaking views while enjoying a refreshing swim, only steps from a decadent bite or refreshing sip from the enthralling Canopy Club. This idyllic setting adds to the allure of The Shay, making it a beacon for those seeking relaxation and luxury, or those who just want a delicious meal with fresh air and views.
When it comes to accommodations, the hotel offers 148 spacious rooms, including 19 suites, all designed with the utmost comfort in mind. The decor is sleek, modern, and functional, making each room a home away from home. The Shay's commitment to guest comfort is evident in every detail, from the plush bedding to the thoughtfully designed interiors.
One historical tidbit about the hotel's name and design worth knowing is that many of its decorations and furnishings present wooden and metallic surfaces, clean lines, and backlit circles. These touches are all reminiscent of the railroad industry and a particularly famous and successful steam locomotive's creator, Ephraim Shay, from which its name is borrowed. We challenge you to find the trains throughout the lobby and the railroad-themed design references from the ground floor to the rooftop pool and everywhere in between!
Home-Cooked At The Hotel
When it comes to dining, The Shay shines brightly with its impressive on-property offerings. Award-winning chef Dan Perretta leads the way at "etta," located at the lobby level. Here, guests can savor culinary delights that blend the best of local and global flavors. etta effortlessly delivers a gastronomic experience that rivals other hard-trying Michelin-starred restaurants—and it shows! etta was packed and lively, while making it quite clear that if you're taking anyone out for an outstanding meal, this is the place to go. Creative and thought-provoking, it's difficult to summarize the experience etta provides to anything less than a destination that every traveler and local should add to their bucket list of restaurants to try at least once.
And for those seeking another kind of elevated experience, the party-esque "Canopy Club by Mosaic" awaits on the rooftop. This is where culinary craftsmanship meets stunning panoramic views, creating a dining experience to remember. Our breakfast on the roof was nothing short of dazzling, as we enjoyed reimagined dishes under the October solar eclipse. Canopy Club's version of French toast is by far superior to the thick-cut style we all think we love, while omelettes and even traditional breakfasts possess their own unique flair. Mimosas and Bloody Mary's are a staple in LA, and you'd commit a crime by thinking Canopy Club doesn't know any better.
The best part about both restaurants is knowing that they are merely steps away if you're staying at The Shay!
It Begins and Ends With Community
We stopped by Mercado y Más during the sunset of Latin and Hispanic Heritage Month, where we discovered just over a dozen noteworthy small Latin and Hispanic-owned businesses practically having a party in the outdoor courtyard. Complete with music and food, everyone welcomed visitors with samples, smiles, and answers to their questions. Each small business had a captain at the helm, bursting with passion, purpose, and a story worth knowing. We invite you to explore the small businesses we encountered at Mercado y Más and all that they have to offer as we approach Small Business Saturday on November 25:
While visiting Atabey Coffee, we learned the subtle and meaningful differences between each of their blends' flavor profiles and preparation, along with the stark contrasts of color and natural flavor. Best enjoyed without the addition of sugar or cream, we found each of these coffee blends to be sharp, rich, smooth, and easy to drink—comparable to sitting down and enjoying a favorite tea.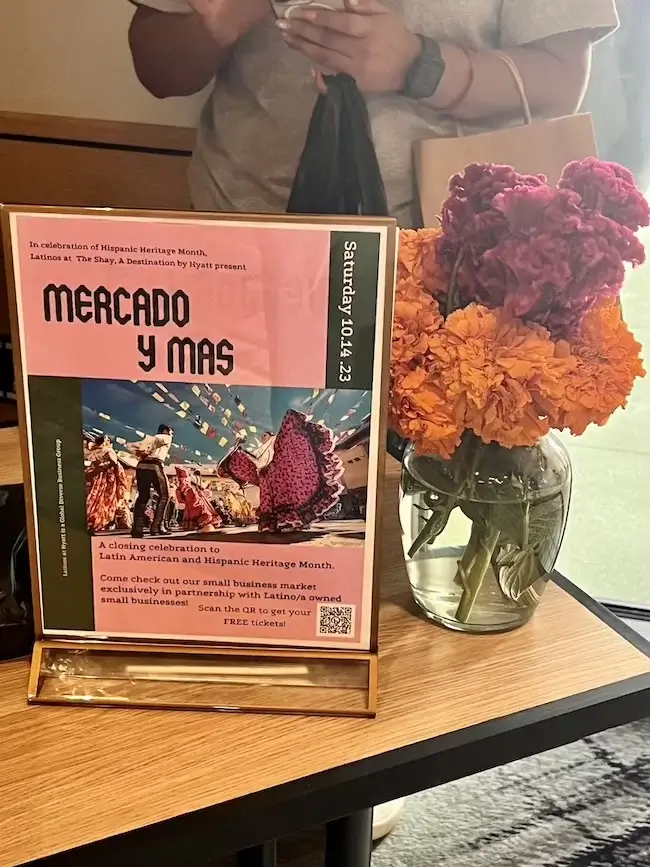 Tasty Dulzuras indulged us with the unique cultural twist of their incredible arepa/torta (cornmeal and coconut cake) and dulce de leche cake. Moist, fulfilling, and full of fun texture, these Dominican cakes are the perfect desserts with a cultural twist for parties and events to broaden the horizons of what many think of when it comes to cakes.
We found a new love at Maya's Brigadeiro—handmade Brazilian sweets that could replace our favorite candies with no complaints. Bite-sized and in their very own lane of sweets, we appreciate this Latina-owned business for coming to Los Angeles and exposing us to a cultural gift that more should know about. Now, we've picked up new vocabulary, and a new craving has been unlocked.
Finally, VAVICA, helmed by sisters Valentina, Victoria, and Camila, impressed us with their line of skin and body care products. The Único Hand + Body Wash, Oil Spray, and Hand + Body Lotion smell amazing and absorb quickly into the skin, leaving it deeply moisturized, soft, and glowing to last throughout the day.
In its short existence, The Shay has already witnessed remarkable events. With Taylor Swift and Beyoncé gracing the stage at nearby SoFi Stadium for unforgettable summer concerts, the hotel has become a multipurpose hub of entertainment, attracting diverse crowds and further solidifying its status as a cultural epicenter.
The Shay Hotel is more than just a place to stay; it's a multifaceted experience that beautifully encapsulates the essence of Culver City. Whether you're a traveler looking for a memorable vacation, a shopper in search of unique finds, or a food enthusiast ready to embark on a culinary journey, The Shay offers an all-encompassing destination that caters to your every desire. As it continues to flourish in the Culver City community, The Shay's future as an LA icon for generations to come seems brighter than ever.