If you're still holding strong to your New Year's resolutions, or the one that matters most (dieting), this may be just the boost you needed to keep holding in there.
Catalina Crunch, the fastest-growing Keto snack brand, just launched two new seasonal-inspired limited-edition products: Lemon Creme Sandwich Cookie and Triple Berry Blast Cereal.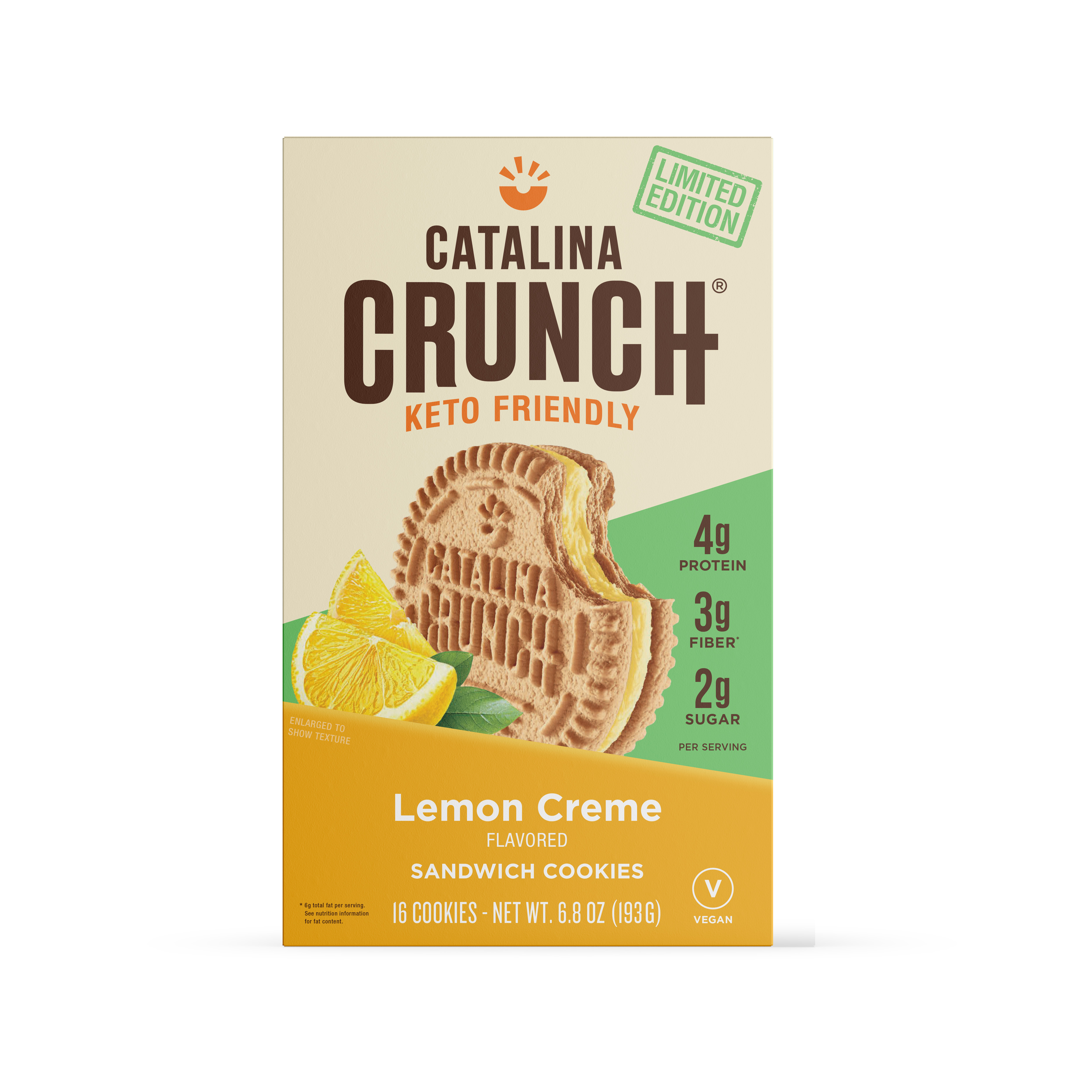 Created with a mission that no one should have to choose between healthy and tasty, both of the new flavors are made with clean ingredients so you can feel confident knowing real food does taste really good. Combining nutritional science with culinary arts, all of Catalina Crunch's products are made with zero to low sugar, high-protein, high-fiber, and real ingredients.
Lemon Creme Sandwich Cookies: Creamy on the inside with a buttery, vanilla crust on the outside, the Lemon Creme Sandwich Cookie is delectable yet healthy – made with 4 grams of protein, 3 grams of fiber and only 2 grams of sugar per serving.

The Triple Berry Blast Cereal: Reminiscent of a freshly-made berry pie, is bursting with juicy notes of strawberry, raspberry and blueberry, and is gluten-free, grain-free, Keto-friendly, non-GMO, and plant-based. Packed with 11 grams of protein, 0 grams of sugar, and 9 grams of fiber, this cereal will keep you fueled all day long.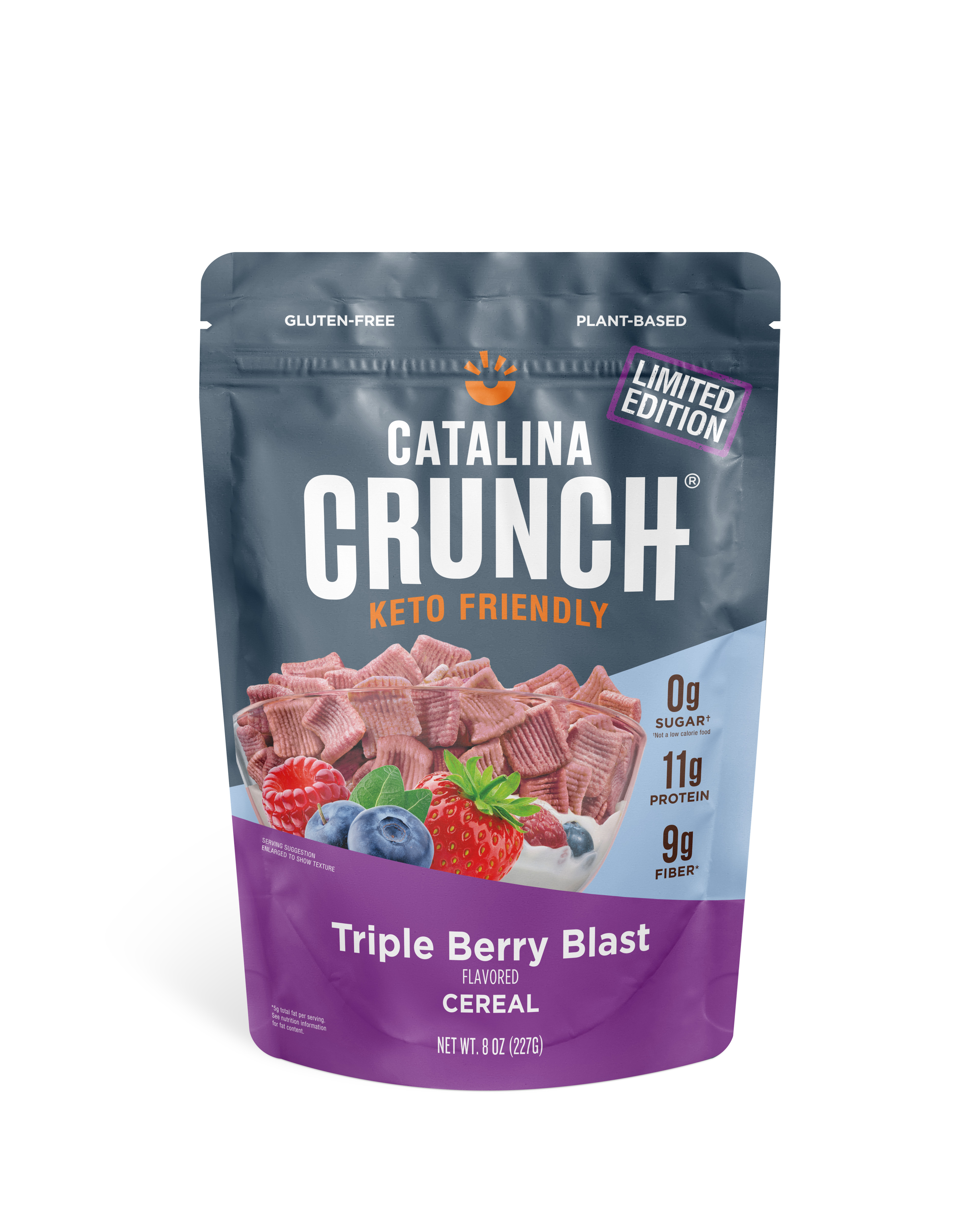 The flavor launches come off the heels of a very successful 2022 year for the brands' growth. Catalina Crunch has seen explosive growth and is leading the industry by being the #1 contributor to the cereal category's dollar growth, selling over 5 million pouches of cereal nationwide and increasing their own cereal dollar growth by 68.7% YOY in 2022. Additionally, Catalina Crunch has seen an impressive 89% YOY increase in their sandwich cookie sales. 
"We are excited to bring two new innovative product tastings to those who value, and are on the search for, healthier snacking options," said Krishna Kaliannan, Founder and CEO of Catalina Snacks. "At Catalina Crunch, we are dedicated to providing cleaner snacking options to traditional boxed
cereals and cookies that are filled with additives and sugars. As consumers begin to enjoy the warmer weather, prioritize healthy resets, and gear up for travel and on-the-go activities, I'm especially excited to offer delicious and nutritious flavors that emulate the seasons."
The Lemon Creme Sandwich Cookie is creamy on the inside with a buttery, vanilla crust on the outside. This delectable, yet healthy cookie is made with 4 grams of protein, 3 grams of fiber and only 2 grams of sugar per serving. For a sweet treat you can feel good about, the cookies are baked with a
non-GMO blend of plant proteins and fibers designed to keep you full longer.
Catch them while you can, before they disappear and leave you alone with your diet.
About Catalina Crunch
Founded in 2017, Catalina Snacks® uses breakthrough science and food technology (no magic nor wishes) to make food nutritious, while continuing to focus on delectable taste and texture profiles. The brand's mission is to make healthier foods that are accessible and convenient for a variety of lifestyles, while simultaneously delivering on amazing taste and nutrition content. The Catalina Crunch® brand offers a robust line of healthy snacks including keto-friendly Sandwich Cookies, keto-friendly Cereal, and new keto-friendly Crunch Mixes.