Cowriter: Anthony C. Stafford
Sea Level at The Shade Hotel Redondo Beach has been a go-to destination for Californian coastal cuisine with a modern twist since its inception in 2016. This year, the restaurant has undergone a culinary transformation with the introduction of a refreshed menu for harmonious flavors and revamped land and sea offerings.
To complement this gastronomic journey, Sea Level has welcomed Martin Herrera as the new General Manager. An acclaimed sommelier, named South Bay's 2023 sommelier of the year, Herrera is overseeing the transformation of Sea Level's wine and beverage programs, ensuring they stand out as top choices in the Los Angeles and South Bay areas. With a refreshed menu and an expert in charge, Sea Level continues to offer an exceptional dining experience that celebrates the bountiful offerings of Southern California.
Drawing inspiration from Southern California's abundant fresh seafood and locally sourced produce, the refreshed menu is a feast for the senses. Diners can indulge in delectable dishes, like:
Australian Swordfish served with blistered heirloom tomato and Nardello peppers, forbidden rice, mint and lemon oil;
Ora King Salmon paired with charred yellow peaches from Regier Family Farms, lemon yogurt, Israeli couscous, cucumber, red onion, basil and tomatillo jus;
Sun Golds & Burrata featuring sun gold tomatoes from Munak Farms, toasted sourdough bread, confit leek, white balsamic vinegar, picked pearl onion and melon cucumber from Coleman Farms and wild rock arugula from Colman Farms;
and Charred Brentwood Corn made with grilled corn from Dwelley Farms, harissa butter, coriander, citrus, radish and puffed wild rice.
These culinary creations showcase the finest flavors of the region while maintaining a modern and intimate dining experience right on the waterfront, solidifying Sea Level's position as a premier dining destination in the South Bay. The best part? There are even more options to choose from!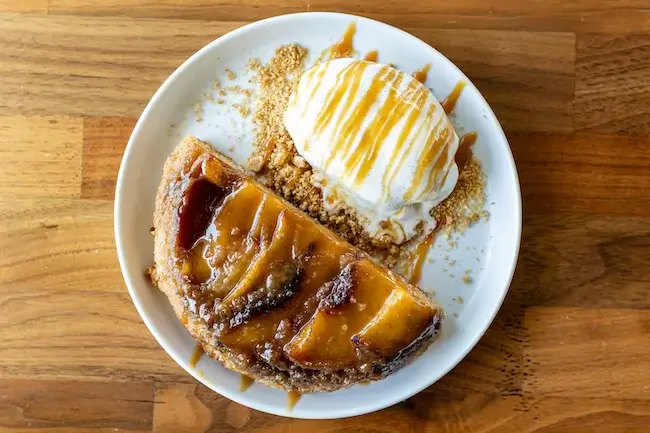 Dinner & Cake by The Ocean
During our recent visit, we had the opportunity to try out a few of the new menu items, plus some of the popular classics that Sea Level is known for. On this particularly windy evening, manager Edwin and waiter Daniel took care of us. Greeted with smiles and their warm personalities, both were knowledgable and had plenty to recommend, while also delivering the most perfect pairings. Our dining experience included a personal in-table fire pit to combat the chill of the sea breeze, and a perfect view of the sunset.
First up, Daniel brought out a dozen oysters and a few cocktails: Milo's Quittin' Time (Junipero gin, cucumber, mint, fresh lime, agave), a Blood Orange Margarita (Mico Blanco, Blood Orange Puree, Lime, Agave, Tajin Salt Rim), and a show stealing Golden Hour (Woodford Reserve, Apple Cider, Acai, Cinnamon, Simple). Flavorful, sweet, and refreshing, these drinks set the mood for what we were preparing to experience while complementing the various meats and veggies on their way.
Appetizers and entrees followed soon after the cocktails, with the new Sun Golds & Burrata, addicting Spicy Tuna on Crispy Rice (ginger wasabi aioli, avocado, jalapeño, sweet soy reduction), and Roasted Tri-Colored Carrots (topped with honey & yogurt), then Ora King Salmon and 40 Day Dry Aged New York Strip (featuring Green Garlic Cauliflower Purée, Demi Glaze, Hen of the Woods, and Pickled Horseradish).
The Sun Golds & Barrata are reminiscent of mozzarella, tomato, and basil salad, yet elevated into a unique and seemingly lighter dish that suits Sea Level's appeal. A popular plate, it really feels like it's not enough to order just one Spicy Tuna on Crispy Rice. This dish is everything one can love about freshly sliced and glazed fish, plus the addictiveness that is anything crunchy. These textures and flavors challenge you to eat just one, but not even four pieces are enough.
Sweet, salty, and creamy, the Roasted Carrots were not only beautiful to look at, but also eat! Bathed in an unexpected combination of honey and yogurt, we found the carrots be an excellent and seemingly simple dish that may need to be copied at home! With a flavor profile so flexible, they could go with anything the chef threw our way.
Arugula and sour dough, change the game when paired with confit leek and white balsamic vinegar. Their Ora King Salmon danced atop the fun texture of light and delicate couscous, while the green garlic flower purée created a soft blanket of flavor beneath the New York Strip for what we dubbed Sea Level's King & Queen entrees for their incredible land and sea offerings.
To finish things off, we sipped cappuccinos alongside the Caramelized Peach Cake, with vanilla bean ice cream, and bourbon Caramel. It can't be explained how much everyone should experience this creation, as this cake deserves the full-sized, 9-inch diameter treatment. Imagine the two southern favorites, peach cobbler and pineapple upside down cake, had a baby and you'd probably be left with this stunning creation. A hot cake accompanied by a cold scoop of ice cream is blissful, and this one in particular should always finish out your Sea Level outing.
There's no better time to visit Sea Level at The Shade Hotel Redondo Beach. With the arrival of fall, the new menu celebrates the rich flavors of the season, using locally sourced, hearty fruits and vegetables, and aromatic spices to create dishes that capture the essence of land and sea. All of this, while enjoying the restaurant's stunning waterfront views, promises a culinary adventure that beautifully complements the season and makes it an unforgettable autumn dining experience.