It's chilly in LA this week, and the forecast calls for even more cool weather next week. That can only mean one thing: time to go out and enjoy it! If you're looking for something to get your hands (or your kids' hands) into, there's so much in store, and you can find a few special events right here for your convenience.
Play-Doh Pop-Up at Westfield Century City
We meant it when we said, "Something to get your hands or your kids' hands into." This coming Sunday, November 6th, the beloved childhood brand, Play-Doh, is celebrating the release of their newest competition show: Play-Doh Squished at Westfield Century City!
Families are invited to join the brand for an afternoon filled with themed interactive Play-Doh stations, photo booths, treats,  and a live display with master Play-Doh builder Jason Loik. It's the ultimate Play-Doh paradise that kids of previous generations could only dream of — so why not get your hands dirty, too?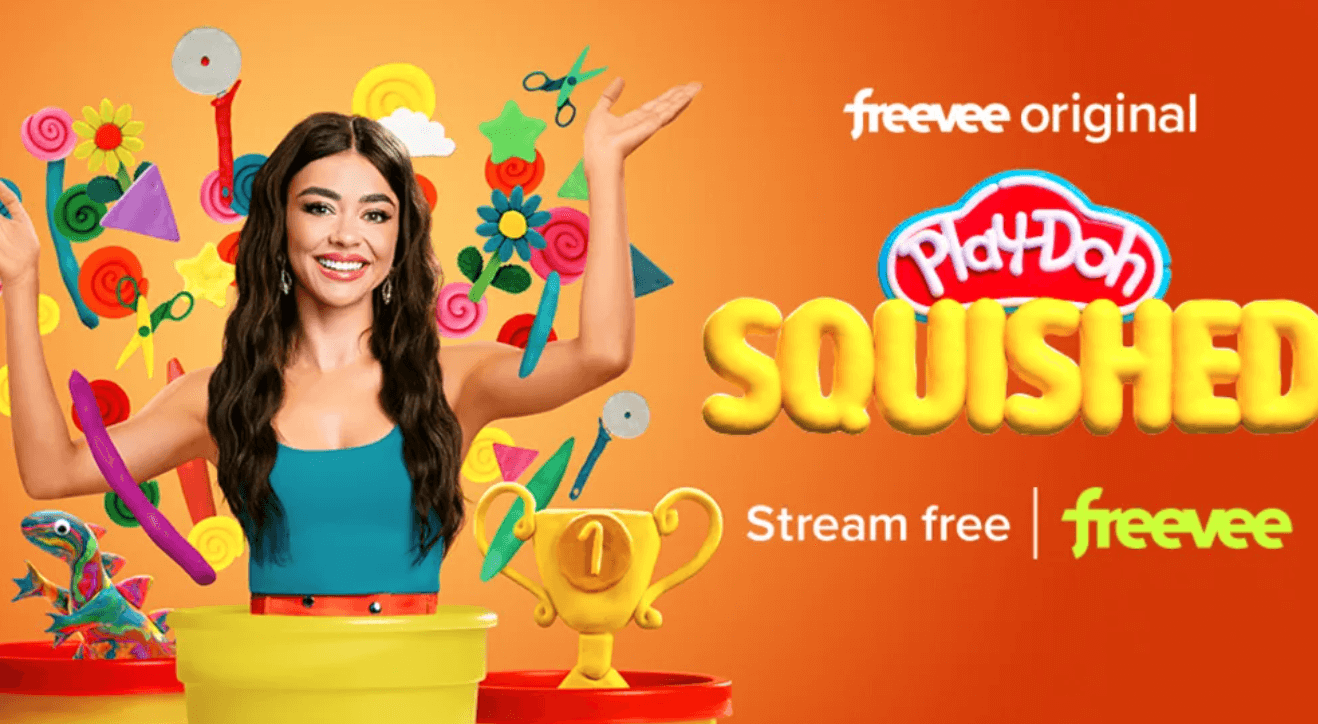 The show, hosted by Sarah Hyland, features three teams of fun-loving adults and kids going toe-to-toe in ultimate Play-Doh competitions. In the end, only one team will win a grand prize, while the other teams' creations will get SQUISHED! Dust off those old Play-doh creativity skills!
Date: Sunday, November 6th
Time: 2:30 PM – 5:30 PM PST
Location: The Atrium at Westfield Century City (Level 1, near Lululemon and Tesla)
East Fork Pottery x P.F. Candle Co. Pop Up Launch Party
If you're into home goods and smell goods, this one is for you! Whether it's just to get prepped for the season, or to knockout some holiday shopping, this event will get you started off on the right foot.
On Saturday, November 5th, from 3-6pm, P.F. Candle Co.'s Echo Park Flagship will be open for you to shop a curated selection of East Fork Pottery hosting essentials; smell the entire P.F. collection; and enjoy small bites, with wine by Vinovore, non-alcoholic spirits by Ghia, and so much more!
While supplies last, shoppers can also receive a free East Fork Pottery tote bag & P.F. Mini Candle with purchases over $75!
About the brands:
East Fork Pottery is a contemporary ceramics brand designing and manufacturing durable dinnerware out of Asheville, North Carolina. P.F. Candle Co. is a Los Angeles-based home fragrance brand specializing in candles, incense, and more in subtle scents meant to enhance the home's atmosphere.
RSVP at Eventbrite!
Hammitt Presents Hammittland
In another opportunity to knockout holiday shopping or transitioning your wardrobe for the cooler seasons, join Hammitt as they present a selection of specially priced Retiring Styles – in a whimsically imagined Hammittland.
On Saturday, November 5th from 10 am – 1 pm, attendees can watch as Manhattan Village's outdoor plaza transforms into a sweet shopping and entertainment destination that's fit for handbag lovers and eager gift givers alike. In addition to the unbeatable offers, Hammittland will have special complimentary offerings and activities available for the general public, plus activities.
Whether you pick up a one-of-a-kind sample for 40% off or sip on an icy fresh frosé, there's a bit of festive fun for the whole crew. Be sure to bring a friend!
About Hammitt:
Hammitt LA is a US-based luxury handbag company known for their unique riveted accents. You can see Hammitt handbags and accessories in-person at their South Coast Plaza and Manhattan Beach Locations. Hammitt handbags are also sold in many retailers across the US, including Von Maur. Plus, they partnered with Purse Strings for an exclusive location in Indianapolis, as well as a store in La Jolla, coming soon! Hammitt designs to surprise and delight with every innovation, staying one step ahead of their customers' wildest wishlists.
Whether it's an accessible cell phone pocket, laptop sleeve, six-way reversibility or straps that adjust for every height, there are nuggets of functionality in every Hammitt silhouette. Plus, every zipper and piece of hardware is covered with a lifetime promise, so the Hammitt woman can plan to pass her favorite styles down for generations to come. Hammitt bags are also available at hammitt.com.
Grab Pizza at the Newly Opened Roberta's Pizza Studio City
On October 21, Roberta's Pizza announced the official opening of its second Los Angeles location in Studio City, later celebrating with a Grand Opening Party — complete with costumes, complimentary slices of pizza, and drinks! If you missed it, do yourself a favor and stop by so you don't miss out any longer.
Roberta's Studio City is an elevated casual evolution of its famed original restaurant in Brooklyn, New York. The restaurant at The Shops at Sportsmen's Lodge highlights Roberta's legendary pizza creations, along with a specially curated menu of signature dishes, natural wine, and craft beer.
Whether it's the simple Margherita ,or the fan favorite Famous Original that rarely leaves the menu, pies at Roberta's Studio City are all based on the original recipe developed in 2008, delivering a pliable, flavorful crust, a sauce that does its job exactly right, and mozzarella that is the perfect balance of creamy and salty. From the Bee Sting, to the Crispy Glover, to the Baby Sinclair, Roberta's pizzas exhibit the stunning creativity that becomes possible when a killer foundational recipe meets culinary-genius level experimentation. If you're looking to try something other than pizza, Roberta's also offers veggies, salads, and sandwiches!
HBO Max Celebrates Dan Levy's New Show, "The Big Brunch" w/ Pop-Up at Westfield Century City
Maybe you're looking for something to do where food is involved – along with some community focus? Then here's your match:
On Sunday, November 13, HBO Max will celebrate the debut of Dan Levy's New Cooking Show, "The Big Brunch" with a delicious, one-day-only pop-up experience at Westfield Century City from 10 am – 7 pm. The activation will bring brunch from the screen to the streets with complimentary Brunch Bags in partnership with Homegirl Catering, coffee options courtesy of Go Get Em Tiger, and premium photo moments inspired by the show.
HBO Max will pick up the actual bill in the form of a buyout for Homegirl Catering – who provides hope, training,
and support to formerly gang-involved and previously incarcerated people, allowing them to redirect their lives and
contribute to their communities. Signage featuring QR codes will prompt guests to learn more about the program,
and Homegirl Catering staff serving the food will speak more about their mission. Attendees can receive a complimentary brunch bag and coffee while supplies last.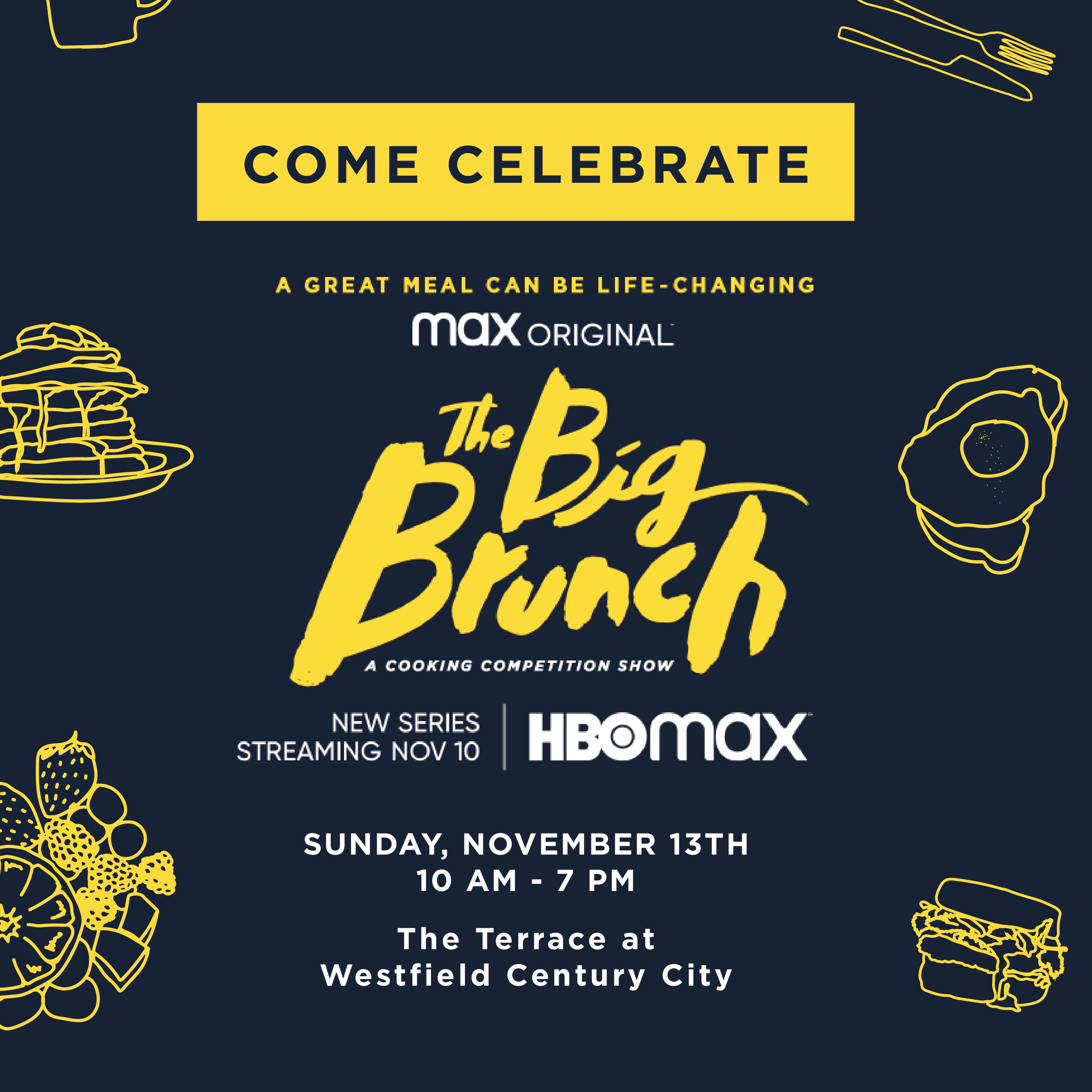 About Big Brunch:
"The Big Brunch," hosted by Dan Levy, is the new cooking competition show which features cooking competitions
galore, and centers on "one of the most versatile, yet underrated, dining experiences." The series' eight-episode
first season pits 10 chefs against each other for a sizable cash price of $300,000. The Big Brunch will premiere its
first three episodes on HBO Max on November 10.
About HomeGirl Catering:
Homegirl Catering provides a supportive environment for clients to receive on-the-job training in conjunction with
Homeboy Industries' wraparound services, empowering individuals to undertake what is often their first "real job".
This successful program has developed into a pipeline, creating strong female leaders who, in turn, mentor others
and can confidently proclaim, "I've been where you are, and I know you can do it."
About Go Get Em Tiger:
Go Get Em Tiger is an LA-based brand with cafés and roasteries all around Los Angeles.