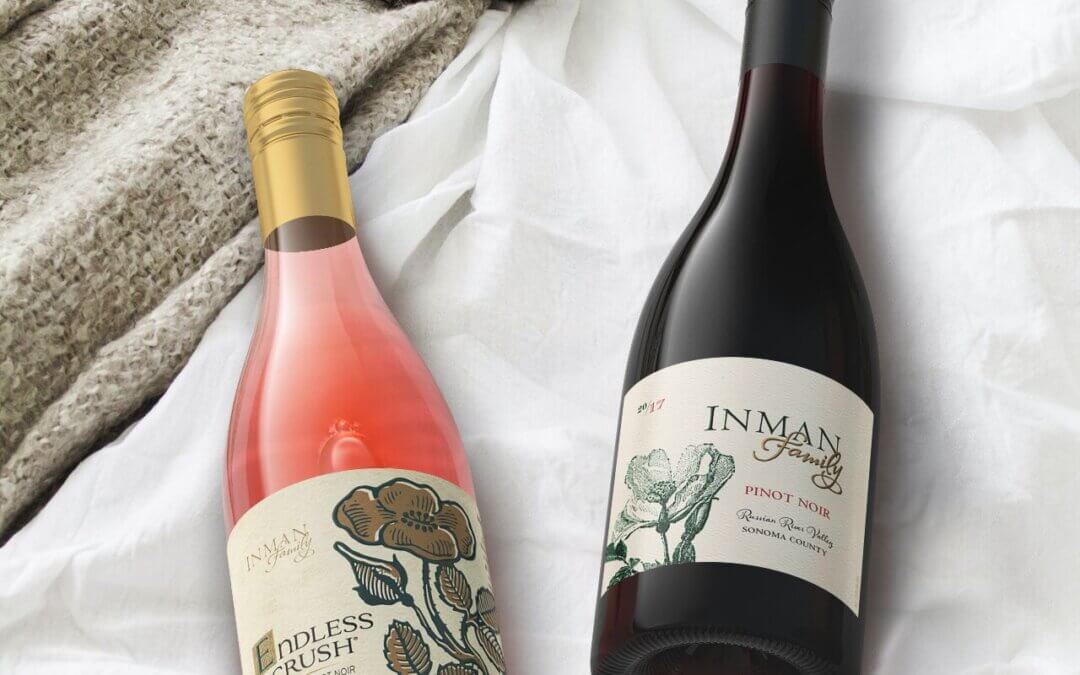 Summer is officially here, as the weather screams lately with temperatures soaring across the state. On April 28, Avelo debuted its nonstop flight from Hollywood Burbank to Charles Schulz Airport in Santa Rosa, and starting June 1, Alaska Air will do the same. In just 90 minutes, travelers can trade the hustle and bustle of Los Angeles for the peaceful, pastoral paradise that is Sonoma County — all while skipping the slow-going gridlock conditions associated with LAX and the roads to Sonoma from the central Bay Area.
If that doesn't scream "vacation" we don't know what does! A huge part of the appeal for Sonoma County lies in the regions incredulous wineries, with numerous tasting rooms located just minutes away.
Located just five miles from the tarmac at Charles Schulz — and a 10 minute drive — Inman Family Wines is a must visit. Visitors to Inman's intimate tasting room, located on the organically and sustainably-farmed estate Olivet Grange Vineyard (OGV), are treated to a unique tasting experience that  in a space made almost entirely from post-consumer recycled materials – a perfect manifestation of owner and winemaker Kathleen Inman's "eco-ethics" philosophy. Often, visitors are likely to have their tasting hosted by the winemaker herself! 
When asked about how wildfires have effected the winery in the past and how they prepare for drought-induced heightened fire risk, Katheleen goes into detail, stating:
"Drought and wildfire are part of California's history. They are not something new. But increasing periods of drought, changes in weather patterns bringing dry winds and more people building in the wild areas of Sonoma county have increased the threat of wildfires has become a tangible reality for Northern California wine country. Last year the LNU Complex Fire, which began in August and the Glass Fire which began the following month, both lasted into October. Although they're a few miles from our winery and vineyard, [they] had significant impact on the three vineyards that I purchase fruit from each year — all of which had to be rejected. I have had to evacuate my home multiple times this past vintage, but 2020 was the first time I rejected fruit for smoke taint. Our Olivet Grange Estate Vineyard was fine, but the 2020 vintage will be smaller than usual by case volume due to the loss of the other vineyards I work with. We are very meticulous about how we test our fruit for any evidence of smoke taint, and will not produce anything less than perfect.
Even in years without fire, climate change poses an existential threat to every winery. I am very passionate about working with rather than against the environment and take every possible step to do my part in employing what I like to call "eco-ethics"- sensitive, organic, and sustainable practices. Vineyards are essentially fire breaks, with the drought it means that there is the possibility of increased fire risk since dry grasses and trees fuel the fires. I reprocess all my wastewater so I have 16,000 gallons of wastewater storage on site to fight fires. Ultimately, the increased presence of fires signal that efforts to combat climate change cannot come fast enough, we all have to come together to employ more environmentally friendly practices in order to stave off future issues. I do not specially take any different defense measures as keeping tall grass down around my winery, home and vineyards is normal for Inman Family Wines. Moreover, we store our gray water after processing it which means we have 16,000 gallons of water on site that can be used for irrigation in times of drought or for fire protection.
Wildfires have also deterred people from taking vacations to wine country. It is important for people to understand that one of the special things about Sonoma County is that only 6% of our land use is vineyard, but over 40% is forest. Having been born in the Napa Valley, and living in Sonoma County for over 20 years, I can tell you there's never been a better time to visit. It's every bit as beautiful as it was before, and home to a wide variety of family-owned wineries and world-class restaurants. Now that Santa Rosa Airport is opening up to new markets, including Burbank, it is more accessible than ever before."
Other nearby recommended tasting rooms include Benovia Winery, Donelan Family Wines, and DeLoach Vineyards. With the existing threat of climate change, it should be all the more reason for vacationers to visit California's wineries as they fight an uphill battle for survival.