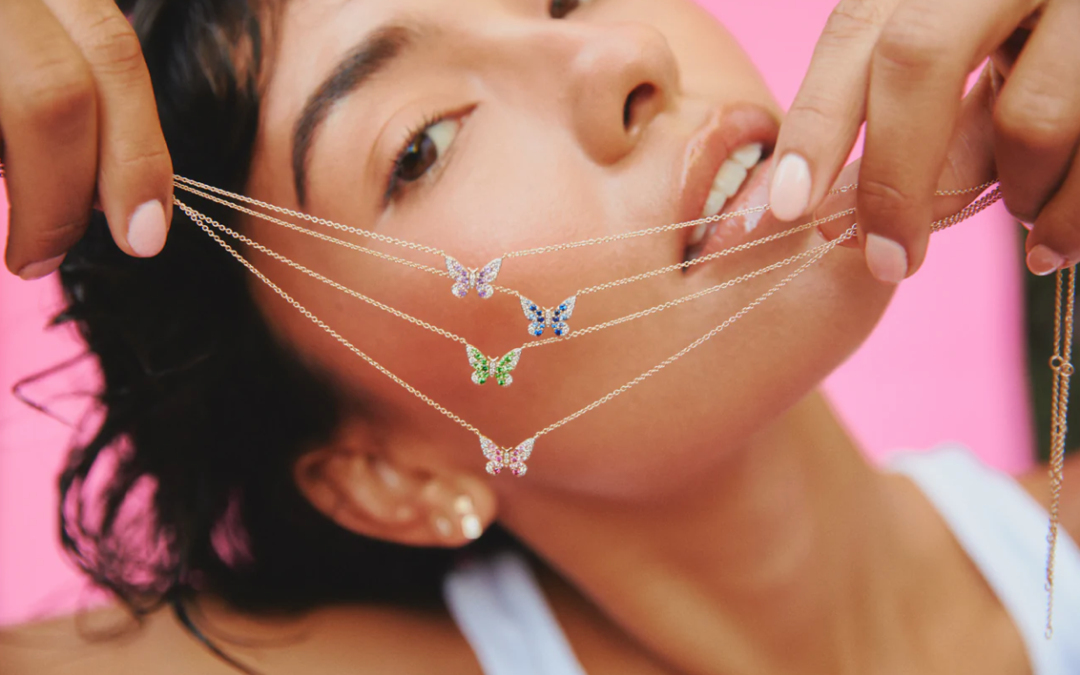 Where Fun, Luxury, and Ingenuity Meet
Where can you find some of the boldest, most stylish, and stunningly colorful jewelry around? While that could potentially be an endless list, if you're looking for a brand who has a unique sense of fun ingrained in the very fabric of their identity and DNA, there is only one.
Eriness, easily starts and completes that list, forming their own lane, while helmed by none other than its very own Erin Sachse. Erin and her eponymous brand launched in 2015, after spending years hand making jewelry pieces. Ingenuity would come to Erin early in life, as she took old camera parts and weaved/twisted them into chic jewelry, to later sell outside of her dorm room. In fact, her handmade items were so exquisite, that major stores started to buy them off of her body — including Fred Segal and Anthropologie — at the age of 18!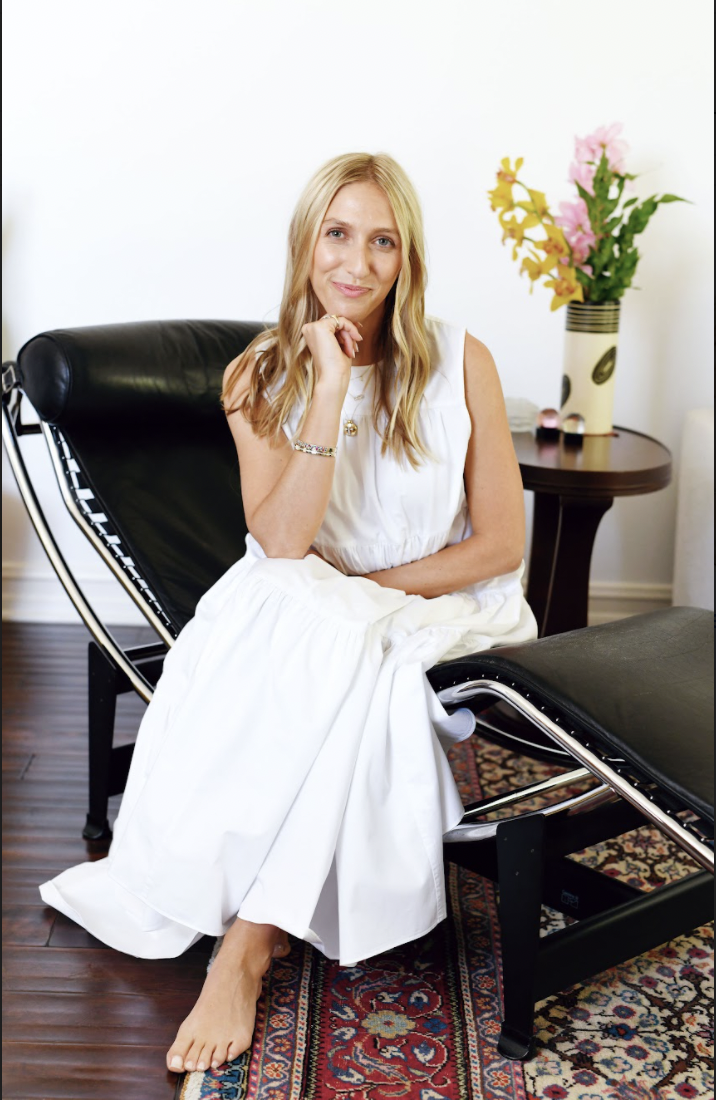 With such a powerful start, it almost sounds like a dream, but that would only be the beginning of a journey toward iconic status for a designer and brand on their way to capture eyes, minds, and hearts on an international scale.
Now, years later, Eriness is carried by luxury retailers around the world — including Goop and London Jewelers — and adorned by a loyal clientele, including Michelle Obama, Taylor Swift, Lupita Nyong'o and Miley Cyrus. Eriness is recognized in the industry for their cheerful mix of diamonds and gemstones, and stands out in the fine jewelry space due to how colorful yet luxurious the pieces are.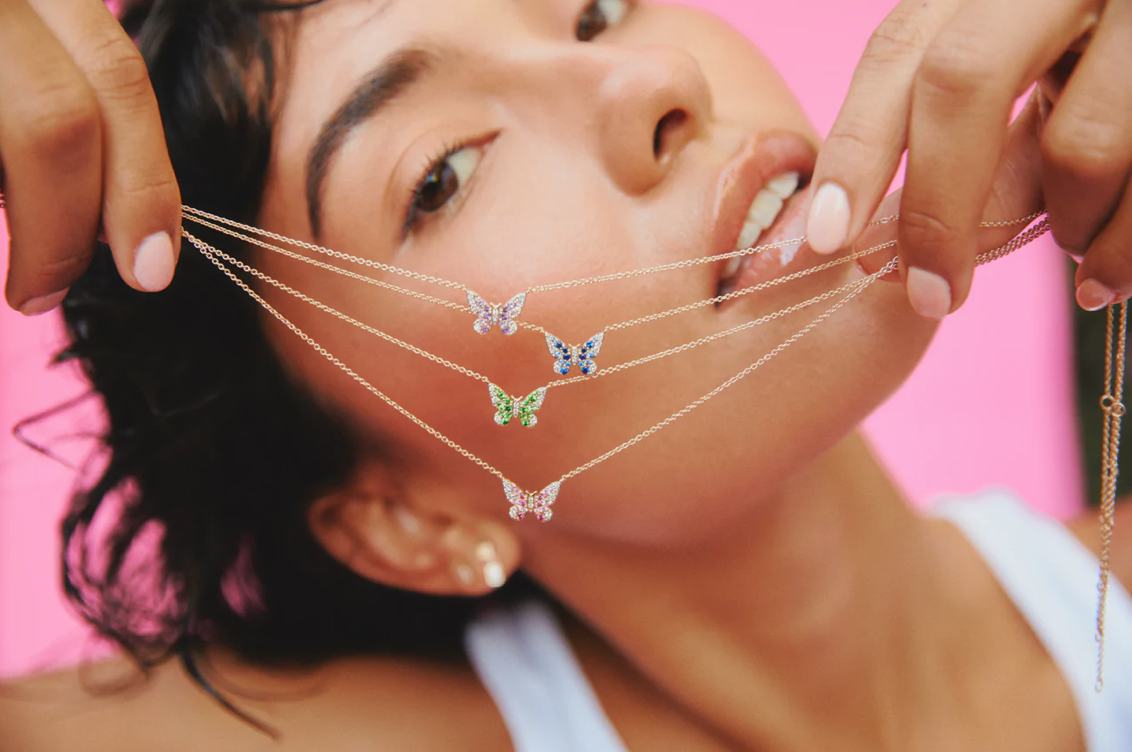 Color, Clarity, and Confidence
Color brings life and is a magnet for the eyes. This is something that Eriness understands, while combining vibrant color pops with shapes, symbols, and styles that all of us can connect with in some way. Whether that connection be sentimental or superstitious, there's no denying "stunning" seems like an understatement for their pieces.
Even in the absence of playful colors, Eriness pieces speak volumes through their cuts and shapes while taking on more classic styles, like the recently released Art Deco Collection. Classic, yet modern – and simple, yet sophisticated.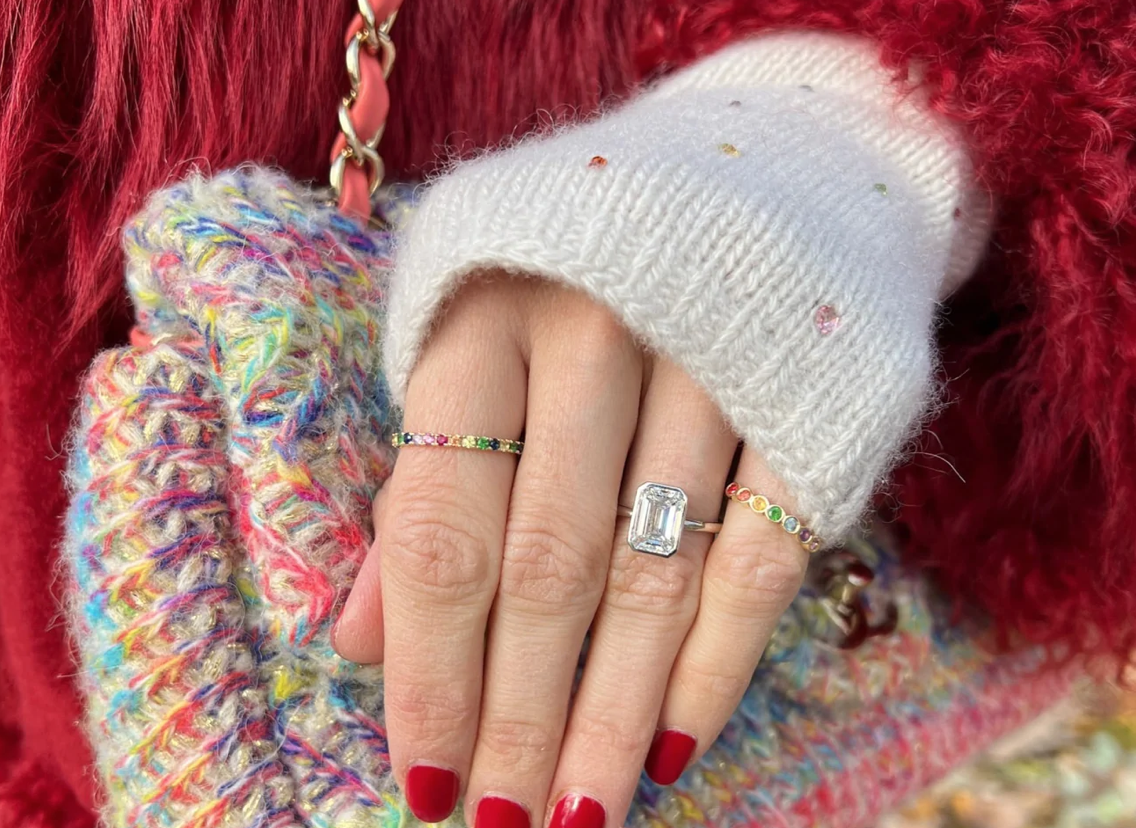 Eriness is more than just another luxurious jewelry brand, accomplishing what one would expect – and more – by invoking a sense of confidence and beauty to the wearer, sure to be cherished for a lifetime. Even more impressive is the fact that Eriness is sure to have something for everyone with its plentiful offerings, and versatile, unisex styles from its recent collaboration with YONY.
We had the opportunity to conduct a Q&A with Erin, where we explore her creative vision, challenges, accomplishments, recent collaborations, and even plans for the future.
Learn more about Erin & Eriness below.
Q&A With Eriness Founder and Creative Director, Erin Sachse
Q: Let's dive in with some details of your story. What did you do before Eriness, and how did you get started in the jewelry business?
E.S.: "Believe it or not, there was nothing but high school and classic teenage girl things before Eriness. I started hand-making pieces of jewelry out of passion and for fun in my dorm room at Boston University and this is really where Eriness began. After I graduated college in 2015, I reintroduced Eriness as a fine jewelry line and that's how we find ourselves here today."
Q: How did you try to set yourself and Eriness apart from other brands?
E.S.: "I am a firm believer in fun and that fun can be incorporated into any part of life. With that being said, it was really important to me that my company embodied a playful nature but also provided quality jewelry with a luxurious twist. I aim to have a fresh, fun and colorful approach to familiar styles and classic pieces."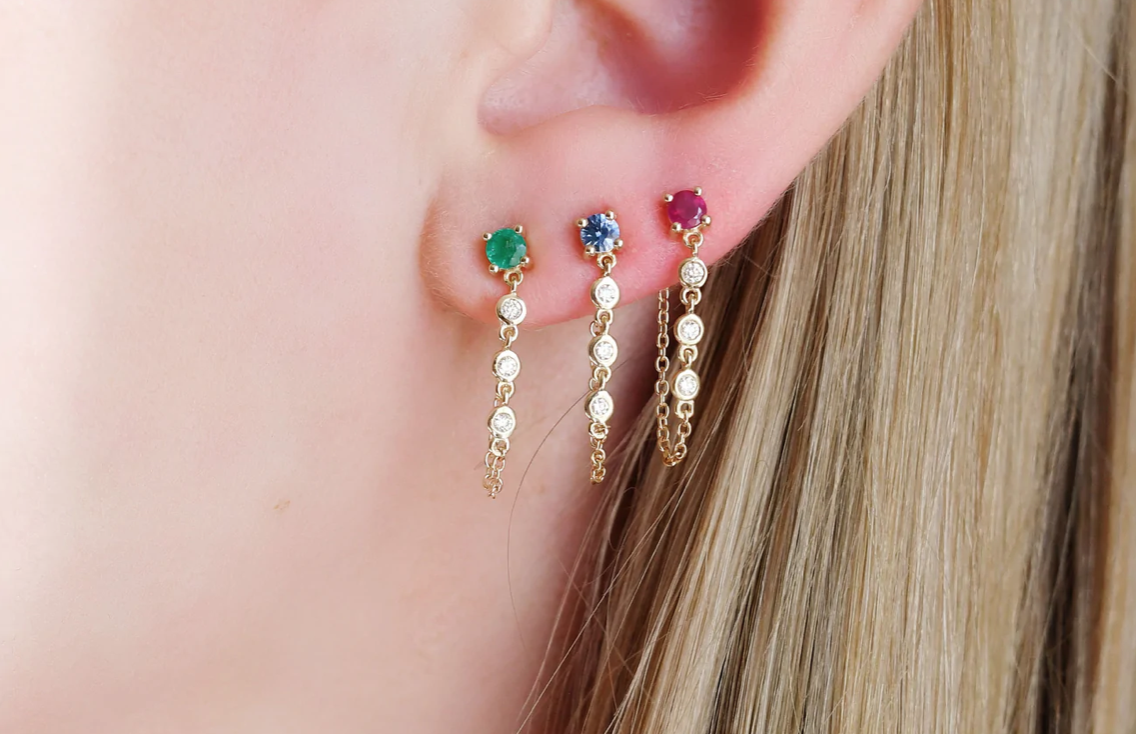 Q: What is the design and creation process like for you?
E.S.: "My process always starts with something that is meaningful to me and from there a collection is born. There is not a strict formula to how I get to drawing my pieces and creating a collection. For example, the Ladybug Collection was born after the most surreal dream about my mom whereas the Art Deco Collection was created because of my affinity for the history of the era. There is no straight line in my process of creativity and I wouldn't have it any other way."
Q: What were some of your biggest challenges to get where you are today?
E.S.: "The biggest challenge in my journey as a designer and a business owner is being both of those at the same time. It is an absolute blessing to be able to do what I love every day but it really is scary sometimes. Just like everyone else, I have my moments of fear and self doubt but I have a great team that is by my side through it all."
Q: What would you say have been some of your most notable accomplishments to date?
E.S.: "The first thing that comes to mind would have to be the Resist Collection. As a young female in this wild world it was really important to me to use my voice and stand up for what I think is right. It was one of my most vulnerable collections and it was really amazing to see how well received it was."
Q: Personally, what is one of your favorite Eriness pieces?
E.S.: "I'm sure it won't surprise you when I say my favorite piece from my collection is the Diamond Crawling Ladybug Bracelet. The ladybug is an everyday reminder that wherever I go, my mom is always with me. The collection was made in honor of my mother – my biggest inspiration, best friend and muse. The best part of the collection is that it not only meant everything to me but I quickly learned how much the symbol of a ladybug meant to so many other people. It is so unbelievable the amazing stories that have been shared with me and the personal connections based on this one collection."
Q: Can you tell us about the recent Art Deco Collection and what went into it? What inspired the collection, and what did you want the wearer to feel from it?
E.S.: "Like all my designs, I wanted to create something simple but impactful, elevated but wearable. This collection blurs the line between the past and present and takes inspiration from the simple elegance, sleek designs and geometric shapes of the early 20th century. This collection is not only an ode to the brand's evolution but to my own!"
Q: What is the significance of the new collaboration with YONY? Please share some details about what makes this collaboration special, and what consumers can look forward to.
E.S. "Johnny (the founder of YONY) has been a longtime friend of mine for 17 years! We have been talking about collaborating for a while, and were so excited to finally bring our dream to life. While so many of my current pieces skew feminine, I wanted to create something with Johnny that was more unisex and versatile for Eriness. We created two unisex chains – one in sterling silver at a more contemporary price point, along with a 14K gold chain. We want our consumers to rock these chains no matter who they are and look forward to seeing how they're styled – they are perfect stacked or worn solo."
Q: 2022 is coming to an end. What have been some of your biggest lessons and accomplishments this year?
E.S. "My biggest lesson is navigating an ever changing retail landscape. How to successfully reach our potential clients and give them pieces they actually want to wear. It is always my goal to stay true to what I want to design regardless of the current trends."
The expansion of my company as a whole is one of my biggest accomplishments! This year the Eriness team has grown, we have started working with some amazing boutiques and really honing in on who the Eriness client is. 
Q: Here's a moment for a brief preview: Is there anything in the works that you can share with readers to look forward to in 2023?
E.S. "I don't want to give too much away but we do have two new collections in the works for 2023. Here's a little hint- there are LOTS of diamonds."
Q: What are some goals you'd like to achieve with Eriness in the next 5 years?
E.S. "In the next five years I want to continue to grow the Eriness world and reach new clientele by expanding our offerings. It means everything to be able to continue to create meaningful jewelry that connects people from all over the world. I am so excited for the future of Eriness."