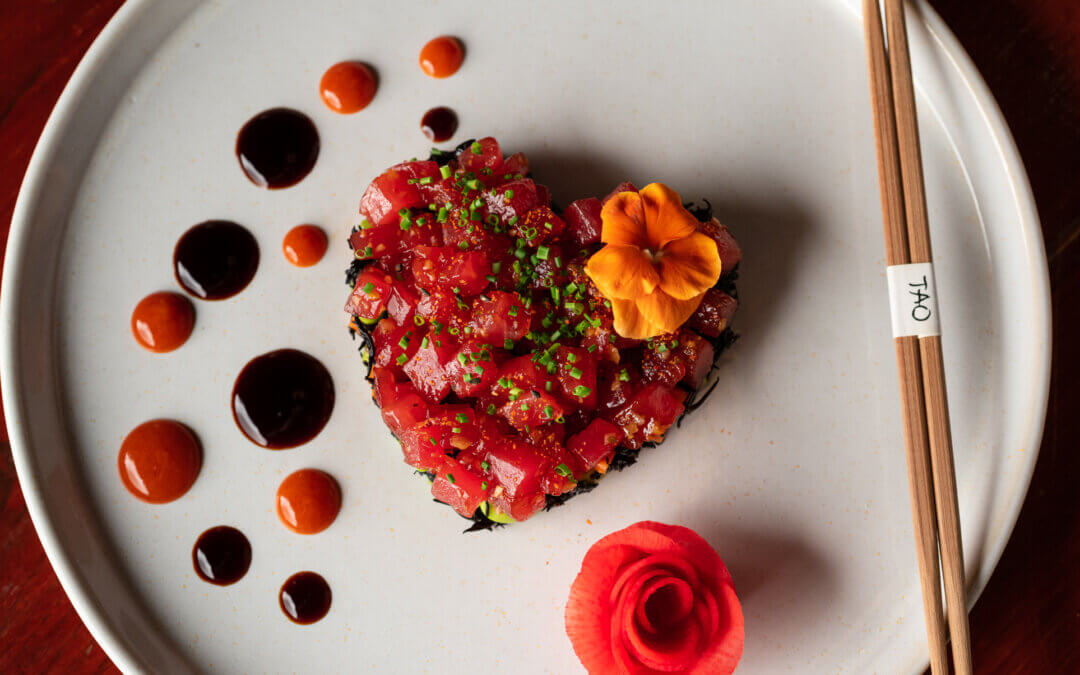 The season of lovers is once again upon us – and along with it, a Super Bowl in Los Angeles – and it's time to start figuring out your plans, whether you'll be celebrating alone, with your special someone, or with others. As usual, you can rely on us to help you get plans rolling with this guide on what to do in Los Angeles this year. Whether food, gifts, or experiences, read on for some highlights!
Mírame
This one's a classic that suits celebrations throughout the year. The Beverly Hills modern Mexican restaurant,
Mírame
, will be offering a menu priced at $135 per person – available only on Valentine's Day only – created by Chef Josh Gil. Highlights of Chef Gil's menu include: 
Grilled Oyster 
with uni, 
Dungeness Crab
 with artichoke, avocado, crab Consommé and lemongrass vapor,
 Beef Wellingtón
 with bloomsdale spinach, esquites and morita chili-red wine, 
Lobster Cassoulet 
with Mayacoba beans, seafood sausage and tortillas and desserts including 
Flaming Choco Flan
 with mezcal ice cream and Mayan cacao soil. To make it even more celebratory, guests can add on 1 oz caviar service with masa corn blinis, egg, chive and salsa del flojo for $100.
Reservations can be made through the 
Mírame website
. Mírame is located at:
419 North Cañon Drive, Beverly Hills, CA 90210
. A special tasting menu will be offered along with the regular menu the rest of Valentine's Day weekend for those seeking an early celebration.
Daring Foods
Sometimes free is better, and if you're looking to snag some free plant-based wings during Super Bowl Weekend, you're in luck! Daring, the innovative plant-based chicken brand, is pulling up in Los Angeles just in time for Super Bowl weekend, on February 10th and 13th. In fact, they're daring you to pay them a visit for a taste of their revolutionary health-conscious, flavorful, eco-friendly chicken options.  
Daring's food truck will be stationed at Erewhon's Beverly location on Thursday (2/10), and at the entrance of Rose Bowl Stadium on Sunday (2/13). Specific timing can be found on Daring's Instagram (@daringfoods). Grab some delicious Korean Sticky No Chickey Wings with Togarashi Fries & Sambal Aioli and Daring Breaded Plant Chicken wings tossed in a sweet and spicy soy sauce, garnished with green onion, sesame seeds and cilantro to fill your tummy before the sport world's most anticipated game. 
Daring Foods LA Food Truck Route (2/10 + 2/13)
Thursday (2/10) 

Erewhon Beverly Hills (11 am – 7 pm) | 7660 Beverly Blvd A, Los Angeles, CA 90036

Sunday (2/13)

Rose Bowl Stadium | 1001 Rose Bowl Dr, Pasadena, CA 91103
U Street Pizza & Union
While
U Street Pizza
will be closed for the holiday, they will be serving a specialty cocktail, The Berry Blush, with Future Gin, prosecco, rosato, Lo-Fi Gentian Amaro, rosemary syrup, blueberry, blackberry, raspberry, and lemon throughout the weekend (Friday – Sunday). In addition, in light of the Super Bowl,
U Street Pizza
will be offering game day crowd-pleasers for a crowd like wings, chopped salads and
whole square pies
(normally only available by the slice at lunch and happy hour). Fans will also be able to order from a selection of large-format cocktails like the Pizzalada (U Street Pizza's take on a Bloody Mary with their special house-made tomato sauce) that are perfect for a watch party. Pre-orders can be placed 
here.
On the other hand, Union which is open 7 days a week, will feature their menu of signature dishes like the Tonnarelli Cacio e Pepe and the Squid Ink Lumache with Maine lobster, fennel, lemon and truffle butter. There will also be incredible menu additions by Executive Chef Chris Keyser like the Agnolotti Del Plin with Tamai farms red beets, local goat cheese, and tarragon. Reservations can be placed here. Finally, for Super Bowl Sunday, Union will also be offering a selection of family meals (for 3-4 ppl) like the Calabrese pork ragu with house ricotta, fried rosemary and pepperoncini served with Garlic Bread and Arugula Salad – perfect for an Italian-style game day feast. Pre-orders can be placed here.
Beauty & Essex
Unwind with your date in the recently expanded courtyard dining patio at a Vinyl District classic, Beauty & Essex, which will offer an a la carte Valentine's Day menu, created by Chef/Partner Chris Santos. In his signature globally-inspired style, the menu includes Cardamon and Black Pepper Cured Duck with speckled lettuce, radicchio, pear, and brie, and the "Pearls of The Sea" with a dozen oysters, shrimp cocktail, and 1 lb lobster. Additionally, guests can enjoy cheekily named cocktail offerings including "Lovers' Potion" with whiskey, chocolate, and banana and the "Cupid's Cocktail" with tequila, hibiscus, lime, and Cointreau. Reservations here.
Fred Segal x 23carat
Sometimes you want to get a Valentine's Day treat that goes above and beyond. Lucky for you, Fred Segal x 23carat have teamed up to do just that – satisfying all your shopping needs. Located at their flagship in the heart of West Hollywood's buzzing Sunset Plaza, the iconic retailer is a must-hit destination no matter where you are located or staying in the city.

Recognized as 'Southern California cool,' Fred Segal x 23carat are hosting two public events ahead of Valentine's Day: 
Fred Segal x 23carat Valentine's Day Soiree, Feb 10th, 6-8pm:

23carat will be showcasing a collection of vintage and antique heirlooms and love tokens of different eras and gemstones. Things to do include sipping, smiling, flirting, and playing with jewels. No selfies needed, just throw on something cute for their vintage photo booth! Please bring proof of vaccination for those drinking*

Fred Segal x 23carat Valentine's Day Soiree, Feb. 12th 1-4pm:  

The team will also be in-store on Saturday, 2/12 from 1-4 pm to talk jewels and sip, for those who can't make it!
The Highlight Room
Just next door and up to the rooftop of the Dream Hotel, The Highlight Room curates a prix-fixe menu ($75 per person) to enjoy while basking in the breezy views of the Hollywood Hills and beyond. Special menu choices include Mushroom Ravioli with ricotta, brown butter, Banyuls vinegar, and cracked hazelnut, as well as the Filet Mignon with roasted sunchoke, agrodolce tomato, and a red wine demi-glace to name a few. Specialty cocktails will include "Strawberry Kisses" with gin, lemon, strawberry, and Champagne. Place reservations here.
TAO LA
Visit TAO LA for a dinner with a side of true Hollywood flair. With a menu full of romantic specials like a heart-shaped tuna poke dish, Thai Basil Surf & Turf, and an extra decadent Valentine's Day-themed giant fortune cookie, TAO LA sets a passionate scene for the object of your desire. You can place a reservation here.
Winsome (Recently Reopened!)
Welcome back,
Winsome
! After having been temporarily closed due to the pandemic, the all-day cafe from Marc Rose and Med Abrous of 
Call Mom
 is back serving La Colombe coffee and freshly baked pastries in the morning and a vibrant selection of prepared salads and sandwiches at lunch (think pasta salad with spicy capicola, chicken salad with farro and avocado, a smoked salmon BLT wrap + more). The airy indoor/outdoor cafe features an expansive patio –  perfect for open air workday lunches and meetings.
Delivery and an expanded menu are coming soon!
Winsome
is from hospitality team Marc Rose and Med Abrous of Call Mom who opened Winsome, their buzzy all-day café concept and one of Bon Appetit's '50 Best New Restaurants, in 2016 bringing the celebration of Los Angeles' diverse culinary landscape to Echo Park and relocated to the heart of Playa Vista in February 2020. Designed by Rios Clementi Hale and serving as the dining hub of the Playa District campus, Winsome offers counter-service and takeaway options Monday through Friday from 8am-3pm. The menu offers fresh, vibrant dishes built upon Winsome's signature style featuring items like the Smoked Turkey Sandwich with havarti, smoked cheddar, cucumber, sprouts, garlic aioli & sourdough, and the Smoked Salmon Salad with celery, mustard & sherry vinaigrette in addition to pastries, snacks, natural wine, non-alcoholic options, and a full coffee bar that can be enjoyed in the light-filled, indoor/outdoor restaurant or on the go.
Winsome at Playa District
6080 Center Dr., Suite 180, Los Angeles CA
Open Monday-Friday from 8am-3pm
Valet and garage parking available; Guests receive 1 hour complimentary parking validation.
A Super Outstanding Foods Bowl
The Los Angeles-based Rams are one step closer to making history and playing in the Super Bowl in their home stadium. So as you're planning your Super Bowl party, make sure you're highlighting everything the City of Angels has to offer, including Super Bowl headliner and California native, Snoop Dogg's favorite munchies, Outstanding Foods. 
From the beaches of the Westside to the bright lights of Hollywood, the people and the culture truly set the city of Los Angeles apart from the rest, and what better celebrate the Super Bowl being in LA than with California brands that truly embody the spirit of the city? Created and co-founded by Dave Anderson, the mastermind behind Beyond Burger, Outstanding Foods, is a California-based food company innovating familiar classics into delicious plant-based snacks. Inspired by the idea that plant-based eating should be accessible to all, Outstanding Foods is is on a mission to show you that you don't need to sacrifice taste for nutrition. Check out some of their products below that are perfect for tailgating:
Pig Out Pigless Porkless Rinds (sold in five tasty flavors:Original,Hella Hot, Nacho Cheese,Texas BBQ andSalt and Vinegar)

Outstanding Puffs (sold in five flavors that are redefining familiar classics:Pizza Partay,White Chedda,Hella Hot,Chill Ranch, andKansas City BBQ).

Pig Out Pigless Bacon Seasoning (sold together and includes four additional flavors: Original, Hella Hot, White Chedda, and KC BBQ)
Grillo's Pickles
Back and better than ever, you can give the lover, bestie, or foodie in your life a Grillo's Pickle Bouquet AND something homemade. Available in kit form for $20 this year, the make-your-own pickle bouquet set is a great way to give a custom creation, inclusive of:
Grillo's "free jar" coupon (so you can make more bouquets)
15 wooden skewers
Card and card holder
Tissue paper and filler
Custom Valentine's Day label for a 32oz Grillo's container and more!
Garnish with a few more of your favorites – cherry tomatoes, cheese cubes, fresh dill – and your V-Day bouquet will be a perfect blend of appetizer and cheeky blooms.
AVAILABILITY:$20 at Grillo's Merch Site
TSUMo
We bet you never thought your game day essentials could use a little THC boost, did you? TSUMo snacks are doing just that, and are a must-have for your shopping list. Swap your Monday hangover for a Sunday night high with their low dosed, cannabis-infused salty and savory snacks in your favorite flavors, and you will no doubt be a party pleaser! Even better, TSUMo snacks are the perfect size to share with your friends at a tailgate, or keep all to yourself if your Super Bowl plans consist of sweatpants and your comfy couch. 
TSUMo is bringing you a unique and elevated snacking experience with their nostalgic flavors that are staples for day game day celebration. The twist? Each bag is packed with just 10mg of THC – the perfect, low dose snack you can enjoy again and again. Tsumo flavors include: 
Daniel Patrick
Sometimes the gift just isn't complete without doing a little shopping for something they can wear for years to come. Located right in the heart of West Hollywood at 7969 Melrose Ave, luxury streetwear label
Daniel Patrick
is the place to shop for luxury gifts guaranteed wow your valentine.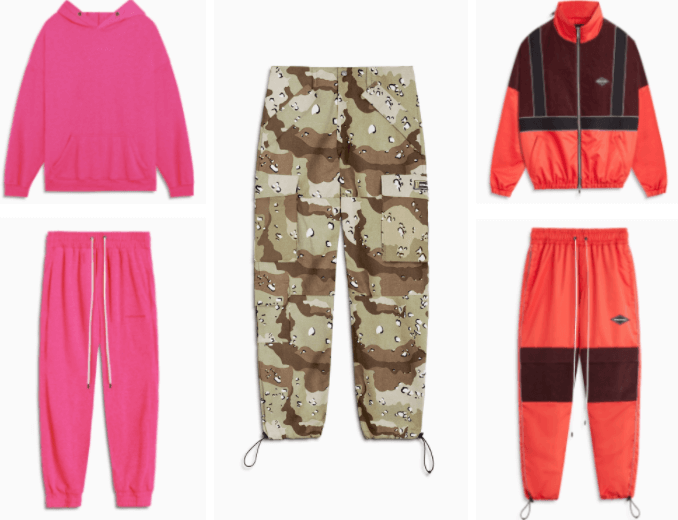 Don't miss out on celebrity-approved styles, including:
Centr
That was a lot of food options, so why not change things up with a fitness "Centr'd" offer?
Centr, Chris Hemsworth's health and fitness app, may be known for getting the gainz for the boys, but on January 24th, the app released a new no-equipment 6-week program, Centr Unlimited – and it's the perfect workout for the busy woman! Designed to make you sweat, the program will be led by Chris Hemsworth's personal trainer and Head Centr trainer, Luke Zocchi, and the app's latest and most engaging recruit, Alexz Parvi. On a scale of difficulty, it was hard for even Luke to keep up!
Centr Unlimited is a six-week no-equipment bodyweight workout program designed to challenge and transform your body through a unique mix of exercise styles including HIIT, plyo, functional, pilates, MMA and bodyweight strength training. The program features 30-minute training routines built into three different phases to burn, tone and build strength with an opportunity to personalize each session to your preferred fitness level.
New users can sign up here. A couple who works out together stays together!
Remedy Place
Okay, this one actually takes place before Valentine's Day, but no one has ever been upset by an early V-Day gift, right? Just make it Valentine's Week if it really matters.
On Sunday,  February 6th, Remedy Place is kicking off a series of self-care socializing events (the practice of deepening our wellness practices and human connection simultaneously,) with Acu-Sound, an hour-long, immersive experience combining two of the most ancient forms of healing, sound, and Eastern medicine.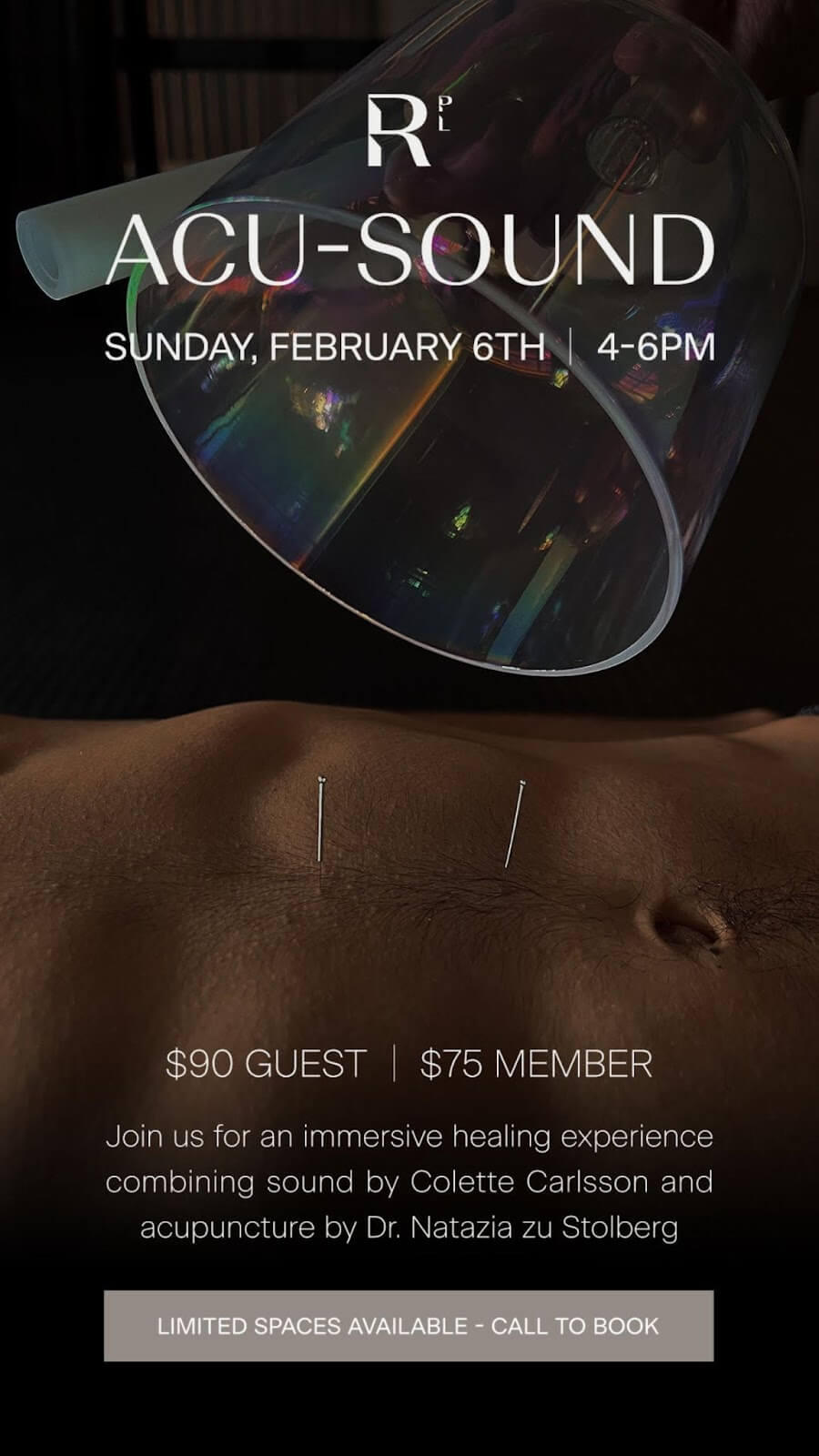 Remedy Place's Colette Carson will kick off the evening by leading a sound bath using the healing vibrations of sound waves to perpetuate a deeply relaxed state of calm and restoration. During the mediation, TCM Doctor, Natazia zu Stolberg will be administering acupuncture treatments, one of the powerful modalities for relieving pain, restoring Qi, and balancing the body. After the meditative experience guests will be encouraged to end the night by mingling at the club's bar and lounge, where they will be serving traditional Chinese medicinal herbal tea curated by Dr. Stolberg.
The Acu-Sound experience will take place at Remedy Place's West Hollywood location (8305 Sunset Blvd, West Hollywood, CA 90069) on Sunday, February 6th from 4:00 – 6:00 PM PST. The Remedy Place Acu-Sound experience is $90 per person for guests and $75 per person for existing members.  Spots can be reserved by calling the club (323-645-7444).
And there you have it. Whatever you choose, you shouldn't have to think too hard about how to make your Valentine (or yourself) happy this year. With options aplenty and reasons to celebrate bubbling over in Los Angeles, count yourself covered!