This weekend is shaping up to be an incredibly lively one throughout Los Angeles, as the Super Bowl approaches, Valentine's Day follows, and now with a new pre-Super Bowl event that's sure to blow away attendees! FLUF World, the collection of metaverse-ready unique 3D avatars on the Ethereum blockchain, is excited to announce the second installment of FLUF Haus, an innovative metaverse-meets-in-real life event. Following the success of their Art Basel debut, and now celebrating the launch of Burrows and a collaboration with NFT collection Party Bears, there is no city better to celebrate the FLUF community than the city of Los Angeles.
With a mission to create the most open, inclusive and creative community possible, FLUF World chose Los Angeles as the next location to celebrate because of the artistic force and the vibrant culture of the city.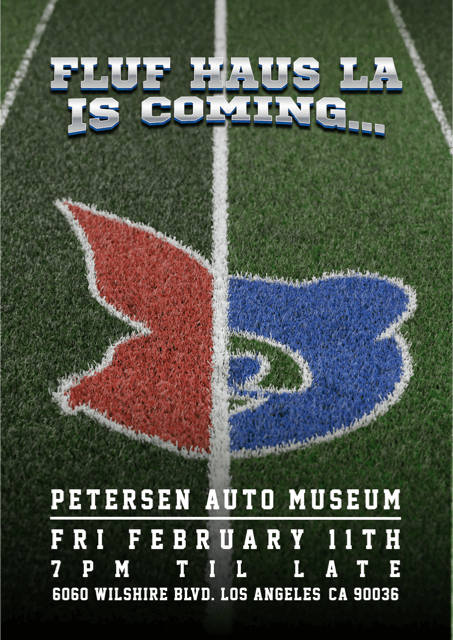 The ultimate metaverse faceoff between FLUF's and Party Bears is an invite only, private event taking place at the Petersen Auto Museum (outdoor rooftop) at 7PM on Friday, February 11th. Inspired by an all-American tailgate, Fluf Haus's L.A. is a celebration for the FLUF community. Enjoy cheering from the sidelines as FLUF's and Party Bear's go head-to-head in a football face off. Highlights will include a one of a kind metaverse performance by AngelBaby, headlining musical performances from T-Pain and Chromeo, and the first global livestream to the metaverse.
About FLUF World
FLUF World is a metaverse ecosystem of NFT character collectables and a global, creative community. From their genesis collection Flufs, to Thingies, Party Bears and more to come, they're building a world that's yours to shape, explore and call home. Flufs are a collection of 10,000 3D rabbit avatars, programmatically-generated from over 270 traits! Unique by at least three degrees of separation, Flufs are yours to trade, collect and customize through a growing Scenes & Sounds collection, featuring releases by guest artists. Owners also have full derivative rights to their FLUF assets, unlocking a world of creativity, expression and monetization.