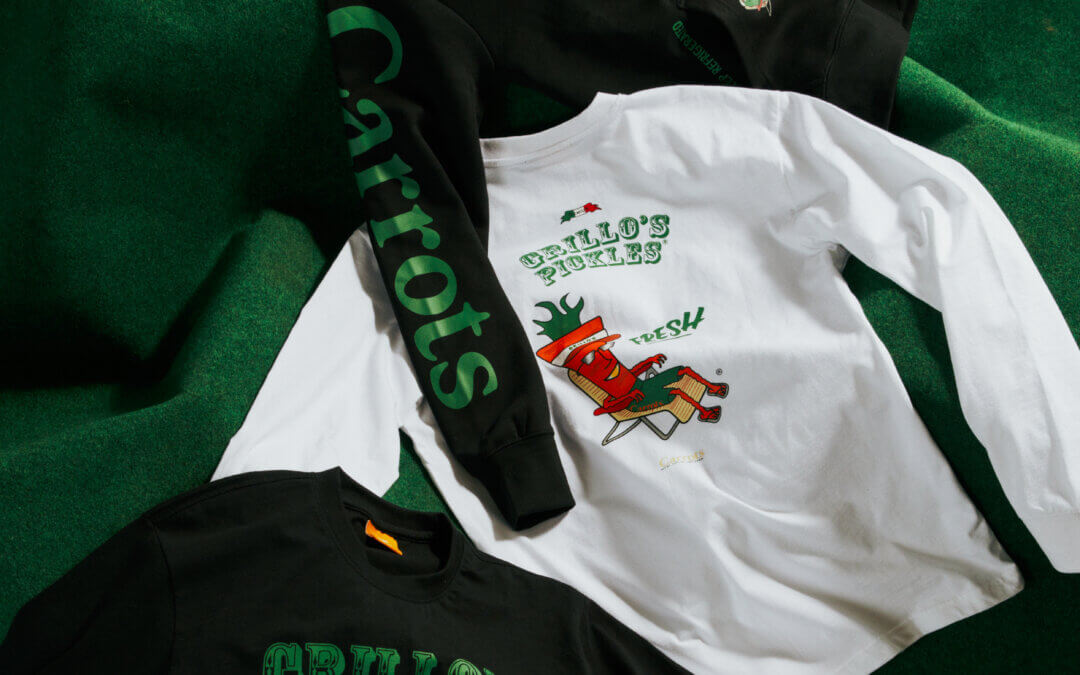 Some crossovers and collaborations are just meant to be and turn out oh so perfect. Pairings like peanut butter and jelly, cookies and milk, and pickles and carrots are just some of the best. Yes, pickles and carrots!
At least in this case, it's Grillo's Pickles and Carrots By Anwar Carrots, who are back at it again and stealing the perfect-pairings show. The teams have collaborated and released their second limited edition collection available exclusively at Urban Outfitters. As of February 7, fans can shop the "fresh" three piece capsule including a full-zip hoodie, long-sleeve and t-shirt in-store and online with prices beginning at $40. What's better than two veggies teaming up for a dope collab?
To celebrate the collection, Urban Outfitters is hosting a pickle-themed party in Los Angeles at its store located in the Rialto Theater, located at ​​812 S Broadway, Los Angeles, CA 90014 in DTLA on February 10 from 7 to 9pm. The event will be hosted by notable rapper and personality Smino with a DJ set by NOS. In addition to pickled carrots and traditional cucumbers, snacks will be provided by Beyond Meat and drinks by Miracle Seltzer. In accordance with the LA City Vaccination Verification Ordinance, masks and proof of vaccination are required.
Grillo's Pickles has been synonymous with crave-worthy streetwear as tempting as their mouthwatering snacks. Launching merch collaborations connecting with foodies, athletes, celebrities, skate culture and more, the pickle brand has since sprouted into a cult-favorite lifestyle brand. The Urban Outfitters exclusive Grillo's Pickles x Anwar Carrots collection will be the pair's second collaboration together, once again highlighting the duo's iconic orange and green hues. Drawing inspiration from brands' individual style, the new launch will showcase an authentic appreciation of both creatives' in this capsule driven by food, art and streetwear culture.
Come on, you'll never know how good it is until you give it a try!
About Grillo's Pickles
With clean, simple ingredients (garlic, vinegar, dill, salt and grape leaves) and zero artificial preservatives, Grillo's Pickles are the best refrigerated pickle brand. A brand that started with a 100-year-old family recipe, backyard-grown ingredients and a hand-built wooden pickle cart in Boston, has now grown to the phenomenon that went viral for their beloved pickle bouquet and pickle merch! Grillo's offers mouthwatering bites nationwide for sweet, spicy and sour flavor seekers, with their selection of chips, wholes and spears, Pickle de Gallo and vinegar drinks. For more information, visit GrillosPickles.com.
About Carrots by Anwar Carrots
Hailing from Trenton, New Jersey, Anwar carrots in 2007 founded Peas & Carrots international, an emerging streetwear brand and creative collective. Known for his dynamic approach to aesthetic both in personal style and creative output, Anwar has become an entrepreneurial leader of the next generation of Los Angeles creatives and fashion icons of street culture and music. Always evolving, Anwar started an eponymous menswear label, "Carrots by Anwar Carrots" launching at the Scion A/V retail gallery space in March 2015.
About Urban Outfitters
Urban Outfitters is a lifestyle retailer dedicated to inspiring customers through a unique combination of product, creativity and cultural understanding. Founded in 1970 in a small space across the street from the University of Pennsylvania, Urban Outfitters now operates over 200 stores in the United States, Canada and Europe, offering experiential retail environments and a well curated mix of women's, men's, accessories and home product assortments. For more information, visit Urban Outfitters at www.urbanoutfitters.com.